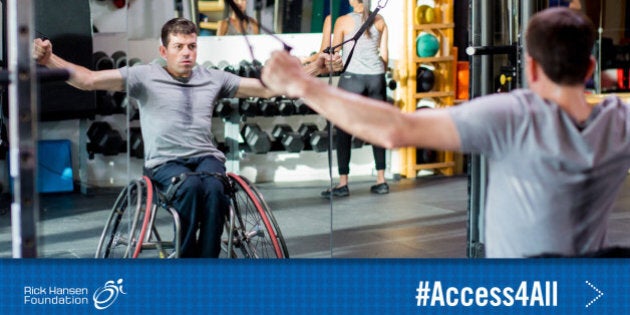 This past weekend I was chatting with my wife Amanda who was heading out to shop for maternity clothes with our daughter Emma who is expecting. Afterwards they planned to grab coffee and go for a walk through a park. It's the type of conversation most people don't think twice about. Unless, of course, you have a reason to.
For someone who has a mobility challenge, vision or hearing loss, or uses an assistive device to get around, daily decisions are not so carefree. Stores and shops need to be researched ahead of time to make sure they are accessible. Aspects of daily life that most take for granted can be riddled with accessibility challenges. Suddenly the search for the perfect outfit, grabbing a coffee or a walk in a park aren't so simple.
In Canada and around the world, people with disabilities are still limited by physical barriers in the built environment -- and there is urgent need for change. Today, there are more than four million Canadians with some form of disability, and according to Statistics Canada, that number is set to spike to nine million by 2036 -- that means one in five Canadians will face accessibility challenges in their every day lives.
Over the years, we have made great progress towards our goals, but there are still present-day barriers that need to be removed.
The multimedia campaign showcases people with disabilities enjoying the right to participate in everyday activities like breaking a sweat at the gym, going on a date at a nice restaurant, or shopping in a fancy boutique. The goal is to point out that people with different abilities still lack access to common places like gyms, restaurants, and shops; something that most of us take for granted.
WATCH the Rick Hansen Foundation #Access4All video:
The timing could not be better to ignite the conversation about the importance of accessibility. May 22 marked the 29th anniversary of the end of the Man In Motion World Tour, my journey around the world to prove the potential of people with disabilities.
This milestone provided an opportunity to reflect on the past, present and future of what life was/is/could be for people with disabilities. In the past, people with spinal cord injuries and many other disabilities weren't expected to survive and if they did, the world wasn't accessible for them at all.
Over the years, we have made great progress towards our goals, but there are still present-day barriers that need to be removed. When I think about the future, I imagine a world where we have collaborated to use awareness, innovations, technology, architecture and infrastructure to create an inclusive and accessible world.
As we work to achieve tangible change in this area, it's important to raise awareness for why access is important and remove stigmas about the potential of people with disabilities. How can you help? Watch our new video and share its important message. Visit www.rickhansen.com/access4all to learn more. Together we can build a world that's accessible for all.
Follow HuffPost Canada Blogs on Facebook