A large lobster who was facing certain death at an Ontario grocery store is now safe at a major aquarium.
Gerald, who weighs more than eight pounds, is settling in at Ripley's Aquarium in Toronto, according to a Facebook post from last week.
He had been hanging out in his personal tank for a while, she told the Hamilton Spectator.
"Who was going to buy one that big? He's going to taste like old leather," she told the Spec.
She fell in love with Gerald and decided to rescue him. But there was a problem — he cost $150. So she rallied a number of people on Facebook to the cause. They raised more than $100 and convinced Fortinos to lower the price.
But he wasn't safe yet — several others thought it made more sense to eat him.
Lindsey Ryder, who led the effort to outbid Brennan's group on her Facebook page, told the Flamborough Review she got about eight or nine people on her side. At one point, they considered doing a Facebook Live lobster boil cooking show.
"It would be the same discussion if there was a very large prime rib on sale."

— John Lepp
John Lepp, one of the members of "Team Eat," told the Flamborough Review that he cares about animals, but that Gerald was meant to be eaten.
"It would be the same discussion if there was a very large prime rib on sale. I wouldn't expect someone to come in and try to buy it so they could take it back to the farm," he told the paper.
Luckily for the creature, Fortinos had already agreed to keep him away from "predators," Brennan said, even though people had been calling to offer the store more money so they could eat him.
Gerald's rescuers reached out to Ripley's, who took him in, the aquarium wrote on Facebook.
Now he'll hang out in the main lobster tank with other creatures of the same species.
He is the facility's largest lobster and likely pretty old.
"He and his fellow lobster ambassadors are here to educate the public, bring awareness to the treasures in our oceans and promote sustainable seafood!" the aquarium wrote.
Perhaps it's a bit soon to use the word "food" to refer to Gerald, but we get what they mean.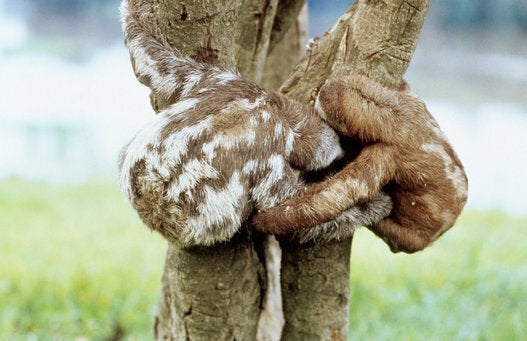 Animals hugging animals
Popular in the Community