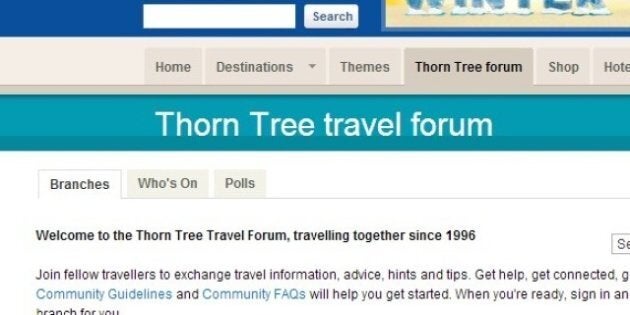 11/01/2012 UPDATE: The The South-East Asia branch is now back online.
After being shut down for two weeks, Thorn Tree is now back online. But those looking for advice on one of the oldest travel forums on the internet will have to wait a bit longer until the site's running at full capacity.
"Until we were confident that all rogue posts could be identified and the appropriate action taken, we felt we had no option but to temporarily close the site as a precautionary measure. We recognize that inconveniencing our users at this time of year was far from ideal and we've apologized for this on the forum," Philip Fleming, a spokesperson with the BBC, told HuffPost Canada Travel in an e-mail.
Despite earlier reports that searches for 'pedophile' or 'child prostitution', resulted in Thorn Tree hits, Fleming says that no content related to pedophilia was found. However, they did discover three posts with content that — while not illegal — did contain strong language and themes that the BBC was "uncomfortable" with.
Fleming says that appropriate action has been taken against all 'rogue posts' but certain forums are still down. The BBC has yet to bring back the "Activities" forum branches, but the "Destinations" branches are running in limited capacity. A visit to the forum will show that travellers can post and reply to topics in the Australasia & Pacific, Asia, Americas, Europe and Middle East branches. The South-East Asia branch, however, remains offline, but it's expected that it and all the destination forums will be back by February. Other branches, like "Your Choice" are now permanently shut down due to content that almost exclusively had "non-travel related conversation."
"The best user forum in travel has always battled with trolls. This time, its parent company's own sins are forcing it to take drastic actions where some careful pruning would do," wrote Clampet.
Other users took to Twitter to voice their frustration with Thorn Tree.
Flemming says that Thorn Tree now has filters to reject posts with strong language, but adds their previous moderation system wasn't up to task.
"It recently became clear though, that with such a large community, the sheer volume of non-travel-related topics and a predominant reliance on human and reactive moderation, this was not robust enough," said Flemming.
We've made some changes to how we ask travellers to use Thorn Tree. Strong language of any kind won't be acceptable, and you'll find filters are in place to prevent this. Attempts to get around this with creative sailor-speak will be deleted, so please avoid doing this. Off-topic posts of any kind have no place on Thorn Tree and will be deleted.
Will you return to using Thorn Tree? Feel free to let us know in the comment section below.
Popular in the Community