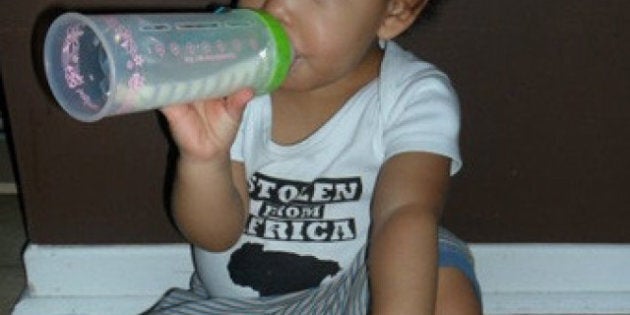 Post by Neil "Logik" Donaldson
I don't even know where to begin.
I'll start by saying this: being raised by a strong black woman has taught me a lot about patience, responsibility and values -- standing your ground, compassion and, most importantly, unconditional love, especially when it comes to family and parenting. As far back as I could remember, my mother has always made it very clear that if I were to have a child, I would be an active father in that child's life.
There would be no excuses. Whether or not I was with the mother was beside the point.
Hand in hand with my mother's expectations were the countless stories from many of my female friends outlining the traumatic effects on their lives as a result of absent fathers. Many of these stories broke my heart, since I look up to many of these women and I consider them to be some of the strongest people I know.
I've been blessed to know my father and have him in my life, but I never had the privilege of seeing my parents as a couple, even though they got along fairly well. I guess as children, we always have it in the back of our minds that maybe one day they could get back together and we all could be a "real" family, you know what I mean? Based on those thoughts, I always imagined that when I have children it would be different. It has to be different.
Now that I'm here, it didn't really turn out like how I intended.
Besides my close friends and family, many of my peers might be learning for the first time that I now have a daughter named Aaliyah. Since I am a reserved person, it's a somewhat difficult topic for me to speak about. I don't like the feeling of vulnerability and people all up in my business -- just keeping it one hundred with you -- but since I'm now a member of the Black Daddies Club, if what I have to say can help foster encouragement, dialogue and solidarity amongst black fathers, I'm all for it.
For me, fatherhood began with a text message, followed by me making a 30 minute, long-distance call. Someone whom I hadn't heard from in about two months now tells me she's two months pregnant with my child.
The mother of my child lives in Montreal. I never ran and never will run from my responsibilities but I have to admit, it did prompt many serious questions, like: why haven't I heard from you in so long? How can you be two months pregnant and not know till now?
Are you sure I'm the father?
Finding out that she had been "having relations" with other men from Toronto wasn't helping my paranoia, either. Speaking openly about my daughter is a sensitive topic for me because essentially, I am mad at myself. Mad in the sense of being in this predicament with someone who I don't really know and who doesn't understand me at all but what angers me the most is having a child in another province.
I feel helpless...like my soul is being held hostage. On top of that, my daughter's mother made it very clear, well before my daughter was even born, that as a parent I have no rights -- especially since I live out of province.
Now, I don't have any regrets. God doesn't make mistakes. Going through these trials and tribulations have already made me a much stronger and more compassionate person. In reality, I could go off about not having a healthy and honest relationship with my child's mother. The countless e-mail arguments; jumping on a plane in fear that I would miss the most important moment of my life, only to be kicked out of the hospital the same day she was born, for no real reason at all; paying monthly child support and then being taken to family court over a six month period -- in Montreal -- for more funds, only to realize that I was already giving too much money...the list goes on and on, but it's not my intention to turn this journal entry into a pity party. It's about moving forward and ensuring that I can make a positive impact in my daughter's life. It's about having her know that, at the end of the day, she is loved very much by both parents.
She needs me in her life -- but I need her in mine even more.
My journey into fatherhood has made me regularly question many things about myself, such as my treatment of women, my priorities, controlling my emotions and choosing my words carefully. I ask myself: how can I authentically father my daughter when I can't physically be around all the time, and not feel like a funder doing a site visit and waiting on weekly reports? At times, I find myself being overwhelmed by anxiety to the point that it affects everything I do. So if you see me in a daze, you now know why.
Luckily, I've recently hammered out an agreement with my work that allows me to be able to spend a week in Montreal per month so that I can establish a tangible relationship with my baby girl. I can't overstate the amount of love and support I feel in my working environment -- I really don't know what I would do without them.
I've also been blessed with the fact that one of my younger brothers now lives in Montreal and is studying at Concordia University. I don't know what I would have done in terms of having a place to stay and having a piece of home away from home. God works in mysterious ways, for real.
Every visit to see Aaliyah is like introducing myself to her for the first time. She looks at me with a vague sense of familiarity and is distant but, after about an hour or two, she opens up to me. It's difficult since right away I want to pick her up hold her, kiss her and have her fall asleep in my arms, but at the same time I don't want to disrupt her routine and environment, so I wait patiently till she's is ready. Every time I see my daughter, there's so much growth in her features and characteristics that it's unreal. I truly see myself in her.
I know that I'm missing out on a lot of the little things, especially now that's she's walking, so when I'm with her I shoot many videos and take a bunch of photographs to keep the memories strong. I can even recall before my child was born, taking a Via Rail train to Montreal for a few hours just so that I could be present for an ultrasound appointment and of course, to collect photographs.
That's how much I cherish every moment.
As someone who is involved in the youth services/organizing sector, I've been starting to feel a bit hypocritical, in the sense that I have a strong desire to see our community and youth do better, but now that I have a child who I barely get to see, my perspective on things has changed drastically. I know that I'm doing the best I can with what I have, but a lot of the time it doesn't feel like my best is good enough.
I often beat myself up, which doesn't help anything.
At the end of the day, all I can do is take one day at a time. I know that as Aaliyah grows, our bond will become stronger. I also expect that the visits will increase from the current 'policy' of having her in the city once a year every August (not my choice). I find myself bumping Stephen Marley's song "Hey Baby" on the regular. Lyrics like "Hey baby, don't you worry/ even though the road is rocky/ I'll be coming home to you again" really speak to me in this context and have kept me encouraged and motivated.
I just want to close by saying to all the fathers out there who live in the same city as their children and know they have regular, drama-free access to their children, but choose not be involved with their children - I envy you. I wish I had it that easy. I seriously don't know how you guys sleep at night. Maybe you think the mother(s) are already doing a good enough job and you are not needed or maybe the two of you don't get along and have grown apart. Whatever it is - whether you've been away for months, or even years - your children need you more than you'll ever know. Doesn't matter if they are still young or they are full-grown adults.
It's never too late to make that change, my brothers.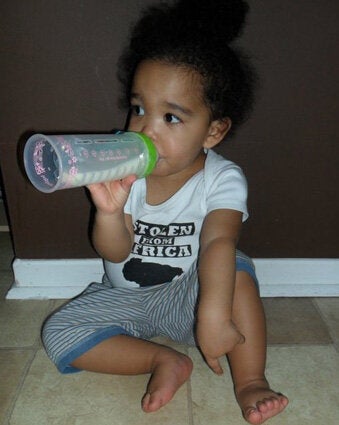 About: Neil Donaldson (aka 'Logik') is the co-founder of 'Stolen From Africa' a Global movement that promotes cultural and historical awareness via Fashion, Alternative media, Music and Dialogue. He is also the Media Coordinator for the Grassroots Youth Collaborative and is the Toronto Representative for Hip-Hop Canada. Twitter: @sfamedia