This is part two of Tim Knight's three-part tribute to the late Nelson Mandela. Part one told how Mandela was freed after 27 years in a South African prison, visited Toronto, and received the Freedom of the City of Dublin where Knight met him for the first time.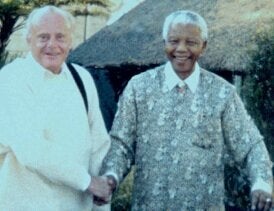 Knight with Nelson Mandela at the former South African president's 81st birthday celebration. The picture was taken outside the house where Mandela died last week. Johannesburg, July 18, 2001.
It's the eve of the 1994 general election in South Africa -- first democratic election in the nation's 342 years.
I'm in Johannesburg leading a team of Canadian Broadcasting Corporation (CBC) journalism trainers. Our mission is to turn South African Broadcasting Corporation (SABC) journalists from state broadcasters into public broadcasters. From fascists to democrats.
(Over the next few years, I was to lead a half dozen other teams to train SABC journalists in the ways of honest journalism. They were enormously receptive, grateful to be welcomed to the democratic world. Today, though, the Corporation is once again scorned as a tool of government.)
Nelson Mandela, new leader of the recently unbanned African National Congress (ANC), comes to the SABC for an election rally.
The black working classes -- mostly drivers and cleaners and waiters and messengers and gardeners and cooks -- abandon their jobs, flow in a mighty river through the dank corridors to the rally in the basement. Standing out in the crowd are occasional white journalists and even a few curious white managers.
But for the first time since I get here, the face of the SABC is mostly black, just like the face of the country. No-one with that colour skin has ever before been invited to a South African national election rally, much less been asked for their vote.
Here, in this tide of people, there's no rank, no class, no white skin privilege. Only the excitement of being part of democracy as it struggles to be born. Only the sweet, sweet smell of that once-so-distant freedom.
Mandela climbs up on a platform and smiles out at the faces trusting him, needing him. And great waves of hope and love and respect flow back and forth between this man and these people -- who expect so impossibly much from him.
He looks around the huge basement, raises his fist into the ANC salute, shouts "Amandla" (Power).
And suddenly there's a new light and a new truth in the faces of the folk who have served the SABC, this grim peddler of apartheid's obscene lies, for so long.
"Amandla" they chant back to him. "Viva" and "viva ... Mandela ... viva". And "viva Madiba" (his Thembu clan name).
And fists everywhere rise up in salute because now people have hope and nothing excites more than hope.
Mandela is no rabble-rouser. He speaks slowly, deliberately, carefully, like a headmaster rallying the school at assembly. He says words the people gathered here want and need to hear. Words about change and freedom and hope and a new South Africa. The beast that is apartheid is dead, he tells the crowd.
"Amandla ... viva Madiba."
And as he must because he's Madiba, a leader not a demagogue, he warns against expecting too much, too soon. There's a long, hard road ahead, he cautions. Expect no miracles.
"Amandla ... viva Madiba."
There's a threat, a hint of cold steel, when he warns the white men who run the SABC that the corporation's role as the servile arm of government propaganda is over. That the SABC will serve all the people in the new, democratic, multi-racial South Africa.
The crowd roars "Amandla". And "Amandla" again. And again. Next to me a man in messenger uniform says softly, "it is the truth, man. Madiba speaks truth."
His fist punches the air. Tears run down his cheeks.
On May 10, 1994, Nelson Rolihlahla Mandela, 75, takes the oath of office as the first democratically elected President of South Africa.
It's happening at Pretoria's Union Buildings, the place where the evil that is apartheid was conceived and from which it was administered.
Special guests are comrades from the long, bitter years of what South Africans venerate as The Struggle. Sitting with the comrades are Mandela's white, specially-invited former prison guards. Symbols of reconciliation.
Also celebrating are 100,000 ecstatic South Africans of all colours, 3,000 dignitaries from 169 nations, and two thousand tribal praise singers.
"Never" promises Mandela "never, never again will this beautiful land experience the oppression of one by another ... let freedom reign."
At the end of the ceremony, white South African Air Force officers salute their new president with a traditional military fly-past. More symbolism. Very important symbolism.
A billion people around the world watch on TV.
A couple of years later, His Excellency President Mandela, winner of the Nobel Peace Prize, the Lenin Peace Prize, the US Presidential Medal of Freedom, Britain's Order of Merit, an honourary citizen of Canada, along with some 100 other awards and honours, is to make an important speech to the international news media.
Correspondents from the world's most powerful newspapers, magazines and broadcast networks gather together in jovial splendour in the ballroom of Johannesburg's Carlton Hotel.
Excellent South African wines and brandies flow. Much backslapping and toasting and versions of "... haven't seen you since Saigon/Sarajevo/Mogadishu/Beijing/Paris/Lubumbashi!"
I'm back to do more TV journalism training at the SABC, chatting with a colleague from long-ago days on the Sunday Express about the famed and mysterious "Madiba Magic." I notice people heading toward the elevators, wander over to investigate.
Half a dozen of my very white and very important international colleagues are lining up in formal reception committee mode.
Out of the hotel elevator to their left come four very black, very large, very tough-looking men in tight dark suits and dark, mirrored sunglasses. Like synchronized dancers, they glare left, at a cluster of hotel maids waiting for the service elevator, and right, at the international journalists' reception committee.
The President of South Africa, strolls out of the elevator.
Instead of turning right to the waiting reception committee of very important international journalists, he turns left and, smiling, makes a detour to the maids.
One by one he shakes hands and chats. And one by one the maids curtsey and giggle and try to answer his questions. And curtsey and giggle again.
And it's only when he's finished chatting with the curtseying, giggling Carlton Hotel maids that the President of South Africa, turns and walks over to the very important international journalists standing in a line, waiting to greet him.
In the last of this three-part series, Knight chats with Mandela at the former president's 83rd birthday party. Finally, he analyzes Mandela's contribution to South Africa and the world.
Popular in the Community