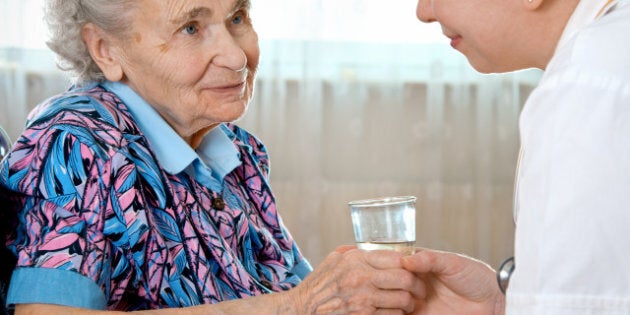 A report released this summer on the state of retirement housing spaces for seniors in Alberta from the Canadian Mortgage and Housing Corporation (CMHC) shows a healthy 11.3 per cent vacancy rate for standard spaces in the province. But what the Seniors' Housing Report does not include is almost as important as what it documents.
Unfortunately, not all non-profit affordable seniors' housing providers were included in the vacancy census, which focuses on for-profit facilities, and non-profit facilities that include non-subsidized units. In other words, the most affordable options for seniors' housing, and the most likely to be in demand amongst lower-income seniors looking for both independent and supportive living options, were excluded from the rates.
For example, at Calgary's Silvera for Seniors, a non-profit which provides subsidized seniors' housing to lower income Calgarians, the vacancy rate is currently 4.1 per cent -- a significant difference from the more than 11 per cent listed in the report. And the demand for affordable seniors' housing is only expected to increase dramatically in Alberta as the baby boomers retire over the coming two decades.
But do we really need to worry about affordable seniors' housing, here, in Alberta, home of the highest household family income in the country?
Many feel that baby boomers, especially in Alberta, are well prepared for retirement. Unfortunately, the evidence shows this is not the case.
This may not be by design, but by necessity. Not all Albertans have jobs with high enough salaries that allow them to save money for retirement after meeting ever-increasing monthly expenses.
As an alternative to saving, many Alberta boomers are relying on the equity in their homes to fund their retirement. By selling and cashing out on the equity increases in their homes, many are, or plan to, invest the money and live off the returns. The concern here is that both the OECD and Moody's recently noted the real possibility of a real estate bubble in Canada -- that is, that home prices may drop significantly in the coming years. Add to this the volatility of oil prices coupled with the continuing low price of natural gas, and such returns are by no means a slam dunk.
More worrying still is that a significant percentage of boomers will retire while still holding mortgage debt. According to a 2011 TD Canada Trust report, 21 per cent of Albertans are looking at just this kind of scenario as they enter their golden years.
We really have to hope that Albertans were giving a tongue-in-cheek response to the 2011 TD Canada Trust survey when 31 per cent of them said they are relying on winning the lottery to fund their retirement.
All of these statistics paint a picture of a coming wave of demand in Alberta for affordable seniors' housing.
Even if the rate of seniors in need of affordable housing remains the same over the next two decades, the sheer number of boomers retiring will mean more subsidized units are required. Currently, the Alberta government has 9,928 spaces available for supported seniors' housing. There is no doubt that this number will need to be increased over the next few decades, while at the same time, existing housing stock will require renovating and renewing.
Boomer seniors will also demand much more in terms of space and available amenities than seniors of past generations. They will want to stay involved in their communities and continue to lead active and healthy lives. By doing so, they will inevitably live longer, but may also have more complex needs as they age.
How will Alberta meet this demand while also remaining fiscally prudent?
The possible solution requires creativity and innovation. The Alberta government will need to partner with existing non-profit affordable housing providers, who are knowledgeable about the current and emerging needs and desires of lower-income seniors. They can also help rally Alberta's generous philanthropic community to support this equally worthy cause.
In order to provide much-needed capital, the government must also look at bringing corporate for-profit developers into the mix -- in collaboration with non-profit agencies and donors -- to build at the pace required to meet demand. The result could be a completely new and improved way to fund, build and design affordable seniors' housing.
Given that the first boomers turned 65 last year, the time to start these discussions is now.