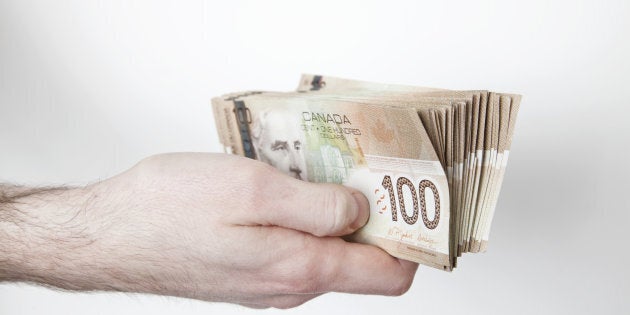 The Bank of Canada is raising the cost of borrowing money, which is bad news if you're among the ranks of Canada's heavily indebted.
But the move has caused the loonie to spike, which is good news if you're planning a foreign vacation or buy a lot of imported goods.
The bank's decision to raise its key lending rate to one per cent on Wednesday, from 0.75 per cent, apparently surprised the markets, which sent the loonie soaring.
The Canadian dollar, which had been trading around 80.5 cents U.S. on Wednesday morning, spiked by more than a cent to around the 82-cent mark immediately after the Bank of Canada's announcement.
It's the highest level the currency has seen since June 2015.

Traders tend to pile into currencies that are seeing rising interest rates, as it means better returns on their cash deposits, and in general suggests that the economy is getting stronger.
An unexpectedly strong Canadian economy was behind the bank's decision. The country recorded a 4.5-per-cent annualized pace of economic growth in the second quarter, Statistics Canada said last week, making for the best first half of a year since 2002.
"Recent economic data have been stronger than expected, supporting the Bank's view that growth in Canada is becoming more broadly-based and self-sustaining," the Bank of Canada said in an announcement accompanying the rate hike.
"Consumer spending remains robust, underpinned by continued solid employment and income growth."
More rate hikes and a stronger loonie likely on the way
Analysts are busily upgrading their forecasts in the wake of last week's bullish economic data and Wednesday's interest rate hike.
"The market was expecting that a hike would be accompanied by language that would push back against the recent surge in the loonie, but what we got was a statement that was very hawkish," said Bipan Rai, executive director of macro strategy at CIBC World Markets, in a client note quoted by the Globe and Mail.
Rai said the odds of another rate hike this year have shot up, and the loonie is likely headed above the 83-cent mark.
Higher loonie could slow economy
But a higher loonie could also slow Canada's economic momentum, as it will make exports more expensive.
Evidence is building that the recent run-up in the loonie — from around the 75-cent mark last year — is impacting the economy. Statistics Canada reported on Wednesday that exports fell 4.9 per cent in July, blaming the phenomenon on a higher loonie.
Canada's trade deficit shrank to $3 billion in the month, from $3.8 billion in the month before, because imports fell even faster than exports, shrinking six per cent.