The loonie's long slide in the wake of the oil price crash will continue, analysts say, but its two-dollar cousin, the toonie, is headed for record highs.
"The loonie-toonie spread will rise to the highest level on record, giving toonie holders a distinct advantage over loonie holders," said David Fox, a money manager at Fidelity Investments, in a client note this week.
"If this trend line continues, the toonie could be worth 20 per cent more than the loonie against the U.S. greenback within a year," Fox added.
Fox sees the loonie trading at 69 cents U.S. by the end of the third quarter, while the toonie is expected to trade around $1.48 against the U.S. dollar.
It's all because of the metals used in the coins, and a dose of superstition among traders. Market observers say the toonie is more attractive than the loonie to global traders because of the polar bear depicted on it.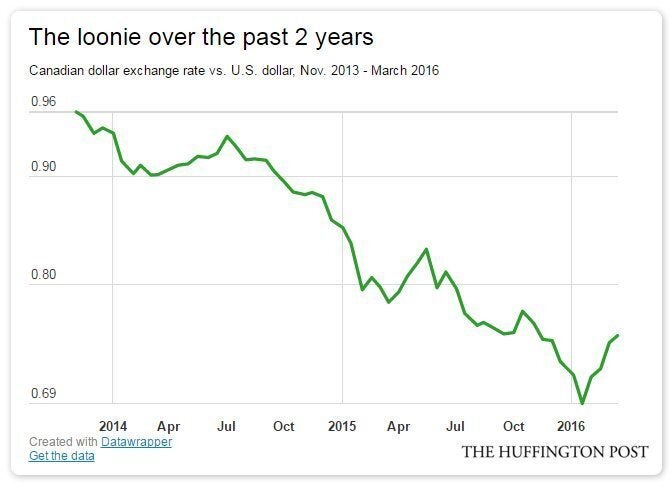 Traders have a superstitious habit of carrying around the image of a bear with them during hard times, or a "bear market" as it's known in financial circles. Carrying a symbol of a bear is seen as a sign of defiance in the face of economic slowdown.
"Traders don't have any real reason to buy the toonie except that it's a good luck charm," said Adam Zipper, a currency analyst at ForexLive. "And if you're losing money on trades day after day, a lucky charm sometimes starts to look worth the money. So there might be a bear market for the loonie, but there is definitely a polar bear market for the toonie."
Additionally, the metal composition of the two coins makes the toonie more attractive to commodity investors. Both coins used to be made from an amalgam that was mostly nickel, but are now made from brass-plated steel. However, the toonie also still has a nickel coating, making it more valuable, especially if nickel prices rally this year, as many analysts expect.
But "if China busts out, forget about the nickel rally," Fox said. "I see a straight line from from a Chinese crash to loonie-toonie parity. But if China recovers this year, the toonie will soar."
Either way, the toonie is your best currency bet, he says.
And Fox adds one more thing: "April Fools!"

Popular in the Community