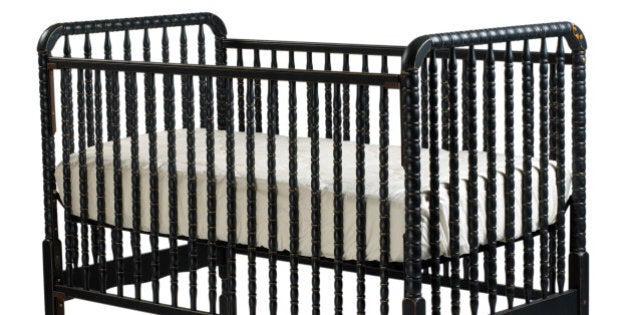 October 15 has been proclaimed by several Canadian provinces as Pregnancy and Infant Loss Awareness Day to honour and remember all babies who died too soon. This recognition is vital to raise awareness about miscarriage, stillbirth and the death of infants during delivery or shortly after birth.
The death of a baby is a terrible tragedy that profoundly affects parents, grandparents, siblings, extended family members and friends. In 2011, more than 2,800 babies were stillborn and more than 1,800 infants died within the first year after birth in Canada.
Unfortunately, in many cases, parents who lose a child do not have an outlet or space to express their grief or sadness, as society often avoids talking about the death of a child.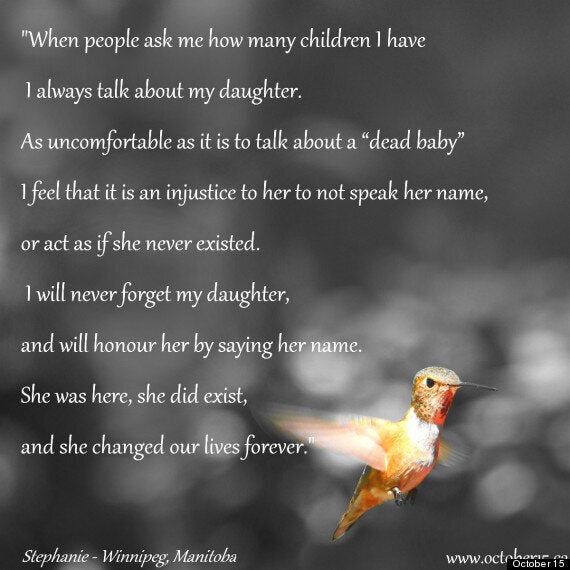 Many bereaved parents seem to experience the same thing: after they lose a child, their social life changes significantly. And this does not simply refer to going into hiding, avoiding groups of people or staying away from fun events and activities. This is likely true for anyone who grieves the loss of a loved one. Friendships in particular shift.
Overnight, not only one's dreams, hopes and future have been crushed, but the whole social support system goes into disarray. Some friendships cease to exist, others become a lot deeper and new ones form, sometimes with an unbelievable speed. When friendships previously developed over years and years, one might suddenly feel closer to people who are almost strangers, but share a burden.
One of my friends posted this quote recently by Joan Didion who has faced two tragedies in a short period of time -- the loss of her husband and her 39-year-old daughter:
"People who have recently lost someone have a certain look, recognizable maybe only to those who have seen that look on their own faces. I have noticed it on my face and I notice it now on others. The look is one of extreme vulnerability, nakedness, openness ... I seemed to have crossed one of those legendary rivers that divide the living from the dead, entered a place in which I could be seen only by those who were themselves recently bereaved."
She finds better words than I ever could to describe this feeling.
When I posted the quote "Hard times will always reveal true friends" recently in our online group, it received a lot more comments than I anticipated. Many bereaved parents added family to the list of either being very supportive or disappointing. There don't seem to be many grey areas, just black or white.
A common issue seems to be a push to move on. It appears that society is a lot more comfortable with topics other than death and loss, almost like an instinctive hunt for fun, laughter and positiveness. There is a complete lack of understanding that bereaved parents will not get better, in the sense of recovering from the flu.
For me, the realization is that the "old me" is gone and it will not come back, no path back to my previous self exists. I have to admit, I sometimes miss it myself, simply because life seemed much easier, maybe because of the absence of this nakedness and vulnerability. It is like my old personality died with my children and has been replaced with a different one. The idea of getting better, getting over it or moving on is therefore just an utter misconception of what is happening.
Losing a child does not only affect existing friendships, but any future ones equally so. One mom said she picks her friends by who can deal with her grief. In the first meetings she would bring up her child who died and if the reaction shows that the new connection is unable to deal with it, then it won't develop any further. And this appears to me as the only way to approach this. If there are any awkward moments, not being able to be oneself or similar, then it would just waste the little energy that is available to a grieving parent. Others say grief is exile.
The shifts in friendships and relationships are extreme. The negative ones go all the way to a feeling of being shunned. Here comes the living nightmare, take cover. A couple who lost two children. Sometimes it feels like we have a contagious virus that others try to dodge by avoiding bereaved parents. As if ignoring the fact that children can die would change the probability that it might happen to them. Really, that is the solution? Let's not talk about something horrifying so that it won't befall us?
In the case of a virus it certainly makes sense to avoid sick people. But bereaved parents are not sick, despite some newspapers speaking of a stillbirth epidemic. Ignorance won't make a difference. It can happen to anyone.
On the other hand, many people look at these tragedies from a different angle. People see it as a reminder of how precious life is and to cherish it, taking it as a reason to make a difference for them and others. We sometimes forget what is really important in life and an experience like losing a child sets our priorities and the ones of the people around us straight.
I like to think that all bereaved parents are a symbol of love, which is expressed in their deep and long -- often lifelong -- grief. One of the nicest compliments we received so far is from a mom who wrote to us that she reads our blog and that it makes her a better mother to her children.
I certainly do not know why some people are able to see the love parents have for their children while others might see only the nightmare of loss. Maybe it is simply a personality trait, similar to some people speaking of a glass half empty whereas others see it as half full. If it becomes something to be afraid of though, they should think about the fact that life will always be a struggle. We like to ignore it, but I believe in some way or the other it always is.
"The most beautiful people we have known are those who have known

defeat, known suffering, known struggle, known loss, and have found

their way out of the depths. These persons have an appreciation, a

sensitivity, and an understanding of life that fills them with

compassion, gentleness, and a deep loving concern. Beautiful people do

not just happen."

--Elizabeth Kubler Ross, 1926-2004

Swiss-born Author and Psychiatrist
Several Canadian landmarks will support the awareness campaign and light up in pink and blue on Oct.15, including BC Place and Telus World of Science in Vancouver, the CN Tower in Toronto, Niagara Falls, and Fort Erie's Peace Bridge. Everyone is invited to show their support by participating in the International Wave of Light -- people will light candles for one hour at 7 p.m. local time which will form a continuous wave of light around the globe.
Popular in the Community