It's a rainy, rainy April day at Toronto's legendary Fairmont Royal York Hotel, and "Lost Girl" is shooting its Season 5 premiere. Dry ice billows out of the main ballroom, where the majority of the action is taking place.
Unfortunately, due to a strict embargo, I can't reveal what's actually happening in the ballroom, but you'll all see soon enough. The "Lost Girl" Season 5 premiere airs on Showcase on Sunday, December 7 at 9 p.m. ET.
Yes, Canada's (and the world's!) Fae-vourite succubus show is back for its fifth and final season, and we've got the dirt for you. HuffPost Canada TV spoke with Anna Silk (Bo), Rachel Skarsten (Tamsin), executive-producer Vanessa Piazza, and current showrunner/co-executive-producer Michael Grassi, and they all promise it's going to be one amazing ride. So buckle up, we're going to hell and back. Literally.
The Season 5 premiere is a two-parter, and given the event that's taking place in the first two hours, it makes sense. Expect there to be many revelations and discoveries, including character growth, resolutions and new "relationships" forming.
"I think this premiere has a lot of surprises. A lot of doors open," says Grassi. "But others close. It sends Bo in a new direction. That's all I can say."
"There's a real freshness to Season 5," says Piazza. "We're really opening up the 'Lost Girl' world this year. We get to do so much in these two episodes. It's action-packed and our whole gang gets to be involved. They're all part of this premiere. The group is all back together again. A big theme this season is family, and these are all Bo's family. We've seen some of them get torn apart, but now's their chance to come together."
And then our girl, Bo (Silk) -- looking nothing short of spectacular in her all-black hardcore best (thigh-high boots, natch) -- pours gasoline on the fire: "We left off with so many cliffhangers, the loss of Hale, Rainer and Kenzi," she said. "The Season 5 premiere is definitely going to deal with [that loss]. This two-part premiere is really exciting. Bo was taken in different directions last year, and she wasn't herself a lot of the time, and now she's very clear-headed about her loss. She's determined."
Article Continues After Slideshow!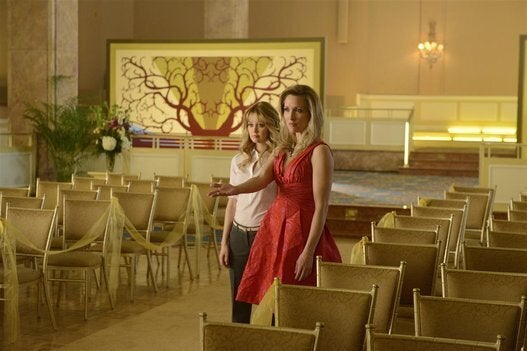 'Lost Girl' Season 5
It was announced in late August 2014 that Season 5 of "Lost Girl" will be its last. Showcase super-sized the original 13-episode order to 16 episodes, bringing the series to a thrilling conclusion. Bo goes to Hell and back to try to save the people she loves, triggering an explosive chain of events that play out over the exhilarating final episodes.
Season 5 is split into two heart-stopping parts (as seems to be the way with TV shows nowadays), with the first eight episodes airing in December and then the final eight coming at a later time in 2015.
"It's been an absolute honour playing Bo, and I'm looking forward to seeing where her personal journey leads her this season," says Silk. She pauses, then continues, as if she's just realized the gravity of hitting a fifth season (in Canada, no less): "Season 5. Wow. Here I am, I'm the lead. I have a beautiful baby boy. What more could I ask for at this point? We came out of the gate pretty strong, and it keeps getting stronger with each season. Which is awesome."
"'Lost Girl has been an incredible ride. We're so proud to have delivered a show with the groundbreaking message that you can live the life you choose," said executive-producer Jay Firestone.
No Charisma Carpenter Anymore, But Still Guest Stars Galore
"[This season], there will be a lot of fun recurring characters we haven't announced yet," says Piazza. "Our core group and Bo will have to face off against some new hard-hitters. They're going to be a little more recurring than Linda Hamilton [who guest-starred last season], they're almost going to be joining our ensemble."
"The recurring characters will play in a way that the viewers won't expect," says Grassi. "As always, in every episode we like to go to new worlds, whether they're fae or human, and it's important for us to see some new faces every time."
It also sounds like there will be a new love interest/sexual conquest/plaything for Bo. Nearly every person I spoke with on set hinted at it, but no one was explicit with detail (darn).
"There's a new contender for Bo's heart this season -- and it might already be somebody we know. That's all I'll say," hints Grassi.
Silk agrees, laughing, and then cleverly deviates the conversation. "Think about the core people on the show -- this year we're going to have some new dynamics in that group," she says. "There could be some new competition for Bo's sexual affections. We'll see some new players, as well. It's really nice to play a character like that, where everyone is just supposed to fall in love with you and think you're amazing and beautiful!"
Tamsin also gets a little lovin' in Season 5. "Fans had been clamouring for a relationship [for Tamsin]," says Skarsten. "I won't say specifically which one, but they'll be happy. That's all I can say."
One thing that showrunners and stars can definitely agree on: Season 5 is all about family. Of course, when talking about "Lost Girl," we're not referring to biological family (although in some cases that's true), but instead the family you make with friends.
"The big theme that me and all the writers are excited about this season is family," says Grassi. "Our gang as a family and what that means, blood family vs. the family you make."
Silk elaborates further: "At the centre of this show has always been the core group of people, which has been Bo's family. Maybe not her blood relatives -- Trick is, I guess -- but it's this makeshift family of quirky people. It means everything to her. We really get back to that in Season 5."
"Last season we all got torn apart," she says. "So I think that forced Bo to reconsider what's important to her, and where to focus her energies. I can say that she literally goes to Hell and back this season. And when you go to Hell and back, you don't come back empty-handed."
There's also the little issue of Bo's father. Who is he? Where is he?
"We get some real answers on Bo's dad, which I'm really excited about," says Grassi. "Obviously that has huge emotional consequences for Bo, which is part of her arc this season. She finds out nuances about her dad, and in turn about where she comes from."
Silk is more vague. "All the pieces are coming together," she says. "Her father feels scary, it feels necessary for her to find him, to move forward in her life. That search is happening this season. Whether or not she finds him ... I don't know!"
Will Silk's real-life son ever make a guest appearance on "Lost Girl"? Don't count it out. "If we need a baby Fae ... we'll see," Silk says, laughing.
Throughout all five seasons, "Lost Girl" has managed to keep one consistency: its humour. Unlike most sci-fi/fantasy shows, "Lost Girl" has a unique fun vibe, with each of the characters owning an individual, identifiable sense of humour. Expect that trend to continue until the very end of the series.
"Another thing about 'Lost Girl' is we don't take ourselves too seriously," says Piazza. "We might have very important themes, but we also have a lot of humour that keeps driving the episodes. We're going to see a lot of that this season. A lot of times I'm reading the script and I'm laughing out loud. Rachel Skarsten is just hilarious, same with Zoie Palmer. We're really playing with that. Everybody has evolved. So has the series! It feels crisp and exciting. We've freshened up everyone's look this year, too. We can't tread water. We're reinventing, but also keeping the heart. We'll never lose that."
"The special thing about 'Lost Girl' is it can be campy at times, but the show doesn't take itself too seriously, which is what separates it from other sci-fi TV shows," says Skarsten. "I love that. People always ask me what my favourite part is about Tamsin, and I always say her humour. This season she's back in full force, she has her one-liners and food all over her face. I love it."
"Last year we went down a serialized path, and this year we're going to see a lot more of these cases of the week, those really fun moments where Bo, Tamsin, Lauren get to go undercover," says Piazza. "Those episodes are so much fun ... our group interacting with the human world. One part of the show that's always been really important is that ... they're all Fae (other than Lauren), and they interact with humans on a day-to-day basis. We're going to get back to that, have awesome creatures of the week, mythological characters, that sort of thing."
Once the show is done and relegated to reruns, "Lost Girl" will always be remembered as one of the first Canadian shows to embrace the LGBTQ community very publicly and very transparently. Same-sex relationships on the show are on display just like heterosexual relationships, and no one even bats an eye. It's hard to argue the show wasn't ahead of its time.
"I knew she was a succubus, I knew she was sexual, and I knew she'd be with both men and women, but it was never about that only," Silk says, recounting her experience auditioning for the show. "It was the nature of the character and the power that she has. I like that that community has recognized that it's part of the show, and it's not being highlighted."
On "Lost Girl," sexuality is just that: sexuality. Only recently have mainstream shows started to pick up on that approach, and we have this show to thank.
Most of all, the showrunners want to make sure "Lost Girl" gets a proper last season, tying up all necessary loose ends and providing twists and turns for all the loyal fans. To be sure, "Lost Girl" fans are some of the most rabid fans out there, reaching around the globe by the tens of thousands. It's time for their reward in Season 5.
"Our fanbase has been so dedicated, and we're going to be constantly paying them back this season for that dedication," says Piazza.
"Last year was very much based in fairy tale," says Grossi. "In Season 5 we're looking to get back into the real world. We want a clearer separation between human and fae, and we want to look at how Fae deal with the real world. There's fun stuff. One of our big things this season is to get our gang undercover. We'll have mysterious, interesting, creepy cases - and have our gang have a good time on them."
Sounds like reward enough, doesn't it?
"Lost Girl" Season 5 premieres on Showcase on Sunday, December 7 at 9 p.m. ET.