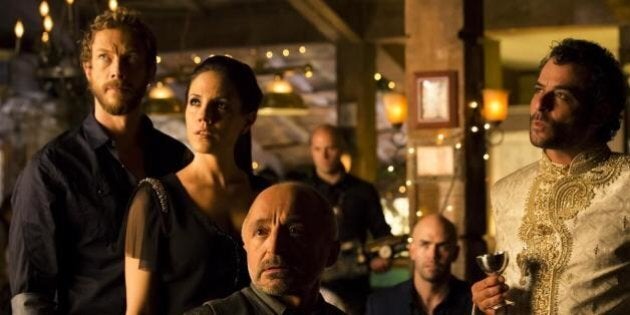 Fae-natics, prep yourself for another season of "Lost Girl."
Showcase has green-lit Season 5 of its hit Canadian original series, "Lost Girl," for 13 episodes. The homegrown hit series, starring Anna Silk, begins production on Season 5 this spring and is set to air Fall 2014.
"Rooted in folklore and mythology, 'Lost Girl' has inspired a passionate and dedicated fan following with its deeply engaging characters, richly imagined universe and boundary-pushing storylines," said Barbara Williams, Senior Vice President, Content, Shaw Media. "We're looking forward to Season 5 building on the exciting and fantastical plotlines."
"Lost Girl" follows supernatural seductress Bo (Silk), a tough-yet-lovable Succubus who feeds off sexual energy. Since realizing she is part of the Fae, creatures of legend and folklore who live among humans, Bo has resisted choosing an allegiance to either the Dark or Light Fae clans. Instead, she has forged her own path between the human and Fae worlds, while embarking on a mission to unlock the secrets of her origin.
Throughout Season 4, Bo was plagued by memory loss that left her with more questions than answers, especially upon learning of her inexplicable decision to officially join the Dark Fae. The season's emotional journey exposed Bo and her friends to new loves, heartbreaking losses and shocking betrayals, all leading to the season finale that saw her battle a darkness within herself.
Also returning to the cast are series stars Kris Holden-Ried ("The Tudors," "Underworld: Awakening") as Light Fae shape-shifter Dyson, Zoie Palmer ("The Guard," "Instant Star") as human doctor Lauren, Rick Howland ("Billable Hours," "Murdoch Mysteries") as Bo's ancient and secretive grandfather Trick and Rachel Skarsten ("The Vow," "Flashpoint") as Valkyrie warrior Tamsin. Returning guest stars include Paul Amos ("Sex After Kids," "Murdoch Mysteries") and Emmanuelle Vaugier ("Two and a Half Men," "Covert Affairs").
No word on whether Ksenia Solo (Kenzi) will be returning for Season 5, but they wouldn't want us to know that, would they? We die-hard "Lost Girl" fans will be waiting for her to traipse back on-screen when the new episodes start airing.