It's been said that you're less likely to win the lottery than you are to be struck by lightning.
If that's the case, the odds are even slimmer for Peter McCathie.
The owner of the Amherst Shore Country Store in Amherst Shore, N.S. was once hit by a bolt from the sky.
The pair had been buying tickets for approximately one year, and had bought the latest one from the very store that McCathie owns.
They purchased it through what's known as a "Retailer Play" button, which allows store owners or employees to buy tickets and avoid disputes later, The Amherst Daily News reported.
The Nova Scotia man was struck by a bolt while on a boating trip when he was 14, the network said.
"I was trying to lock the boat up, it was a very sunny day, there was one big, white cloud in the sky and the lightning bolt came through the trees and hit me," McCathie said.
He now plans to spend the winnings paying off debt and taking a second honeymoon with his wife.
Miller, meanwhile, wants to take a trip to Cancun.
University of Moncton mathematician Sophie Leger calculated the odds of winning the lottery AND being struck by lightning at about 1 in 2.6 trillion, CTV News reported.
In other words, if McCathie were a U.S. resident, he'd have had a better chance of being a movie star (1 in 1,505,000) or being attacked by a shark (1 in 11.5 million), according to NBC News.
Thank goodness the odds have finally turned in his favour.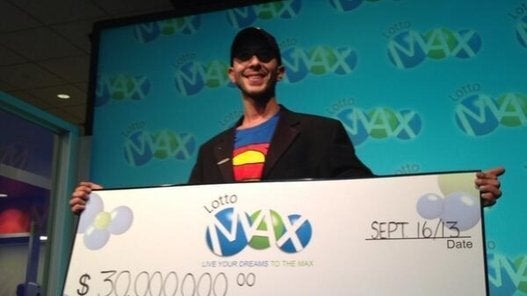 The Accidental Millionaires: 7 Stories Of People Who Stumbled Into Their Lottery Wins