That's the theme CBC's "The Book Of Negroes" tackles in each episode of its six-part miniseries (based on the book by Lawrence Hill).
This Wednesday, that theme is revisited when audiences are introduced to the Daddy Moses character, as played by Oscar-winner Louis Gossett, Jr. HuffPost Canada caught up with the Emmy- and Academy Award-winner to get his take on the importance of the "The Book Of Negroes," Daddy Moses and more.
HuffPost Canada: What did you want to bring to the Daddy Moses character?
Louis Gossett Jr.: These shows are in a genre now because of "12 Years A Slave," "The Butler," and all that stuff. I'm going to take this a little bit to the side, because all of that's in there, but this is really an enormous portrayal of a woman's life. She's the one that narrates the whole thing, so she was successful and survived. It's about the remarkable life of this woman. She wrote in "The Book Of Negroes" and in her past the slavery, all of the atrocities and the revolutionary war, and the beginning of the society of the Nova Scotia churches. It's an incredible tapestry. It's a nice slice of life, an enormous, wonderful story that I didn't know anything about.
So did you have a takeaway from that?
History is never finished; I'm like a freshman in the life of knowing our stories. It's refreshing. The first time I worked in Canada was maybe 15, 16, 17 years ago and I worked on a movie about James Mink. He was the son of a runaway slave who escaped in the underground railroad and ended up in Toronto in the 1800s and he developed what is now called a taxicab business.
He took it up to the next level and became a horse trader, and he was potentially going to be the first mayor of Toronto. He couldn't find a proper wife and he called for a mail-order bride from Ireland during the famine. They fell in love and had a daughter, and she went to finishing school -- he married her to a young horse trader during a horse auction and they went on a honeymoon in Niagara Falls, and he turned out to be a slave trader ... and he sold her into slavery very much like "12 Years A Slave." Now he and his Irish wife had to go into the south to get their daughter back. And he had to be his wife's slave. It's a true story. So the more we know about that the more we can clear the air, respect one another and get on with the salvation of the planet.
How does Moses inform Aminata's journey in "Book Of Negroes"?
Moses, for an actor, it's like a great steak, it's a wonderful sandwich to be able to play that kind of character. A lot of challenges ... and I like to stretch. He's partially blind but he can't tell anybody because then he couldn't get his point across. He created the history, the migration through Nova Scotia, the search that he started. And people won't be able to feel it, because the villains and the friends are both racist. The friend is the British and the villains are those hired to bring them back into slavery. So it's a nice tapestry of villains and heroes. It's very beautiful.
This is a story about the importance of telling your own story -- do you think it's important nowadays, given the sheer number of Caucasian executives in Hollywood?
It's extremely important and very timely, right on time. Now we can talk about all the subjects, we can clear the air and see what our commonalities are, which are stronger than our differences. Our old DNA conflicts, racially and politically and religiously, can be dispelled for the bigger picture of us needing to be together to steer us all in the right direction.
Given the current U.S. climate with race relations, is this project coming at a good time?
An excellent time. Now we have the Internet and everybody knows everything and everybody is expressing their beliefs. And then you get a tapestry of things, of people needing to come to the table to discuss this in a non-violent, intelligent, human way. We're supposed to be more advanced than the other species. Now's the time for those conversations. Hopefully they do it with the young people from my foundation. But we need to get together and solve the differences and enhance on our commonality as human beings of this planet, so we can do the bigger job of saving the planet itself. Otherwise nobody is going to win anything.
"The Book Of Negroes" continues Wednesdays on CBC in Canada, and will air on BET starting February 15 in the U.S.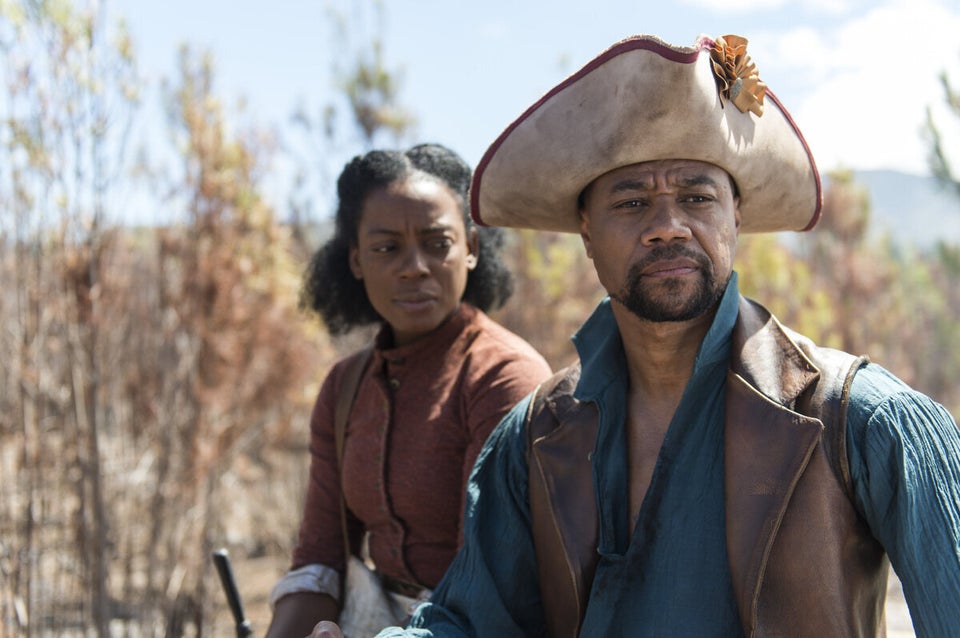 CBC TV Fall/Winter 2014-15