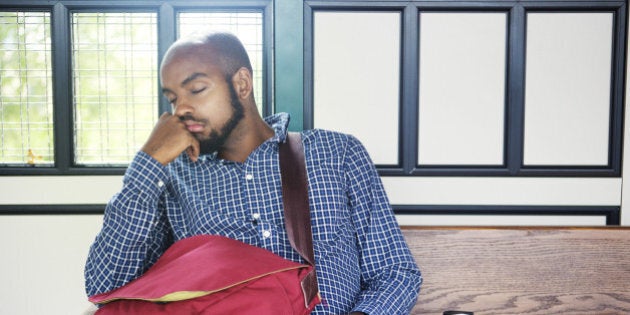 Why do we accept low quality? The more I speak at workplaces, the more I'm convinced that headaches and low energy have become an accepted part of life. This has me perplexed.
If a bank was being robbed and you called the police saying there are alarms ringing at the bank. When they showed up, if the turned off the alarm and let the criminals go, would that be OK? They solved the problem you complained about. No more alarm.
We do this same thing with our body. The headache and low energy is the alarm. Instead of looking to care for our health, we talk Advil/Tylenol or drink a coffee/energy drink. We turn off the alarm and let the criminal go free.
My question to most people is simply what are you willing to change? We need to fix our nutrition, hydration, caffeine dependency, oxygen intake, stress levels, and our posture. This will move us into optimal health. It's not a diet, a brand name supplement, or a method of exercise. It's taking care of our bodies and understanding what fuels them.
Our nutrition, hydration, and caffeine addiction is the first place to go to. As a Workplace Wellness Expert, I see first hand what passes as nutrition. It's a shame we don't take our fuel seriously. Most people grab what's easiest, and don't give a thought to their bodies performance. We need to get real food that we cook and prep ourselves. We simply need to eat more of the real food that has the nutrients our body can't live without.
As for hydration, don't worry about numbers of glasses in a day. Try to drink a lot of water -- 15 oz or 500 ml five times a day is my goal. Double that first thing in the morning. It means I'm always drinking water with a meal. Water stores nutrients in the body, lubricates joints, and is a factor in pretty much every function of the body.
Caffeine is one of those things I wish more people were aware of when they consumed it. I'm not saying stop, and I'm not saying it's bad. Caffeine, as well as alcohol, has a tendency to enter our bodies without us taking note. We drink both without thought. I'd love people to stop and think about it. You are ingesting a substance that has a direct effect on the way your brain functions. Be aware, and keep it to minimal levels. Far to often I see workplaces that over consume caffeine daily. It's a North American problem, it will take us simply being aware.
Drink more water, eat real food, and make take care of your body. Sit down with a dietitian, bring in a health expert to speak, start getting informed. Make sure the water you drink is water, not filled with colours and chemicals.
Once we look at what we are putting in our body, the next question is how are we caring for it. It sounds strange to think of oxygen intake, but our stress levels reduce oxygen. We don't deep breath any more. Give it a try as you read this. Stop right now, relax and take four deep breaths. Deep breathing yoga style. Fill your belly with air, and keep breathing in until your lungs are full. It should take a slow three count. Then release the breath on the same count.
I'm fortunate that Winnipeg has an amazing Yoga culture, I regularly attend classes at Yoga Public. The deep breathing and stress relief is a key to my health. Even if I don't get to class, I practice the breathing. This is one of my number one recommendations when I speak. It's easier than trying to get people to bootcamps for push ups and burpees. Getting into exercise can be as simple as a walk, it doesn't need to be the high intensity push that seems to be famous on TV. Take the time to breath during the day, go for a walk, and make sure you are caring for your body and health.
There is so much more to this health journey, but it's all easy. That's what I hope people realize. We have some many answers to mask problems, I truly hope people start looking to fix problems. Work together in groups at work, find classes or experts to consult regularly. Start to enjoy a healthy body, lower stress, and everything that comes with optimal living.
Enjoy junk food and pop. Eat pizza. Drink anything you want. Do it all in moderation. Take into account that your body needs certain things to survive. Give it the building blocks, then add anything else you crave in moderation.
That's health. That will make this nation healthy, One Fit City at a time.