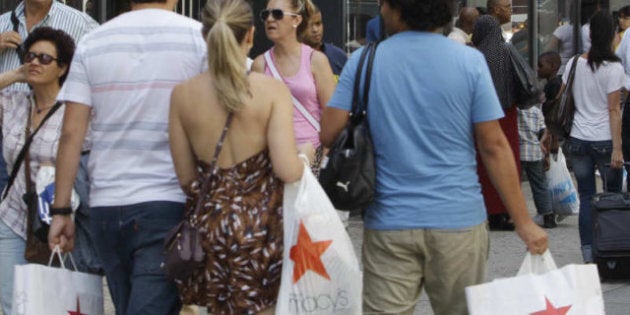 With uncertainty once again dogging the world economy, it now seems unlikely that the run of cheap credit that has made it easier for consumers to spend big in the wake of the downturn will end anytime soon.
Meanwhile, on this side of the border, economists predict that the Bank of Canada will also postpone its plan to begin hiking interest rates.
But while low borrowing costs may inject capital into the economy, and initially make it cheaper for consumers to finance everything from new cars to houses (as HuffPost Canada reported Monday, mortgage rates could dip to new lows), there is a dark side to easy money.
As Scott Hannah, CEO of the Credit Counselling Society, explains, cheap credit has given consumers "a false sense of security," encouraging them to take on additional debt.
In the first half of this year, Hannah says, the New Westminster, B.C.-based non-profit has seen a 30-per-cent increase in clients over the same period last year.
And their financial problems are much bigger than they used to be: In the past 15 years, Hannah says, the average debt level among his clients has doubled to nearly $25,000, making it easier for them to sink into the hole, and tougher to get out.
"Because of past and current easy access to credit, people are amazed at how quickly they've gotten themselves into financial difficulty," he says. "Whereas in the past it may have taken a person sometimes five years to really find themselves in difficulty, today that could occur in as [little] as a year and a half.
"We used to find that the people coming to us would be able to rectify their circumstances within three years or so. Now we find that the time period required [is] longer."
In the aftermath of the U.S. sub-prime lending crisis, it is not surprising that the link between low interest rates and high consumer debt is perhaps most apparent when it comes to the housing market.
Since 2008, Finance Minister Jim Flaherty has on several occasions tightened mortgage rules in a bid to tackle consumer debt, most recently lowering the maximum amortization period for government-insured mortgages to 30 from 35 years and lowering the amount Canadians can borrow against their homes to 85 from 90 per cent.
But according to David Macdonald, a research associate at the Canadian Centre for Policy Alternatives, low borrowing costs have allowed Canadian consumers to qualify for sizable mortgages, exposing them to significant risk if interest rates rise.
"You assume you can take on a lot more debt, but the problem is, this is a very unusual period. Historically mortgage rates have been much higher," he says. "If mortgage rates climb one or two per cent, all of a sudden, your mortgage payments start to go up."
At the same time, he says the ability of homeowners to pay top dollar for property has artificially driven up housing prices in major urban centres across the country, which could multiply the fallout in the event of a bubble burst.
"[If] all of a sudden you see people unwilling to pay for these outrageous prices in Vancouver or Toronto or Calgary or Edmonton, you get sort of a double whammy, in the sense that people's houses aren't worth as much, but they have to pay more in mortgage payments," he says. "They get squeezed on both sides."
Though Macdonald isn't in favour of a hike in interest rates until there are "strong signs of economic growth in Canada," he says "the housing bubble makes it much more complicated."
"The economic recovery has been sealed in some part by personal debt, and that's not sustainable in the long term," he says. "Once interest rates go up, people are going to get burned."
All of which seems like a reasonable argument for thinking twice before going further into the red.
"What people haven't really thought about clearly is, 'How am I going to manage if the rates go up?' It's not a question of if, it's when," says Hannah. "Our advice to consumers is, while the rates are low, this is a perfect opportunity to really attack the debt that you have."
GALLERY: How Canada's Debt Burden Compares
Popular in the Community