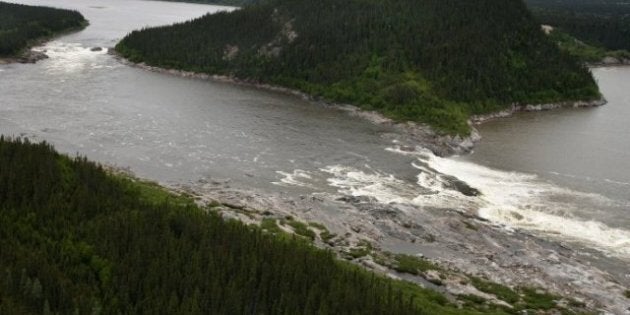 UPDATE: The federal government has signed a tentative agreement to provide a loan guarantee for the proposed $6.2-billion Muskrat Falls hydroelectric project in Labrador. Two federal ministers were in St. John's today for the signing of a memorandum of understanding with the governments of Newfoundland and Labrador and Nova Scotia. The provincial and federal governments are aiming to finalize the terms of the agreement by Nov. 30.
OTTAWA — The Conservative government will fulfill its election pledge to Newfoundland and Labrador Friday by providing a loan guarantee on the development of the lower Churchill hydroelectric project, The Huffington Post Canada has confirmed.
Natural Resources Minister Joe Oliver, Intergovernmental Affairs Minister Peter Penashue — the only Conservative MP from the province — and National Defence Minister Peter MacKay are in St. John's to sign a memorandum of understanding with their provincial counterparts, Natural Resources Minister Shawn Skinner and Finance Minister Tom Marshall.
Representatives from the province's energy developer Nalcor and Halifax-based Emera, an energy distributing company, which signed a deal last fall to develop the $6.2-billion megaproject, will also be in attendance.
Prime Minister Stephen Harper announced a Conservative government would provide a loan guarantee for the Lower Churchill development during an election stop in St. John's last March that drew much criticism from Quebec Premier Jean Charest, who slammed it as an unfair subsidy to Newfoundland.
Hydro-Quebec had developed its network and financed its own operations, said Charest, who complained that the Conservatives were now changing the rules of the market and treading on provincial jurisdiction.
The Lower Churchill development consists of two hydroelectric projects. The first is a 824 megawatt dam on Muskrat Falls and another future installation on Gull Island. The deal involves the construction of two underwater cables, the first to transfer power from Labrador to the island of Newfoundland and the second from Newfoundland to Nova Scotia where the electricity will transmitted to New England.
A Dalhousie University economics professor said if the federal government were to follow through on its loan guarantee promise, that would be an affordable way of responding to potential calls for stimulus spending amid concerns that the economy was poised to dip into a recession again.
Lars Osberg said Ottawa is worried about increasing deficit spending and adding to the debt.
"Encouraging this sort of private sector investment is a key way of getting economic activity moving again," said Osberg.
"It's a relatively easy and inexpensive way to provide stimulus at this point of the business cycle."
With a file from The Canadian Press
Popular in the Community