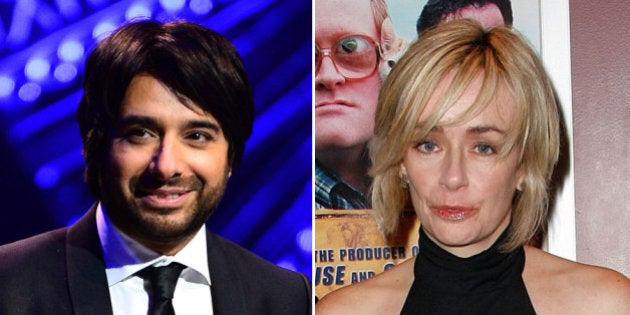 "Trailer Park Boys" actress Lucy DeCoutere has come forward saying former "Q" host Jian Ghomeshichoked and beat her, The Toronto Star reported Wednesday night.
Trigger warning: This article contains information about violence which may be triggering to survivors.
According to DeCoutere, she and Ghomeshi first met in in Banff in 2003. She says when she visited him in Toronto, the pair went back to his house after dinner, and had started making out when he allegedly "pushed her against a wall," choking and slapping her.
"He did not ask if I was into it. It was never a question," DeCoutere told the Star. "It was shocking to me. The men I have spent time with are loving people."
Eight women in total have come forward, all accusing the ex-host of harassment and abusive behaviour.
Earlier, an anonymous woman offered candid details on CBC Radio's "As It Happens" about being allegedly punched in the head by Ghomeshi "repeatedly" – until her ears were ringing – on a second date.
"We were flirty, but in that flirting he grabbed my hair again – but even harder and threw me in front of him on the ground and started closed-fist pounding me in the head. Repeatedly. Until my ears were ringing," said the woman to interviewer Carol Off.
"And I started to cry … I wasn't expecting it."
Ghomeshi has yet to respond to the newest set of allegations as of Wednesday evening.
"I have been fired from the CBC because of the risk of my private sex life being made public as a results of a campaign of false allegations pursued by a jilted ex-girlfriend and a freelance writer," he wrote.
Shortly after Ghomeshi's Facebook post, Toronto Star reporter Kevin Donovan and Canadaland's Jesse Brown broke news of three separate allegations of physical attacks and one case of workplace harassment allegations levied against the former radio host.
All the women interviewed by the Star at the time wished for their identities to remain anonymous. Three of the women said Ghomeshi "physically attacked them on dates without consent."
Popular in the Community