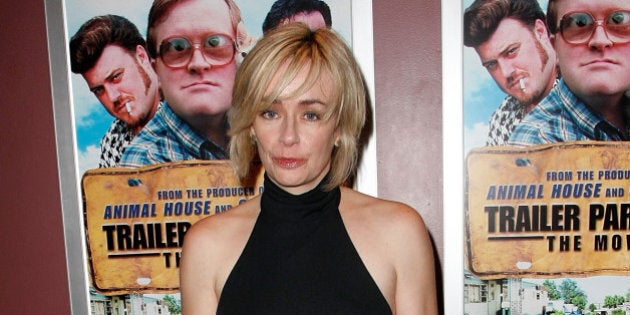 "Trailer Park Boys" actress Lucy DeCoutere says she was "gobsmacked" after former CBC host Jian Ghomeshi allegedly choked and slapped her during a date in 2003.
"It was just so puzzling," she said. "It wasn't a kink thing, I know that because it didn't feel sexy. It felt like something else. I've never experienced anything like that."
Trigger warning: This article contains information about violence which may be triggering to survivors.
The actress spoke to CBC's "The Current" in a radio interview that aired Thursday morning and described her experience with Ghomeshi more than ten years ago. On Wednesday night, she was identified in a The Toronto Star that outlined the stories of eight women who alleged assault or harassment from Ghomeshi.
She said she met Ghomeshi at an event at the Banff Television Festival in 2002 or 2003. They chatted and Ghomeshi gave her his card.
"Jian, if he's nothing else, he's absolutely charismatic," DeCoutere said. "He's easy to talk to, that's why he's a successful broadcaster."
She said the two had a "playful" correspondence and eventually met up while she was visiting Toronto. They went out to dinner, and DeCoutere said Ghomeshi did not mention at any point in the evening that he wanted to be physically aggressive.
"He talked about how successful he was," she told host Anna Maria Tremonti. "He said there were additional staff brought on [at the restaurant] because he was there."
After dinner, they went to Ghomeshi's house and eventually started kissing.
"He did take me by the throat and press me against the wall and choked me and he did slap me across the face a couple times," DeCoutere said.
"When it came from smooching to smacking, there was no build-up," she said. "I didn't tell him to stop because I was so surprised, I was really gobsmacked."
"I didn't leave right away... I felt like if I left it would be impolite, which is crazy."
She said she left within an hour, but didn't say anything about what happened and neither did Ghomeshi.
"The Current" contacted Ghomeshi's lawyer, Neil Rabinovitch, about DeCoutere's version of events. Rabinovitch declined to comment, citing the lawsuit that Ghomeshi has filed against the CBC.
The former "Q" host is suing the CBC, alleging breach of confidence, bad faith and defamation by the public broadcaster after it announced he was leaving his job.
Ghomeshi posted a detailed account of his version of events on Facebook Sunday, saying he "voluntarily showed evidence that everything I have done has been consensual."
Popular in the Community