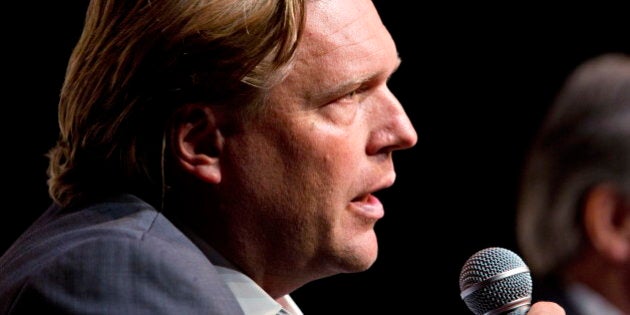 Former Alberta deputy premier Thomas Lukaszuk said the $20,000 phone bill he racked up while vacationing was due to a potentially violent family dispute faced by a fellow cabinet minister.
Lukaszuk, now a Conservative leadership candidate, says a cabinet member called him while he was on a personal vacation in Poland in October 2012.
Lukaszuk told CBC News the "very distressed" cabinet member was facing potential danger and that he wanted to remain on the line until police arrived.
"I received a frantic call directly from a cabinet minister, direct to my cellphone, saying: 'I'm in danger, I may be attacked and police are coming here, what should I do?' Already the bill is racking up," Lukaszuk told the National Post Wednesday.
"It was determined that we need to make sure that the cabinet minister is not in any danger, that if there is any protection services that need to be afforded, that was looked into.
Lukaszuk told Global News the alleged incident and name of the cabinet minister are currently under a publication ban, but insists he did what he felt "was morally the right thing to do."
"There is no code of conduct on how to deal with a distressed cabinet minister calling me in the middle of the night, but I did what I could to assist that cabinet minister."
The cellphone bill was leaked to the Edmonton Sun last week, just two weeks before the Sept. 16 Alberta Progressive Conservative leadership vote.
The government tried to fight the bill, but failed, and has since switched phone providers and boosted their data plans.
Mount Royal University political scientist Duane Bratt says Lukaszuk shouldn't have to pay back the $20,000.
"Is this government business? … You're going to have critics who say this is a personal matter, not a government matter," Bratt said in an interview with the National Post.
"If it was a friend of his, his next-door-neighbour, his brother-in-law, I would agree with you. But you're talking about a cabinet minister."
Story continues below the slideshow.
Derek Fildebrandt of the Canadian Taxpayers Federation, disagrees.
"This was an urgent personal matter for the minister in question," he told the CBC, adding the PC Party should pay the bill.
"There might be political fallout, but it is not government business. It is party business. It is political business."
Lukaszuk's two opponents — Jim Prentice and Ric McIver — have denied involvement in leaking the bill to The Sun, but police say they are investigating because a Calgary resident's identity was fraudulently used to send the bill.