What happens when we infuse a business with social change goals? It's the focus of "Not Business as Usual," a new documentary about a group of Vancouver-based "social entrepreneurs." And it suggests that the outcome is not just positive, but moreover represents the future of capitalism as we know it.
As an early 20-something, my view was that business was inherently exploitative, and something that as a social change leader I wanted nothing to do with, seeing my future rather as a social worker or in the non-profit sector. It wasn't until I created a commercial product through whose invention my own life had changed profoundly, that the light bulb went on: What if I could change the world by starting a business?
Since its inception in 1993, Lunapads' business philosophy has been firmly grounded in the belief that capitalism can in fact be a powerful force for positive social change. In the early days people not only thought our products -- reusable feminine hygiene products -- were a bit odd; some even found them off-putting: not exactly a "marketer's dream." Eco-conscious products like reusable water bottles, coffee mugs and shopping bags had yet to become the everyday choices they are today, and recycling was still in its infancy.
Taking on the relatively taboo subject of menstruation and seeking to reinvent the conversation around it by promoting a different product choice wasn't an easy task. Inspired by early leaders of the socially responsible business movement like The Ecology of Commerce author Paul Hawken and The Body Shop founder Anita Roddick (whose famous quote "Be daring, be first, be different, be just" was an early credo), and buoyed by continuous sales growth, we persevered.
In addition to the positive consumer response, what has helped me and my business partner Suzanne Siemens over the years was realizing that we are not alone in feeling called to integrate values into our business practice. In Vancouver, we have found our "tribe" which happens to include the organizations (Fairware, Junxion Strategy, Save On Meats, Potluck Cafe and Renewal Partners) featured in the film.
As some background, "Not Business as Usual" is the brainchild of Institute B, a Vancouver-based social entrepreneurship think tank/incubation/education centre and venture capital firm.
Suzanne and I have participated in their highly regarded Changemakers series, and are proud of and excited about the work they're doing and community they're building. They are also massive champions of the Benefit Corporation (B Corp) movement -- Lunapads is a proud Founding Canadian B Corp. -- a group of almost 1,000 companies worldwide who participate in a rigorous evaluation of their practices through a social and environmental lens, then go a step further to amend their legal articles of incorporation to enshrine a commitment that pursuit of profit will never come at the expense of social or environmental considerations.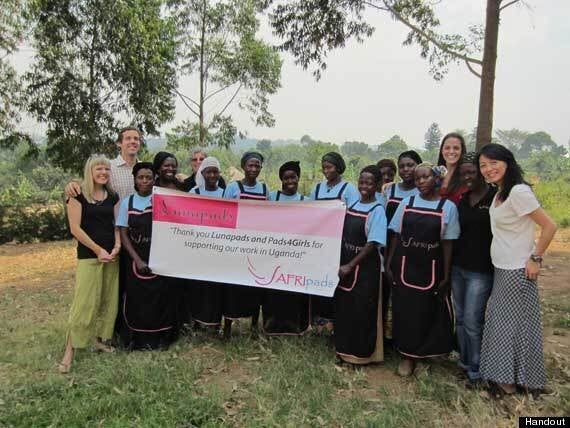 Seeing the film led me to reflect back on the squeamish response to our products that we received in the past, and contrast it with the film's perspective that celebrates Lunapads as being innovative: How times have changed! For the past decade, Lunapads has supported education for tens of thousands of girls in the developing world by providing them with our products, including support and investment in enterprises with open-source patterns and mentoring (our Ugandan sister company AFRIpads is also featured in the video).
As an example of the new type of thinking explored in the film, our relationship with AFRIpads, and our One4Her "buy one give one" program, would once have been perceived as a "competitive threat" (freely sharing your company's trade secrets, and giving away margin to another business as part of the value proposition) and yet is now lauded with awards for its social impact; the net result being more girls staying in school, plus a great story to share with our customers.
Traditional business thinking is often skeptical of whether "social" businesses can grow their profitability while staying true to their social mission and maintaining quality. Harder-headed analysts may ask just how important social impact is to customers, and what value do social strategies have on the bottom (financial) line? Harvard Business School associate professor Chris Marquis along with McKinsey associate Andrew Park concluded: "The buy-one give-one model is not only a viable way to create both commercial and social value, but a model of social entrepreneurship that is likely to increase in prevalence and power in the coming years."
As for Lunapads, while we can't yet conclusively measure the tangible impact of our social efforts, our lived experience of many years supports the theory espoused by author Simon Sinek, who argues that "people don't buy what you do, they buy why you do it."
Our Why is about health, body positivity, a cleaner planet, and self-acceptance. It seems to be working: Lunapads are used by customers in over 40 countries, and thanks to their choice of our products over disposable feminine hygiene products, one million disposable pads and tampons are diverted from landfills every month.
Meanwhile, recent shocking events such as the deadly collapse of garment factories in Bangladesh have at least raised the question of the true "cost" of our collective addiction to cheap clothing in consumers' minds. "Not Business as Usual" points to a new, closer relationship with the products that we buy, how much we know about where they're from, and how they're made and disposed of.
What power and responsibility do or should we assume as consumers and as business owners? Rather than a moral imperative, I feel like what we and our peers are offering is more opportunities to vote for the kind of future we want to see for our children and grandchildren.
To hark back to Anita Roddick yet again: "Consumers have not been told effectively enough that they have huge power and that purchasing and shopping involve a moral choice." We and our colleagues couldn't agree more, and are grateful to Institute B and the B Corp movement for supporting and celebrating businesses that are "being the change."