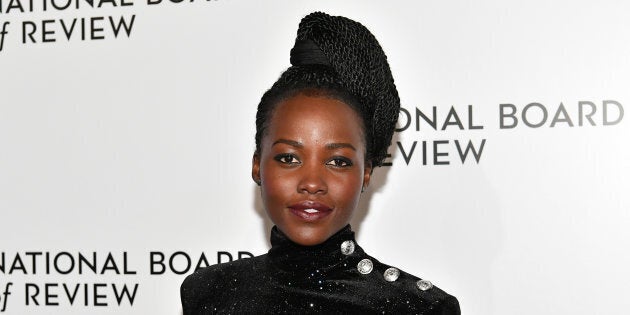 "Sulwe is a dark skinned girl who goes on a starry-eyed adventure, and awakens with a reimagined sense of beauty," Nyong'o revealed on Instagram. "She encounters lessons that we learn as children and spend our lives unlearning. This is a story for little ones, but no matter the age, I hope it serves as an inspiration for everyone to walk with joy in their own skin."
The story is a personal one for the 34-year-old star, who has often spoken out about race and beauty. Most notably, Nyong'o gave a speech at a Black Women in Hollywood Luncheon in 2014, where she revealed that she felt "unbeautiful" growing up.
"I put on the TV and only saw pale skin," she said. "I got teased and taunted about my night-shaded skin, and my one prayer to God, the miracle worker, was that I would wake up lighter skinned."
That same year, Nyong'o's career took off thanks to her breakout role in "12 Years A Slave," and she announced it was her mission to use her platform to change people's perception of beauty.
"The thing about having your image projected on many screens all over the world is that your image becomes something bigger than you," she said in a BET interview. "It has a life of its own. And that life is inspiring young, dark-skinned or any complexion people to see beauty differently is a powerful thing."
Since then, the "Star Wars: The Last Jedi" actress has put her money where her mouth is by calling out magazine beauty standards and now writing a children's book to combat the idea that dark skin isn't beautiful.
Nyong'o isn't the first celebrity to write a children's book based on her own experience with race and beauty. Taye Diggs, for instance, published a kids' book called Chocolate Me! in 2011 based on his own experiences of growing up with darker skin and curlier hair than other kids. In 2015, the "Empire" star published his second kids' book, Mixed Me, for his son, who is mixed-race.
These stories prove that representation matters, and that beauty is not "one size fits all."
Although Nyong'o's book was only announced Wednesday, there is already so much buzz because of its important message.
Nyong'o's book Sulwe will be released January 2019.