This week, Lush Cosmetics staff got naked.
From Vancouver to Montreal, employees of Lush shops wore nothing but their signature black aprons as they encouraged consumers to educate themselves on the devastating environmental impact of packaging pollution.
Their mission: To get the costumer to buy 'naked' products instead.
"As a company, we tend to go all the way for causes we believe in," said Brandi Halls, director of brand communications, said in a press release. "If flashing our bums inspires consumers and industry to reconsider their packaging practices, then we'd say it's definitely worth a few blushes."
The cheeky stunt marks ten years since Lush first stripped down to expose the problem of excess packaging in the cosmetics and retail industries. The company notes that the cosmetic and retail industry contributes to more than two per cent of overall greenhouse gases and over eight per cent of the world's oil resources.
Virgin plastic packaging is a major pollutant of the world's oceans, accounting for almost 300,000 tons of floating debris and 80 per cent of litter collected from beaches during nationwide surveys and clean-ups.
"Most of the plastic that has ever been produced still exists today, which is why it's high time for businesses across all industries to take responsibility and present new generations of consumers with eco-friendly alternatives," Halls said.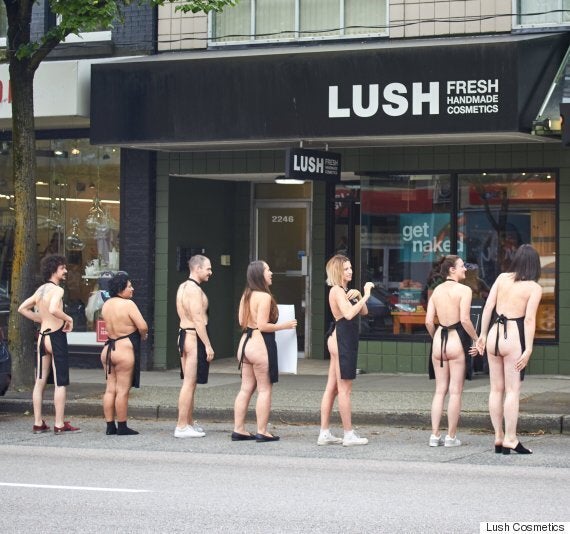 So, what is a "naked" product? Good question. Over the past few years, Lush has taken a major stand against waste. "Naked" products are those with absolutely no packaging and no synthetic preservatives to stay fresh (yes, this includes your favourite bath bombs, massage bars and shampoo bars). As the company says, their products truly have nothing to hide, so why do they need all that extra packing?
As a result, last year alone the company kept just over two million plastic bottles from manufactured, transported and disposed of because customers chose to buy their solid shampoo bars.
But what about those products that do require packaging? This is where Lush pots and bottles come in. These house Lush's face masks and anything else liquid. The pots are made from 100 per cent post-consumer recyclable plastics that can be brought back to the store. From there, a Canadian connection comes in.
Pots are returned back to Vancouver where they are ground down, remoulded and reused. All plastic for new pots is sourced from curbside blue bins, including those in British Columbia. This initiative drove 35 tons of plastic away from landfills.
More beauty brands are also following the mandate that there needs to be a reduction in packaging due to its environmental impact. Brands like L'Occitane has chosen an eco-design approach, selecting materials that are the least polluting or already recycled, using resources that are renewable or that come from sustainably managed forests, and designing easily recyclable packaging.
Tata Harper, which uses 100 per cent natural and non-toxic ingredients, has recyclable glass bottles for their products. All their production also happens in one place to cut down on our carbon footprint.
Aveda is another great brand doing wonderful things for the planet, as one of the first beauty companies to use 100 per cent post-consumer recycled PET.
Meanwhile, the packaging for Canadian cosmetics company Cargo is made entirely out of corn.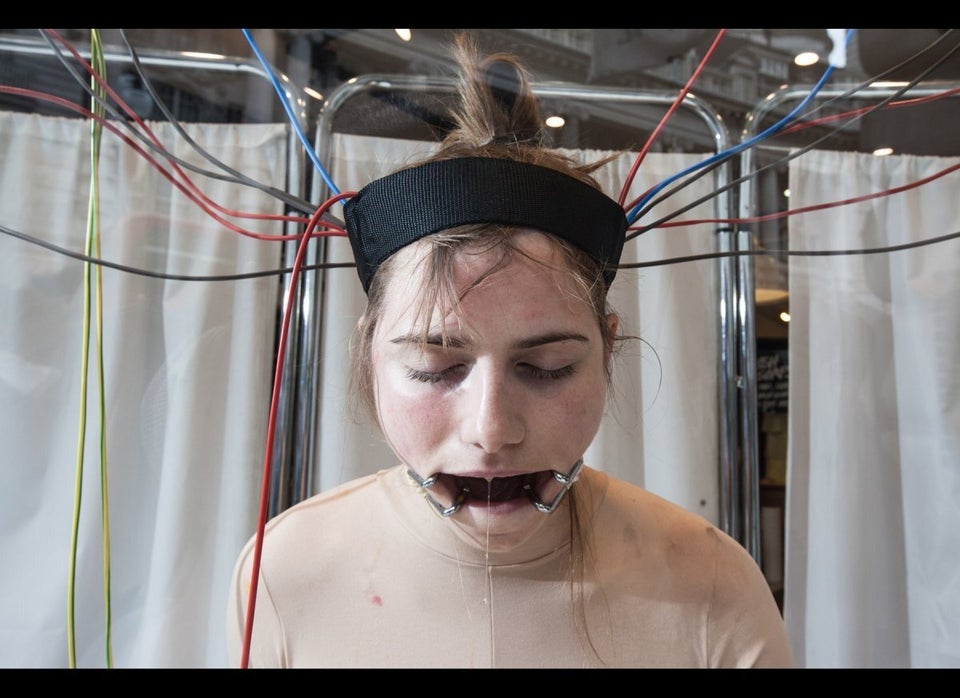 Lush Animal Cosmetics Protest, London