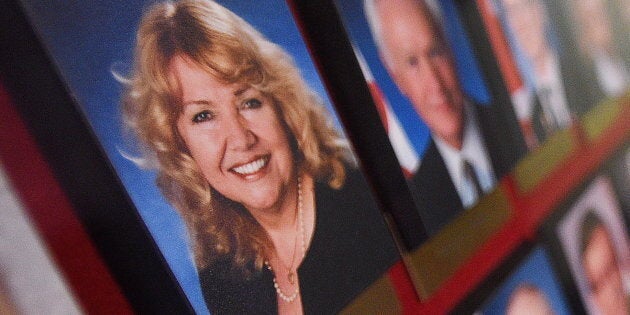 OTTAWA — An active ethics investigation hasn't stopped Sen. Lynn Beyak from updating her Senate website with a new letter of support last week, backing her controversial view that more attention should be paid to the positive impacts of residential schools.
The Ontario senator started posting select letters she received from Canadians following comments she made during a Senate debate on the over-representation of Indigenous women in prison. During her March 2017 speech, Beyak urged her colleagues to forgive the residential school system's religious leaders, many of whom, she said, were "well-intentioned."
The latest letter, posted Nov. 22, is an apparent email from a member of Keewaywin First Nation in northern Ontario saluting the senator's opinion.
"Your right what u said some came good of the rez schools . today we have judges , lawyers , doctor's," reads the message signed by "CM."
Watch: Lynn Beyak calls Andrew Scheer 'inexperienced' after getting kicked out of caucus
It's one of 130 "letters of support" posted on Beyak's Senate website. The non-affiliated senator argued that education and recreation programs benefited some students who attended residential school. Her comments, as well as the letters, spurred backlash.
Canada's residential school system separated approximately 150,000 children from their families between the 1870s and 1996. Many students were physically and sexually abused while in the care of the government-funded religious schools.
In its seminal 2015 report, the Truth and Reconciliation Commission concluded residential schools' systemic erasure of Indigenous teachings amounted to cultural genocide.
3 Senate ethics inquiries in progress
The Senate Ethics Office announced on March 21 that it had launched an investigation into assertions that Beyak had breached Senate's ethics rules by posting the letters of support on her website.
When asked for comment about the new letter amid an investigation, Beyak's office responded Thursday: "The senator's website is updated regularly, as you have noticed."
Beyak, who was a Conservative when she stood in the Senate to deliver her contentious speech, was subsequently kicked out by party leader Andrew Scheer in January.
The Tory leader said he took issue with a letter posted on Beyak's website that suggested Indigenous people are lazy.
"Promoting this comment is offensive and unacceptable for a Conservative parliamentarian. To suggest that Indigenous Canadians are lazy compared to other Canadians is simply racist," Scheer said at the time.
Beyak was appointed to the upper chamber in 2013 by former prime minister Stephen Harper.
Two other Harper appointees are also under investigation by Senate Ethics Officer Pierre Legault for possible ethical breaches.
A day after announcing the Beyak inquiry, Legault confirmed that he had also launched an investigation into allegations related to Conservative Senator Victor Oh's all-expenses-paid two-week trip to Beijing and the Chinese province of Fuijian in April 2017.
Legault served a six-month interim term as Senate ethics officer before being nominated to the permanent position by Prime Minister Justin Trudeau in December 2017.
The Senate ethics officer, who works part-time, is also tasked with completing an inquiry into workplace harassment complaints against former senator Don Meredith. The complaints from former staffers range from alleged bullying to sexual harassment. HuffPost Canada previously reported that the Senate human resources department had known of the issues since 2013.
Legault appeared before senators last year and said despite the fact Meredith is no long a senator, because the Senate ethics committee had asked his office to complete the inquiry — a report "will be produced."
The Senate Ethics Officer has yet to publish the three inquiry reports into allegations of ethical breaches by former senator Meredith, and current senators Oh and Beyak.