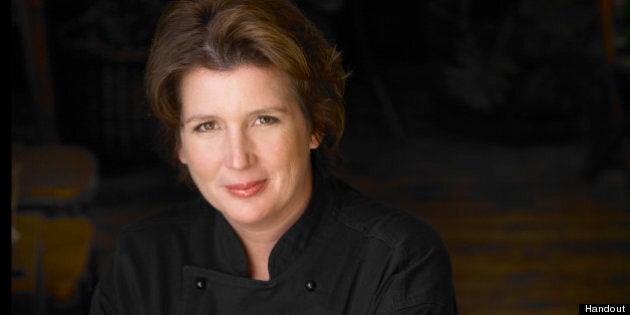 Most recognizable for "Pitchin In," and "Restaurant Makeover," the ambitious and adventurous chef (hello, she has tattoos on the palms of her hands!) moved back to her hometown from New York a few years ago, but not before becoming the first female executive chef for the Four Seasons worldwide.
Crawford is set to star in a new Food Network show to be announced in June, and has also written a new book called At Home with Lynn Crawford due in the fall that features everyday recipes she serves at home.
Crawford spoke to The Huffington Post Canada about her favourite comfort food and booze, cheap thrills and the wildest thing that's ever happened to her in a kitchen.
What does "Canadian" food mean to you?
I think it's just how lucky we are to live in such an incredible country that is so diverse from the East Coast different ways.
Interview continues below sildeshow.
What is one of the first things you crave to eat when you return home from a trip?
I have a pizza oven at home and I just love firing up the pizza oven and making a delicious pie. That's me, I love that. Homemade pizza dough and really simple ingredients. The other night I made a pizza and it was just beautiful heirloom tomatoes, basil, buffalo mozzarella and a little bit of tomato sauce that I made.
What's your favourite food to make for yourself at home after a boozy night out?
A fried egg sandwich with good old browned butter basted over easy egg, toasted Montreal-style bagel, Sriracha mayonnaise, and cheddar cheese.
What's your favourite poison?
My favourite poison today? I'm going to say bourbon. I'm really into my bourbon, I love bourbon. I changed the drink menu at Ruby Watchco to include a couple drinks I invented. In the cookbook, there are some interesting cocktails too.
If you could prepare only one last meal, what would it be?
I think it's just a garlic and thyme-basted, butter-basted rib eye, good old straight-up mashed potatoes, and then char-grilled broccoli with garlic confit. It's steak and potatoes for me.
What would be in your emergency "survival pantry"?
In your survival kit, you should have some sea salt, a really good olive oil, a pound of butter; some shallots, lemons, bacon, rice, potatoes and booze -- lots of booze.
What is the wildest thing you've ever done in a kitchen, culinary or otherwise?
The wildest thing was putting out a grease fire in the vents at Winston's, but that was in 1842...when I was there and did my apprenticeship — I'd never seen anything like it. That was crazy.
What is the best restaurant that nobody's ever heard of?
What's really good is Mi Mi's (on Gerrard Street East in Toronto). She does a great job in there. It's really good. Vietnamese, the best pho and spring rolls.She has a really great broth and the barbecued pork ...maybe I shouldn't have said anything. Oh my God, it's awesome. Now it's all I can think about it.
What would you be doing if you couldn't be a chef?
I wouldn't be doing anything.
What is your favourite cheap food thrill?
What is the most memorable food city in the world?
Oh, there are so many: Toronto, Vancouver, San Francisco, New York, Shanghai, Hong Kong, Seville, London.
Which Canadian restaurants (and chefs) would you recommend?
What is the most unusual and delicious food that you would suggest people try?