Federal Liberals will support a backbencher's motion calling on the government to condemn Islamophobia and study the best ways to quell an "increasing public climate of hate and fear."
Motion 103, tabled by Liberal MP Iqra Khalid last December and set for debate Wednesday, has sparked divisions among Conservatives and raised the ire of those who argue its adoption could have a chilling effect on free speech.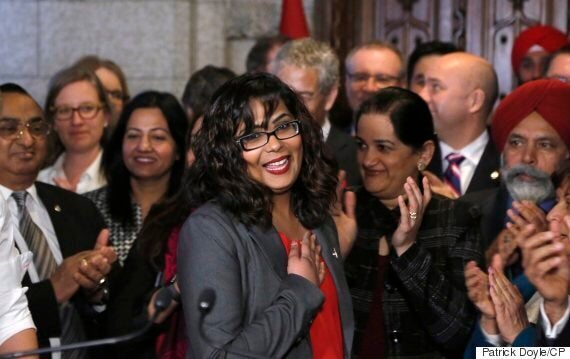 The non-binding motion has also been the subject of rumours and innuendo from some right-wing blogs in Canada and the United States suggesting Prime Minister Justin Trudeau is seeking to somehow criminalize criticism of Islam.
Khalid addressed some of those concerns Wednesday at a press conference with Heritage Minister Mélanie Joly. The pair was surrounded by Liberal MPs in what Joly called a "demonstration of solidarity."
Joly said that the government was voicing "strong and clear" support for Khalid's motion. She later said that while all Liberal MPs will be free to vote based on their own beliefs, there will be "very strong support" from caucus.
"M-103 is about ensuring that, in Canada, we stand for free and respectful exchanges of ideas and opinions," Joly said. "And there is no place for hatred and no tolerance of abuse."
If M-103 passes, the Standing Committee on Canadian Heritage will be asked to develop a "whole of government approach" to combat systemic racism and "contextualize hate crime reports so Canadians can understand what is happening on the ground," Khalid said.
The Mississauga MP said that while the motion makes specific mention of Islamophobia, it is "broad in scope to include all marginalized communities."
Khalid also noted that she and other colleagues have received hateful comments over the motion in recent weeks that only highlight the work that needs to be done.
"This strengthens my resolve to continue to combat this issue," she said.
'This is not legislation'
Khalid denied the motion could in any way restrict the rights of Canadians to express their views on things such as sharia law or face-covering niqab veils.
"This is a motion, this is not legislation," Khalid said. "And I would be the first person to oppose anything that infringes on our Charter of Rights and Freedoms. This motion is about having a study on how we can tackle important issues like systemic racism and religious discrimination."
But several Tory leadership hopefuls have already made it clear that they will not support M-103. Kellie Leitch tweeted last month that the motion does not treat "all religions equally" and suggested it grants "special privileges" to Islam.
In recent days, other rivals have joined Leitch in criticizing Khalid's effort and announcing they too will not support the motion.
Andrew Scheer released a statement saying M-103 is not inclusive.
"It singles out just one faith," Scheer said in a release. "I believe that all religions deserve the same level of respect and protection."
Maxime Bernier suggested that while M-103 is not a bill and lacks teeth, it could be a "first step" in restricting the fundamental right of Canadians to express their opinions on a specific religion.
"We should reaffirm everyone's right to believe in and criticize whatever belief they want, whether it is Islam, Christianity, Judaism, Hinduism, atheism, or any other," Bernier said in his release.
Tory leadership contenders seek specifics
Both Scheer and Bernier took specific umbrage with the fact that the motion does not define Islamophobia. At the press conference Wednesday, Joly said Islamophobia is the "discrimination of Muslim people and people who are of Muslim faith."
A reporter noted that Tory MPs have said they approached Khalid with ideas for amendments and were shut down. Khalid said the wording of the motion, as it stands, has broad support from MPs, organizations, and Canadians at large.
"Watering down the words of this motion is not in the best interest of all these people," she said.
Ambrose accuses Liberals of playing games
Interim Conservative Leader Rona Ambrose has also said she won't vote for the motion. Ambrose took to Facebook to explain that while M-103 won't bar free speech, she is concerned the term "Islamophobia" could be used to shut down legitimate debate and "to intimidate rather than to inform."
"I do worry that some of my work trying to empower women and girls in Muslim communities could be branded as 'Islamophobic' if I criticize practices that I believe are oppressive," she wrote.
Ambrose said two Tory critics tried to work with Khalid to change the language to reflect the need to fight discrimination against all religious communities, but were denied.
"This motion is simply being used by the Liberal Party and the Prime Minister to play partisan politics," Ambrose said.
But at least one Tory leadership hopeful is prepared to support Khalid.
Michael Chong released a lengthy statement saying he will vote in favour of M-103. Chong's statement said that, in light of the recent deadly attack on a Quebec City mosque, it is "appropriate and important that Canadian Parliamentarians" tackle the issue of anti-Islamic prejudice.
Chong said it was untrue that the motion grants special treatment to Canadian Muslims, noting how the House has passed motions in recent years dealing with Jewish people, Yazidis, and Egyptian Coptic Christians.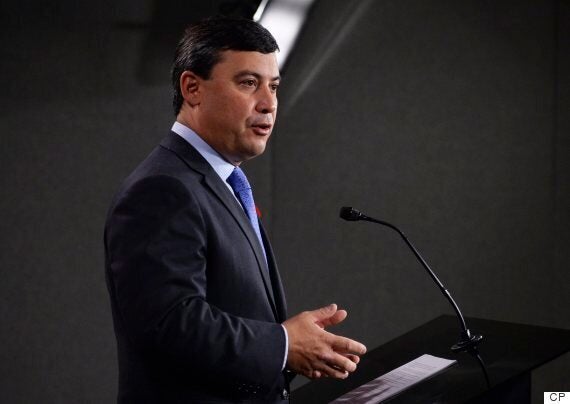 "Motion 103 does not set us down the path of sharia law in any way, shape, or form," Chong said.
MP says she was told to 'go home'
Khalid, who was born in Pakistan and immigrated to Canada from England, recounted the bigotry she faced as a "young, brown Muslim Canadian woman" when she tabled the motion in December. Khalid said she was told to "go home," even though Canada was her country.
"I am a proud Canadian among hundreds and thousands of others who will not tolerate hate based on religion or skin colour," she said at the time. "I rise today with my fellow Canadians to reject and condemn Islamophobia."
Systemic racism and religious discrimination

That, in the opinion of the House, the government should: (a) recognize the need to quell the increasing public climate of hate and fear; (b) condemn Islamophobia and all forms of systemic racism and religious discrimination and take note of House of Commons' petition e-411 and the issues raised by it; and (c) request that the Standing Committee on Canadian Heritage undertake a study on how the government could (i) develop a whole-of-government approach to reducing or eliminating systemic racism and religious discrimination including Islamophobia, in Canada, while ensuring a community-centered focus with a holistic response through evidence-based policy-making, (ii) collect data to contextualize hate crime reports and to conduct needs assessments for impacted communities, and that the Committee should present its findings and recommendations to the House no later than 240 calendar days from the adoption of this motion, provided that in its report, the Committee should make recommendations that the government may use to better reflect the enshrined rights and freedoms in the Constitution Acts, including the Canadian Charter of Rights and Freedoms.
With a file from Emma Paling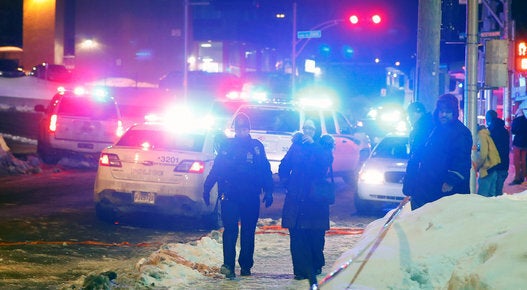 Terrorist Attack Shooting At Quebec City Mosque