Conservatives have demanded a recorded vote on a non-binding motion condemning Islamophobia which has sparked deep divisions among members of Parliament.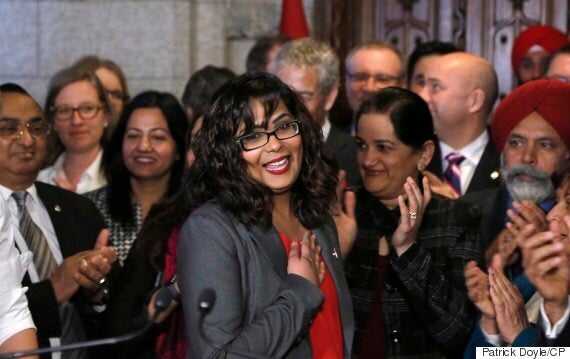 The motion calls on the House of Commons to denounce not only Islamophobia but "all forms of systemic racism and religious discrimination." Though largely symbolic, the motion would direct the Commons heritage committee to study the issue and develop strategies to tackle the scourge.
Many Tories have said they cannot support the motion because it does not define Islamophobia, leading some to fear it could stifle free speech and criticism of Islam. Others have argued that the motion provides special treatment to one religion over others.
Conservatives proposed an alternative motion in February condemning racism and discrimination against Muslims, Jewish people, Christians, Sikhs, Hindus and other religious groups — without including the word Islamophobia. It was defeated by Liberals who argued Tories were simply trying to "water down" the very purpose of M-103.
Liberals put 'politics ahead of fighting bigotry': Tory MP
Tories, in turn, have accused Liberals of seeking only to score political points.
In the final debate, Tory MP Garnett Genuis made his case for why parliamentarians who "agree there is a problem of discrimination against the Muslim community in certain quarters" are so divided on this issue.
"It is because the word 'Islamophobia' can be used to mean both discrimination against Muslims and criticism of Islamic doctrine or practice. It is important that we not conflate the two," he said. "Religious people deserve legal protection, but religions do not.
"People should not discriminate against individuals, but should feel quite free to criticize the doctrine, history, or practice of any religion."
The MP pointedly said it was Liberals who failed to stand up for Muslim Canadians by not backing the Tory motion explicitly condemning discrimination against Muslims. Genuis accused Liberals of putting "politics ahead of fighting bigotry."
Liberal MP behind M-103 makes closing arguments
On the notion that M-103 grants special privilege to Muslims, she noted it calls for a study of all forms of religious discrimination. On the fear that it would restrict free speech, she noted the motion is not legally binding and will serve as a "catalyst for Canadians to speak out against religious discrimination and be heard."
She also addressed the most "outrageous claims" she has heard — that M-103 is somehow an attempt to bring sharia law to Canada.
"I vow to be the first person to oppose any motion or law that negatively impacts our multicultural secular society," Khalid said.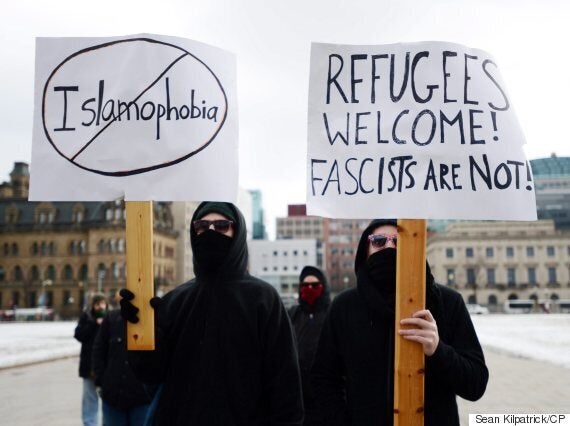 M-103 has also become a hot topic in the Tory leadership race, with only contender Michael Chong publicly committed to voting in favour of the motion.
Chong has said that, in light of January's deadly terror attack on a Quebec City mosque, it is appropriate for parliamentarians to tackle anti-Islamic prejudice. He has fought back against claims of M-103 granting special treatment to Canadian Muslims by noting the House has passed other motions dealing with the treatment of Jewish people, Yazidis, and Egyptian Coptic Christians.
Tory leadership hopeful Pierre Lemieux, an ex-MP defeated in the last election, had been calling on supporters to pressure MPs to force a recorded vote on M-103. He released a statement Tuesday calling it a "great day for accountability and for freedom of speech in Canada."
Brad Trost also took to Twitter to say he was the "only leadership candidate who bothered" to be in the House Tuesday to help force a recorded vote. Trost said about 20 Tory MPs stood up.
Earlier Tuesday, competing groups of protesters gathered on Parliament Hill to express their views on M-103. According to The Globe and Mail, roughly 30 anti-M-103 demonstrators held signs such as "No sharia for Canada," while a smaller group, holding a banner from the Revolutionary Communist Party, opposed them.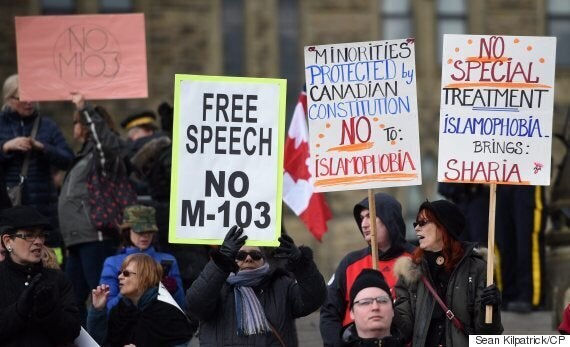 Tory MP Ben Lobb snapped some pictures and seemingly called the pro-M-103 protesters "tough talking cowards."
Systemic racism and religious discrimination

That, in the opinion of the House, the government should: (a) recognize the need to quell the increasing public climate of hate and fear; (b) condemn Islamophobia and all forms of systemic racism and religious discrimination and take note of House of Commons' petition e-411 and the issues raised by it; and (c) request that the Standing Committee on Canadian Heritage undertake a study on how the government could (i) develop a whole-of-government approach to reducing or eliminating systemic racism and religious discrimination including Islamophobia, in Canada, while ensuring a community-centered focus with a holistic response through evidence-based policy-making, (ii) collect data to contextualize hate crime reports and to conduct needs assessments for impacted communities, and that the Committee should present its findings and recommendations to the House no later than 240 calendar days from the adoption of this motion, provided that in its report, the Committee should make recommendations that the government may use to better reflect the enshrined rights and freedoms in the Constitution Acts, including the Canadian Charter of Rights and Freedoms.
With a file from The Canadian Press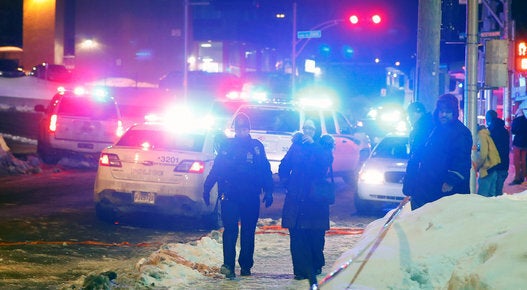 Terrorist Attack Shooting At Quebec City Mosque