Cosmetics brands are known to post the beauty looks created by their makeup artists on their social channels, especially around fashion week.
So when MAC Cosmetics posted the below photo on Instagram of a behind-the-scenes shot from the Ohne Titel show at New York Fashion Week, it seemed like just another photo (albeit with a very cool dark lip colour).
"Wtf r these lips," comments one user.
"Holy shit I thought this was Jay Z," writes another.
Others came to the model's defense, calling out the haters.
"It amazes(sic) how these people can turn a post that was simply advertising lipstick into a whole race issue," another added. "Her lips make a perfect heart," one user writes. "Beautiful."
And as attn: notes, the comments also sparked a discussion on the double standards of the beauty world: while Kylie Jenner's lip fillers are the envy of several men and women, this woman's natural lips are subject to racist and hurtful remarks.
Maryse Kye, the 19-year-old model in the photo, took to her own Instagram account to respond to the comments, both positive and negative, on Thursday.
"As I read the comments below this picture Felt so insecure and a bit embarrassed as I just wrapped up fashion week a time period that is tough on models especially black models as we encounter the harsh reality of the fashion world," she says. "But I kept reading (not sure why tbh) and saw so much love and support from strangers that made me smile :)."
So far, MAC has not commented on the matter.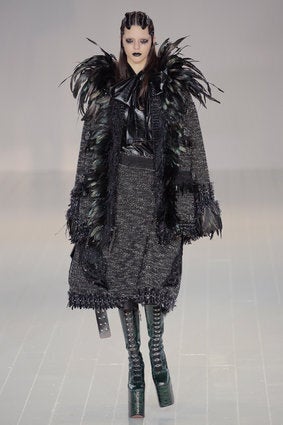 Marc Jacobs NYFW Catwalk