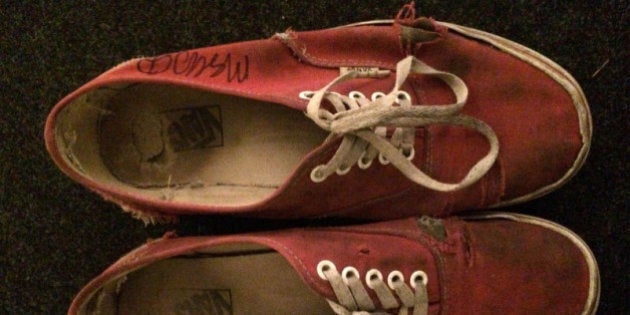 UPDATE: According to Mac DeMarco's representatives, the winner of the auction, a person identified publicly on eBay as "b***l," has since retracted their bid. In order to not leave the Willie Mae Rock Camp for Girls hanging, DeMarco and shoemaker Vans have said they'll now team up to match the winning bid of $21,100 US.
If Mac's old sneakers do end up selling on eBay to another bidder, all proceeds will also go directly to the camp.
DeMarco was auctioning off the size 10 men's U.S. shoes on behalf of the New York City- based non-profit Willie Mae Rock Camp for Girls. The shoes, which are frayed and mysteriously stained in a number of areas, were worn onstage for 49 separate shows, says DeMarco, including gigs in the U.S., Canada, Sweden, Finland, France, Israel, Belgium, Germany, Denmark, Great Britain, Portugal, Spain, Italy, Mexico and Switzerland.
Fifty-two separate people made a total of 168 bids in an effort to own the shoes from millennials' answer to Jimmy Buffett. DeMarco also says he'll "probably throw some other crap in the box" for the winner on top of the coveted footwear.
The questions and answers section for the sale of the item turned into a lengthy — and sometimes bizarre — unofficial #AMA between DeMarco and his fans, with the ball cap-sporting singer sharing details on future tour plans, offering supporters guest list spots for upcoming shows and trying to explain why he isn't "a hillbilly."
Oh, and his answer to that one: "Not a hillbilly, just Canadian, there's a difference."
The Duncan, B.C.-born slacker crooner also used the Q&A session to explain the different experiences he's had while crowd-surfing at his shows.
"It depends where I surf," DeMarco wrote. "Sometimes it's mellow, other times people try and steal everything off my body."
Rarely do crafty fans score his shoes, though.
"I've only had my shoes successfully stolen once," he said, "then a girl returned them later that week and gave me some cookies. I've lost so many hats at shows I can't count, all my favourites, maybe I'll see them again some day, who knows?"
DeMarco, who also used the Q&A to explain a peculiar religious/spiritual experience ("We came into contact with a reptilian shape shifter at pukklepop. A drummer. No joke, evil is real.") had to answer one question more than any other about the shoes.
"They don't smell very bad considering how much I wore them," said DeMarco. "I don't think you'll need any Febreeze."
To reinforce the point, DeMarco made a YouTube video where his girlfriend conducted an "official smell test," ramming her face deeply inside the shoes and then inhaling.
DeMarco has upcoming shows in Japan, South Korea, Vietnam, Indonesia and Australia before returning to the U.S. for performances at the upcoming Austin Psych Fest in Austin, Texas.