Macaroni and cheese is considered a favourite comfort food by many people.
Some of us grew up eating it as a homemade baked casserole made with melted cheddar, butter, milk and topped with breadcrumbs, while others learned how to cook their first meals by preparing mac and cheese on the stove top with cheesy powder from a box.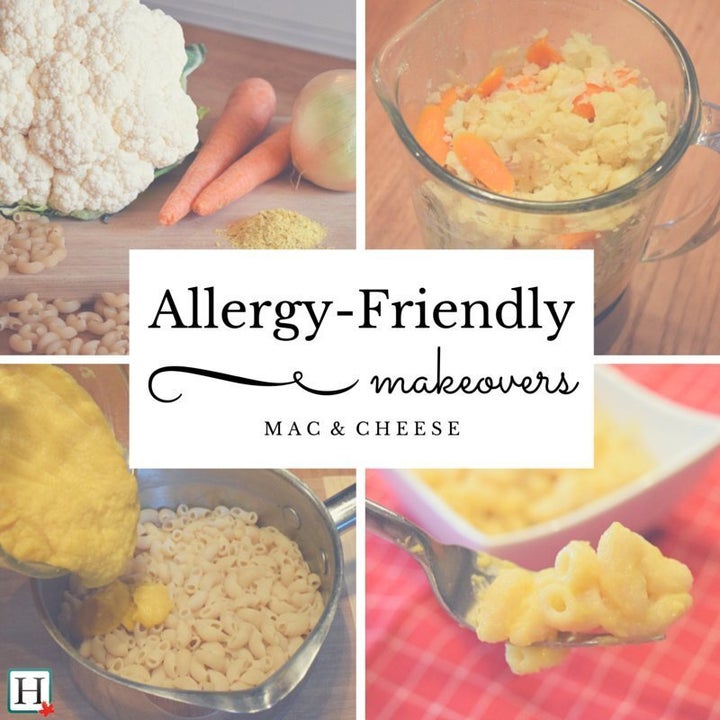 It's natural to think that mac and cheese would be impossible to replicate for someone eating a dairy-free diet, but luckily there have been many successful attempts at making vegan mac and cheese.
Some versions use the traditional recipe for mac and cheese and simply replace the cheddar with vegan cheese, while other recipes use cream sauces that are made with cashews and various vegetables.
I set out to make an allergy-friendly mac and cheese using simple ingredients that are just as tasty, creamy and comforting as traditional mac and cheese.
Here's how I made allergy-friendly mac and cheese that is dairy-free, nut-free, gluten-free and free from all other priority allergens.
I chose to make a fully vegan "cheese" sauce with cauliflower, carrots, onions and nutritional yeast. Cooked cauliflower is an excellent way to replicate the creaminess and richness of traditional cheese sauce, while the carrots ensure the sauce is the right colour. The onions add sweetness to the sauce, while the nutritional yeast adds a distinct "cheesy" flavour.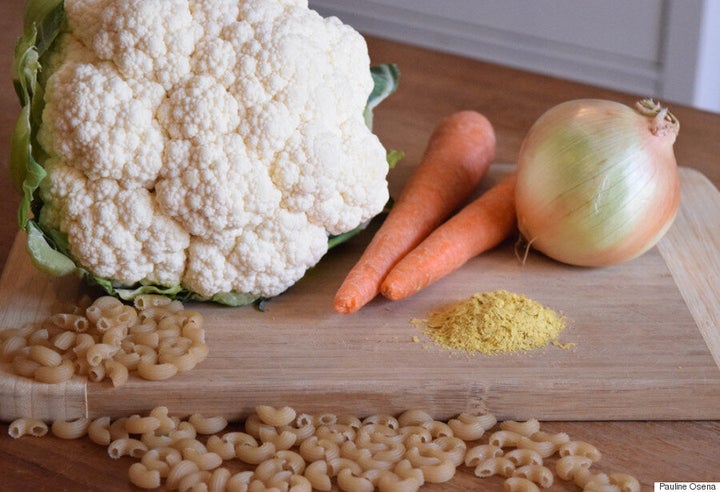 Start by sautéing the chopped onions until they are brown and starting to caramelize. It's very important to make sure the onions are fragrant and cooked almost to the point where you think they are burnt. These caramelized onions will add a sweet flavour to the sauce. The water in this recipe can be replaced with low-sodium beef, chicken or vegetable broth to add additional flavour to the "cheese" sauce.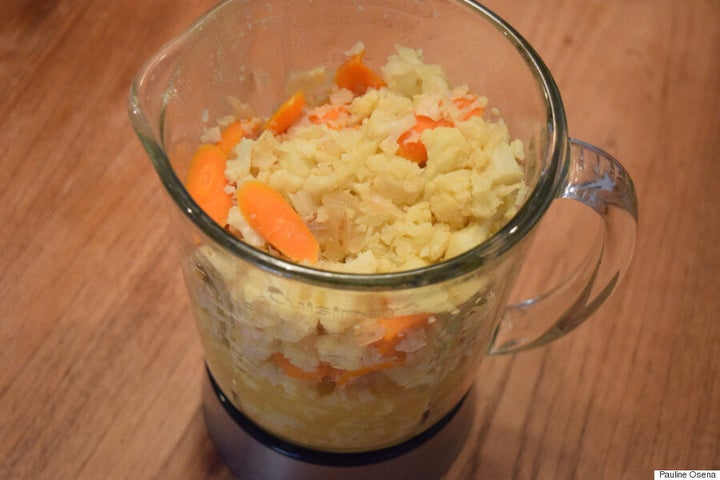 The carrots and cauliflower florets simmer with the onions until the vegetables are fork tender, and then everything is placed into a blender or food processor with some nutritional yeast and processed until creamy. You can add more water to the mixture while blending to adjust the consistency of the sauce.
Pour the sauce on top of cooked gluten-free macaroni elbows, and mix well.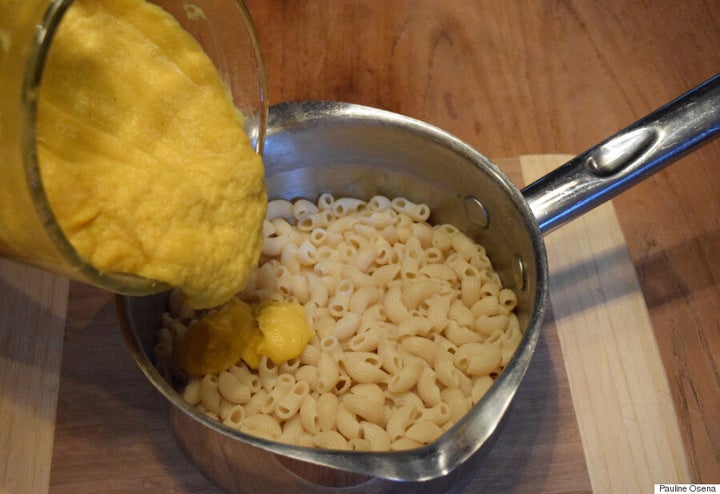 Serve this allergy-friendly mac and cheese while hot. Similar to traditional mac and cheese, this makes a perfect side dish or main course, and also makes a delicious and nutritious midnight snack!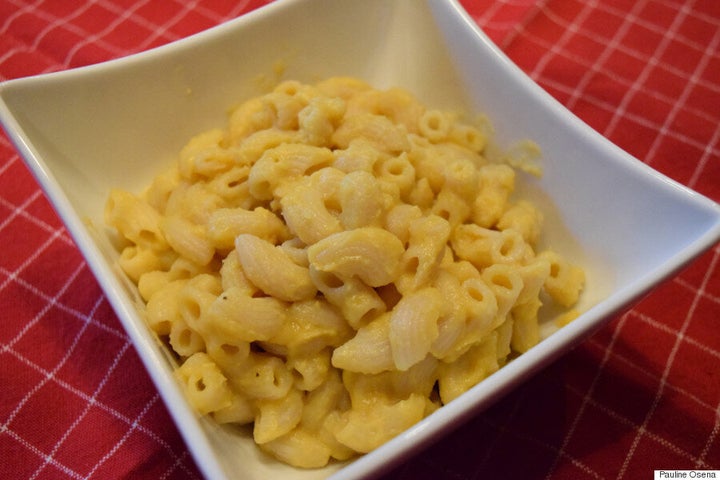 1 medium cauliflower, cut into florets
2 carrots, peeled and sliced
1 small yellow onion, chopped
1 tsp. sea salt (or more to taste)
1/4 cup nutritional yeast
1 pkg of gluten-free macaroni elbows
In a large pot, heat olive oil on medium-high heat. Sauté the chopped onions until brown and slightly caramelized.
Add the sliced carrots and water to the pot. Cover and bring to a boil for about 5 minutes.
Add the cauliflower florets and salt. Cover and bring to a boil. Reduce heat to low and simmer for 15 to 20 minutes, until the cauliflower is fork tender. Slightly over-cooking the cauliflower creates even better results.
Transfer the entire contents of the pot into a blender or food processor, and add the nutritional yeast.
Process until very smooth and creamy, with a texture similar to traditional cream sauce. You may need to add more water to get the right consistency.
Prepare al-dente gluten-free macaroni elbows according to the instructions on its package.
Pour the sauce on top of the gluten-free pasta, mix well and serve while hot.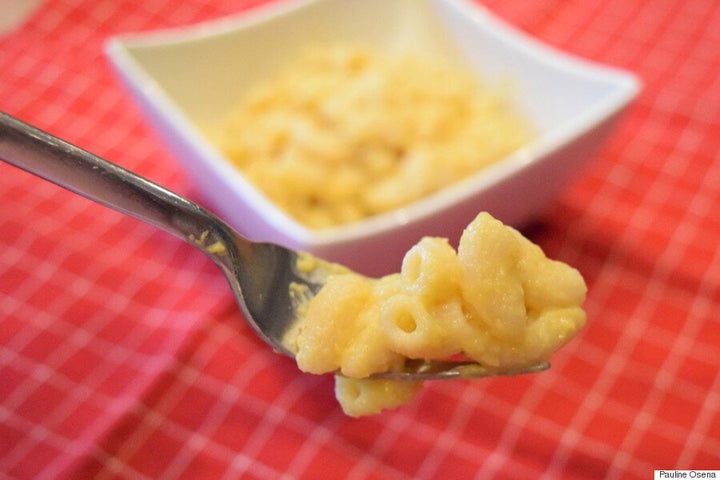 Pauline Osena is a food allergy advocate and founder of HypeFoodie.com, an online resource for allergy-friendly living. This former dairy junkie became an expert in allergy-friendly cuisine while figuring out how to feed her child with multiple food allergies. Pauline aims to inspire culinary adventures and experimentation with her series, "An Allergy-Friendly Makeover," and shares the valuable knowledge she has gained from her trials, errors and adventures in living with food allergies with "The Allergy-Friendly Top 10." Pauline's short-term goals include getting a full night's sleep and drinking her entire cup of coffee while hot.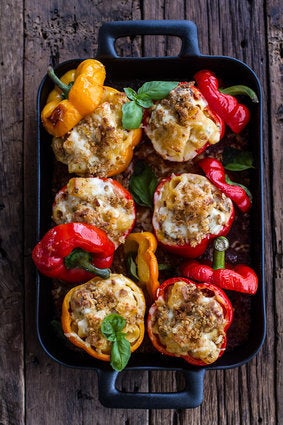 Mac And Cheese Creations
Popular in the Community