If you've ever found yourself listening to your favourite Velvet Underground and/or Lou Reed records, getting the munchies, and thinking "Man, wouldn't it be awesome if someone combined this music with pizza?" you are apparently not alone.
New York anti-folk artists Matt Colbourn (guitar/vocals), Phoebe Kreutz (glockenspiel/vocals), Deenah Vollmer (pizza box/vocals) and Austin Kilham (tambourine/vocals) and child star-turned-kazoo player Macaulay Culkin (percussion/kazoo/vocals) didn't just dream about such lofty ideas, though.
They formed a band and they rewrote the lyrics of a number of Velvet Underground and Reed songs to make them more pizza-ey. They christened themselves The Pizza Underground and they brought their vision to the internet, where they caused a minor viral stir in December of 2013 and received coverage from the likes of The Guardian, Rolling Stone, Pitchfork, and Noisey.
Now The Pizza Underground are taking their show – in which they play songs like "Pizza Gal" ("Femme Fatale"), and "Pizza Day" ("Perfect Day"), use empty pizza boxes as percussion instruments, and encourage their audiences to eat pizza slices –on the road. The comedy rock group will make their Canadian debut in Toronto this week as part of North By Northeast.
In anticipation of their NXNE shows, we e-mailed The Pizza Underground with a series of pizza-related questions. Though ignoring our query about Kevin McCalister's terrible taste in plain cheese pizza, they answered the rest of the questions we sent as a group, a process that we like to imagine went one of two ways: 1. The members of Pizza Underground held a symposium and came to a consensus on topics like dairy-free pizza and pizza cakes; 2. The members of Pizza Underground assembled much like Voltron and answered from their robot hive mind.
Q&A continues after this pizzarific GIF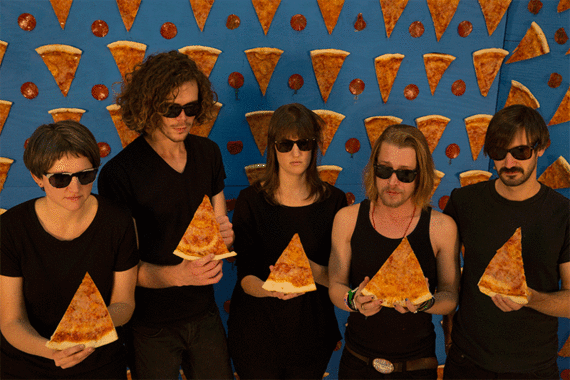 Some musicians get panties thrown at them. Would you like to encourage your fans to throw pizza? Or, perhaps, pieces from the old Pizza Party game?
We prefer that the fans actually eat the pizza not throw it - that's the best way to make use of a pie. A good plain slice of pizza is the way to go.
There's a strong cheese influence in your work. How do you feel about dairy-free pizzas?
While we believe that a plain cheese slice is an indicator of the quality of the pie, we understand that not everyone has the political or gastrointestinal capabilities to consume cheese. And since we believe that pizza is for the people and by the people, we do not discriminate against dairy-free pizzas. We are very fair.
You touch on some of the more exotic toppings out there in "Take a Bite of the Wild Slice." What are your favourite non-traditional toppings?
We are obviously fans of John Cale of The Velvet Underground – or as he is known lovingly to us, John Kale. We created a special Pizza Underground Pie with Two Boots Pizzeria that has kale pesto, garlic, onions, plum tomatoes and ricotta cheese. The Two Boots scientists put these ingredients together in a brilliant way and we are more than pleased how this combination turned out. In fact…. Two Boots revived the pie to sell at their Bleeker Street place last Thursday in honor of our performance at Le Poisson Rouge down the street. It was a special day for a special pizza.
Will you be sourcing Toronto pizzas and pizza boxes for your show at NXNE?
Absolutely! Our drummer Deenah Vollmer always plays local pizza boxes in every city. Each box has it's own nuanced sound that represents the pizzerias from where they came. We are huge supports of local eateries and we wouldn't dream of playing non-native boxes.
Have you heard of Boston Pizza's Pizza Cake? If so, what do you think of it?
We have not heard specifically of Boston's Pizza Cake but we've seen pictures of such creations on the internet. Looks like another round food, not really a pizza pie. A Pizza Cake, Calzones and their cousins are not pizzas, they are pizza-adjacent.
Pizza Fails
Popular in the Community