Madeline Stuart is charming the modelling world yet again, and this time she's transforming herself into a bride to do so.
"A lot of newly engaged women cannot see themselves as a bride because all the images magazines use are of these tall, thin models," Martin-Dye said in a statement according to People.com. "I think that being a bride is a life experience that every women should be able to see herself doing — and definitely not stressing about the fact that they wont look 'perfect' on their wedding day."
Alongside male model Quaid Coxsey, Stuart models the Ava Laurenne Bride gowns with lace details, tiered princess skirts, embellished bodices and plunging necklines.
"It was truly such a magical shoot that I am forever grateful to have been a part of. Madeline is so sweet and full of love, laughter & pure joy-it was truly such a highlight to meet her❤️ thank you Madeline!!" photographer Sarah Houston wrote on Instagram.
"I hope through modelling I can change society's view of people with disabilities, exposure to creating awareness, acceptance and inclusion," Madeline wrote on her website in the past, trusting she could bring down the usual unrealistic beauty standards created by the fashion industry.
We say Madeline is doing a gorgeous job doing so.
See below for all the photos from the shoot!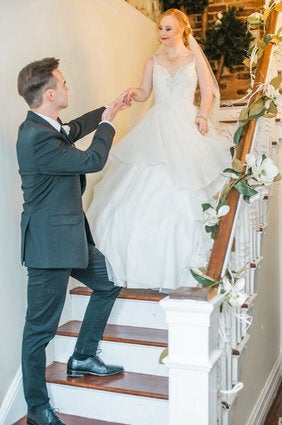 Madeline Stuart Wedding Photoshoot