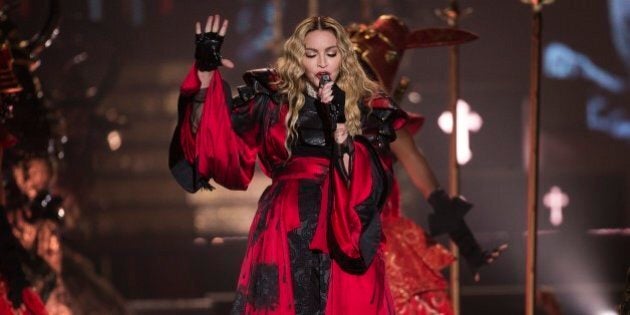 "Are you guys my bitches?"
Madonna's question to the Toronto crowd midway through her first of two Rebel Heart arena shows may have been rhetorical, but the joke revealed the legend's detachment from the reality of her current place in the pop firmament.
We surely were once, Madonna, but based on the reception to your latest album "Rebel Heart," we are no longer. At least not enough to be convinced that your new songs meet the standards of your old songs -- or those of your single-named descendants like Rhianna and Miley.
Yet in a case of misguided confidence -- or perhaps simply an example of her rebel heart -- the pop star seems to think that the crowd came for the new material as opposed to the Material Girl.
This was my first Madonna concert and, having grown up on her music, I was very excited. Of course, I was also very excited to go see "The Matrix Reloaded." Its an apt comparison as the ingredients were all there in both cases, but the recipes just didn't quite come together in the later work.
Yet Madonna still gave most of the concert at the Air Canada Centre over to her new songs. Unlike, say, Taylor Swift's 1989 tour -- which also did a two-night stand in the larger Rogers Centre last weekend -- not many seemed to have developed a strong connection to the new album, even the better tunes like "Living For Love" or "Illuminati."
During the concert's supposed climactic moment, as Madonna played acoustic guitar and sang "Rebel Heart" (the tune the album and tour are named after), I saw only one person nearby singing along.
This is a problem because concerts are communal experiences, and the intimacy lost in an arena show is largely made up for by the audience and artist singing together as one. That's not easy when only one, if that, of the first half-dozen songs (1983's semi-obscure "Burning Up") is something the fans might have a personal relationship with.
That difference was felt when she finally got past the new tunes to "True Blue," and the early 80s classic was done as an adorable ukulele-led campfire singalong. It was great, and our first glimpse of a series of interesting rearrangements that breathed new life into her old songs. I loved them, but they weren't quite able to help her bridge the unfamiliarity gap of the new songs because the different music left people struggling to singalong, even to "Like Virgin" which they've probably known the words since they themselves were one.
Madonna is a legacy artist who clearly wants to be a current artist. But being a legacy artist doesn't mean she has to settle into a rote Rolling Stones-style golden oldies set list. Madonna's 80s-era peers Prince and Bruce Springsteen both similarly release new material before hitting the road, but they seem to be able to synthesize the new and old into their set lists more effectively. Maybe that's partly due to their virtuosic guitar skills, which can wow crowds even if the newer tunes can't compete songwriting-wise.
But Madonna is a pop star, and so she's reliant on the bells and whistles if the hooks aren't there. So, at least the show had plenty of those.
Blog continues after slideshow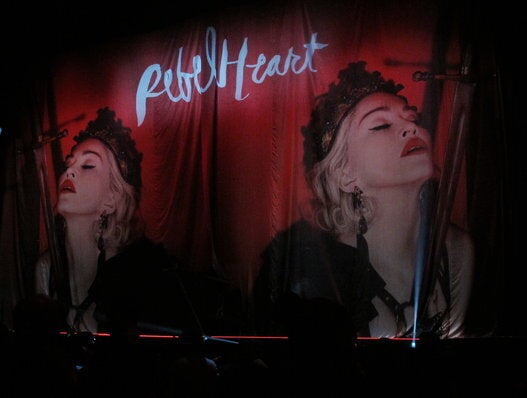 Madonna Kicks Off 'Rebel Heart' Tour In Style
Madonna descended onto the stage in a cage while her cross-bearing backup dancers marched across it like the Wicked Witch's Winkie soldiers crossed with the Pope's Swiss Guard, and a voiceover proclaimed: "I still want to start a revolution, somebody's got to."
Instead of playing one of her many revolutionary songs, she broke into "Iconic," a song that doth protest too much, followed by the Britney-biting "Bitch, I'm Madonna," a title that may fit well on a T-shirt (just ask the dude wearing "Bitch, I'm Chad") but never achieved the anthem status it aspires to.
Then she dipped deep into her old bag of controversial tricks, such as the stripper nuns at whom she yelled, "Bitch get off my pole!" during "Holy Water" followed by a Last Supper recreation. The effort expended to offend seemed more like a distraction from the middling song, especially when it was put in its place by a one-minute snippet of "Vogue" that Madonna cut to mid-performance.
The concert was more like Broadway show, really, and the spectacle was impressive on those merits with beautifully realized and diverse costuming, a baroque set design and impressively elaborate choreography, highlighted by a stunt with several male dancers bouncing this way and that on bendable poles. There was even stage fighting.
But people came for Madonna, and whenever she remembered that, it became infinitely more enjoyable. "Who's That Girl" was remade as an intimate acoustic guitar jam, the flamenco flair of "La Isla Bonita," which ushered in a flood of relief from the crowd, bled into a medley of "Dress You Up," "Into the Groove" and "Lucky Star" while "Material Girl" took on a woozy, druggy haze even as staging visually referenced the iconic music video, complete with men decked out in top hats and tails, that made her a bona fide star.
The concert highlight was "Music," which began as a French jazz club number before the beats kicked in, though it was also a reminder of the curious decision to otherwise ignore her 90s comeback. Back then, she tried to stay current and succeeded, delivering one of her most satisfying musical periods.
I get that she wants to promote her new album, but why pull "Candy Shop" from her disappointing 2008 album rather than "Ray of Light?" And then there was the decision to cover Edith Piaf's "La Vie en Rose" rather than, say, "Express Yourself" or "Like a Prayer."
Late in the show, just before she closed on a curiously anticlimactic "Unapologetic Bitch," Madonna said, "You give me your money and I'll give you all my love."
But that wasn't the quid pro quo I came to the concert for. I would've preferred she give me better songs.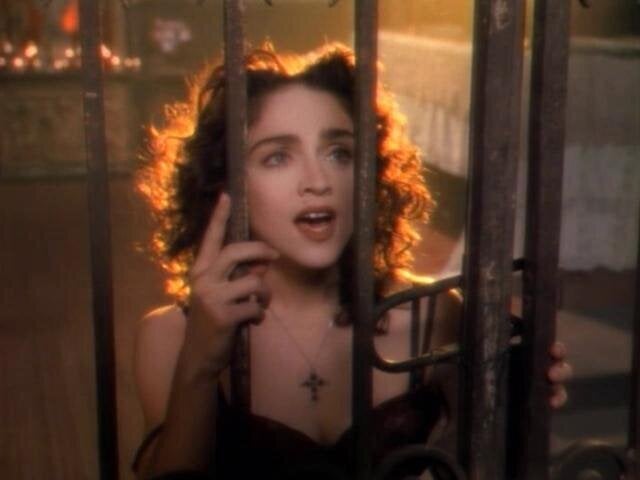 Ranking Madonna's Singles
Popular in the Community