How has it taken this long for Madonna to appear on Carpool Karaoke?
The twosome drove around New York City and indulged in some twerking, tons of singing and even some rather candid conversations.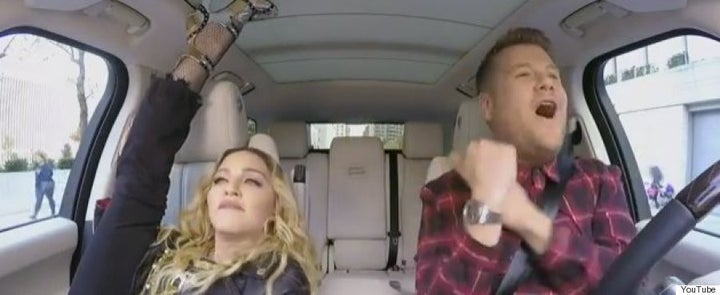 After telling Corden she thinks "the best thing in the world is to be married to someone funny," she revealed she once "fully" French kissed Michael Jackson.
Despite her legendary love life and her shocking public antics, the 58-year-old admitted she's actually a "square" in real life.
"My work is rebellious but my lifestyle is not rebellious," she said. "I don't smoke, I don't drink, I don't party... I'm quite square."
Thankfully, Madge wasn't a square during the drive, and both she and Corden belted out classics such as "Vogue," "Papa Don't Preach," "Express Yourself" and "Ray of Light." Fans even got a treat when she twerked in the seat to "Bitch I'm Madonna."
But not everyone was impressed with her twerking skills. English columnist Piers Morgan appeared on "Good Morning Britain" this week and said he found her dance moves "utterly embarrassing" and that he felt physically sick when he watched her twerk.
"Age is only brought up with regard to women," she said. "It's connected to sexism, chauvinism and misogyny. When Leonardo is 60 years old, no one is going to talk about his relevance."
"Am I relevant as a female in this society that hates women? Well, to people who are educated and are not chauvinists or misogynists, yes," she continued.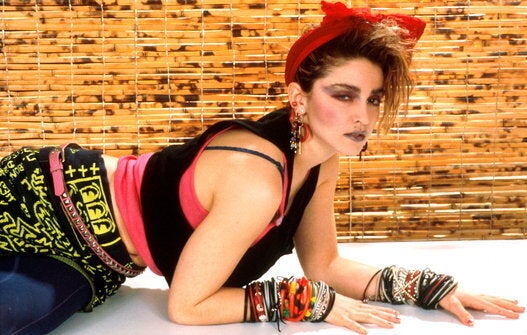 Madonna: 57 Of Her Most Memorable Looks