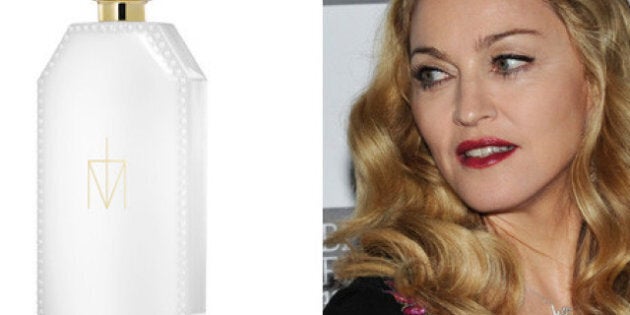 If you've ever wondered what the material girl herself would smell like, here's your chance to find out.
Early last week Madonna announced that she will be launching her very own global lifestyle brand called Truth or Dare by Madonna. The brand will initially launch with footwear, handbags, intimates, accessories and fragrance and will be aimed at fans that are not only close to Madge's heart but also close to her age.
Since her Material Girl brand is aimed at teens, and co-designed by her daughter Lourdes, it was only a matter of time before Madge targeted a more age-appropriate sector of the population with a line of clothes and other items.
Truth or Dare by Madonna is aimed at the artist's core demo, women ages 27-50 who have a timeless style and an innate sex appeal. The brand was created to showcase the dichotomy that is Madonna, both powerful icon and feminine beauty.
Madonna stated to Women's Wear Daily: "I have always been obsessed by and for years wanted to create something personal that was an expression of me but that other people could relate to as well. Something honest, and yet daring, hence the name Truth or Dare."
Truth or Dare by Madonna will be a signature floral fragrance. Its unique blend of narcotic florals, balanced with addictive woods and vanilla, creates a scent that is timeless, yet contemporary, simultaneously dark and light. The bottle plays up the Truth or Dare duality—a classic and sophisticated shape, with modern and edgy detailing.
The fragrance, Truth or Dare by Madonna, will debut exclusively at Macy's in April 2012 in the United States, with global distribution beginning in May.