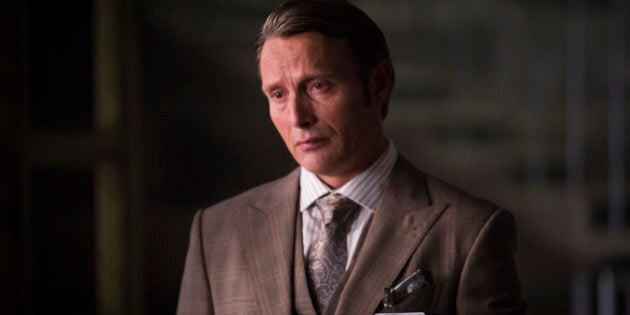 Dr. Hannibal Lecter (Mads Mikkelsen) enjoys the finer things in life: a nice bottle of Chianti, dapper clothes, an impressive home and a scrumptious meal prepared from the victims he's murdered.
The "Hannibal" TV series delves into the early years of the cannibalistic serial killer, before he becomes notorious. The FBI has even turned to the respected Hannibal to help solve some heinous crimes, not realizing he's committed them.
Speaking to HuffPost Canada TV by phone from his home in Denmark, Mikkelsen discussed Hannibal's motivations, his complex relationship with profiler Will Graham (Hugh Dancy) and Season 2's shocking opening sequence.
HuffPost Canada TV: The "Hannibal" Season 2 premiere grabbed viewers by the throat with that fight between Hannibal and Jack [Laurence Fishburne]. How difficult was that sequence to pull off?
Mads Mikkelsen: Obviously, it takes some preparation. We were rehearsing the fight for days when we could get the time. We were non-stop filming and preparing for other scenes. When we had an hour here or there, we went in and started rehearsing. After a week of that, we shot the whole thing in about 15 or 16 hours. It was thrilling.
Was Hannibal that physical in the movies or was it something you and executive producer Bryan Fuller wanted to explore?
He's physical in a different way. Obviously, it's a different actor doing it [in the movies] and under different circumstances, but Hannibal must be quite physical to do what he does to people off-screen. You see the way he displays the corpse upside down. You see the way he beats people. Hannibal is really fast and slick like a rattlesnake. In this case with Jack, Hannibal has come up against an enemy bigger, stronger and as fast as he is.
Last year, Hannibal and Will had this ongoing bromance, but friends don't frame friends for murder. Why is Hannibal still invested in Will?
That was the only way out. It was obviously to save Hannibal. All the evidence was pointing my way, so there was no way out but to frame Will. My goal was definitely to get Will out of this, not only because he deserves it, but because Hannibal misses him. It's like a mirror, where Will is something that reminds him of himself. He's invested in Will for a reason. Hannibal believes Will is a part of him, and he is a part of Will.
The next episode kicks off the next arc of the season. How is Hannibal manipulating these events?
Hannibal is a man who doesn't have a master plan, but he does seize the moment. He's seeing opportunities around the corner and he's also curious about what tomorrow will bring. Instead of making big plans, he would rather have the door open to see if something comes in. Hannibal is a master of improvising. So, eventually, he will have a plan, but because people are onto him, he will have to change it non-stop. That's the drama of the next six episodes.
Will has been absolved of his crimes and released from jail. What is the state of his relationship with Hannibal at this point?
It is like a teacup that has shattered and he has to pick up the pieces. Hannibal has done his very best in the jail, and in the courtroom, to back up his friend. Hannibal has also done his very best to frame somebody else to get Will out of jail, but there are some trust issues that we need to address. It's a shattered friendship, but it's not broken totally.
The TV series is introducing a few more characters from the Hannibal movie franchise. Where do Mason (Michael Pitt) and Margot Verger (Katharine Isabelle) fit into Hannibal's world?
I would spoil a lot of people's expectations if I tell you what happens. Mason and his sister are going to be a big part of the last four episodes. We'll see Mason as we've never seen him before, meaning alive and well, and as crazy as they come. We'll see Margo not being a "normal" girl as well. They're two great actors and there are some phenomenal scenes coming up.
Why did Hannibal feel the need to regularly visit therapist Dr. Bedelia Du Maurier [Gillian Anderson]?
In the first season, it was his free space. That was the place where he could actually be as open and honest as he can be. The reason he was doing it, I cannot tell you. Hannibal doesn't gain anything from doing it, but maybe he needs it as well. It was the space where Hannibal could show a different kind of emotion and honesty.
"Hannibal" wrapped production last week. How crazy do things get in the finale?
Without saying too much, I can say we all had to take some long, hot physical showers to wash all the blood away. What happens to who I will not reveal, but it's going to be a mess.
Abigail [Kacey Rohl] and Beverly [Hettienne Park] posed a threat to Hannibal, but weren't served up as some fine dining dish. Is Hannibal a picky eater?
He's a very picky eater. He takes pride in eating the rude, but in case he has to eat somebody he really likes, he would do that. But, maybe Hannibal has plans for some of these characters instead of them just ending up on the table.
Catch "Hannibal" on Friday nights at 10 p.m. ET on City in Canada and on NBC in the U.S.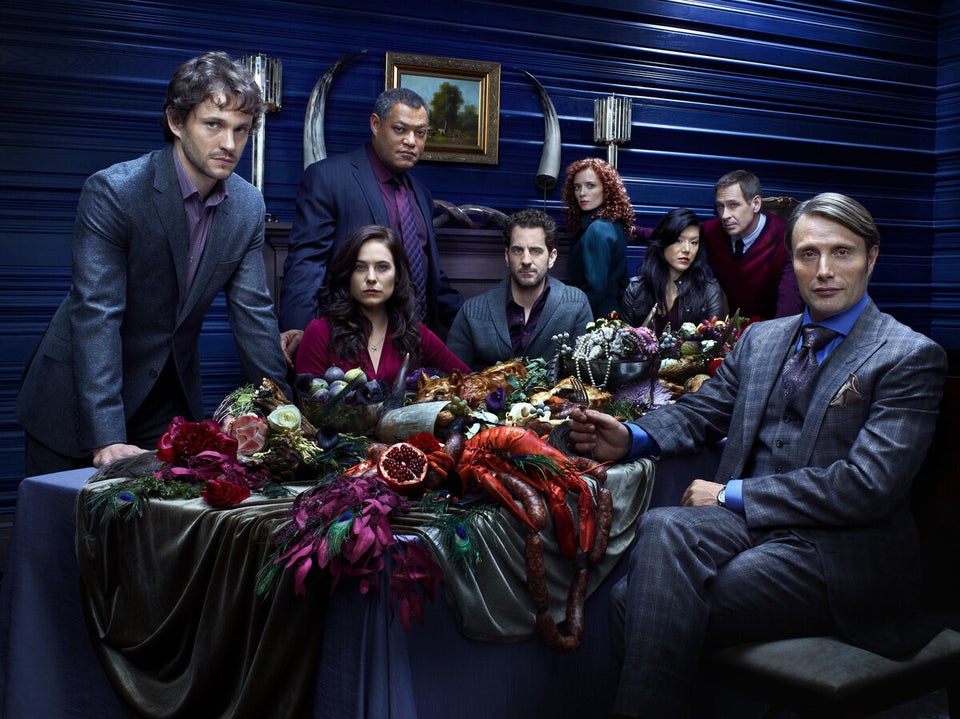 Hannibal