When your BFF asks you to come up with a brilliant way to make her wedding photos extra memorable, you do it.
That's why maid of honour Sharilyn Wester decided to go all out when her best friend's photographer asked her to help with the veil toss at her July wedding in Bonnyville, Alta.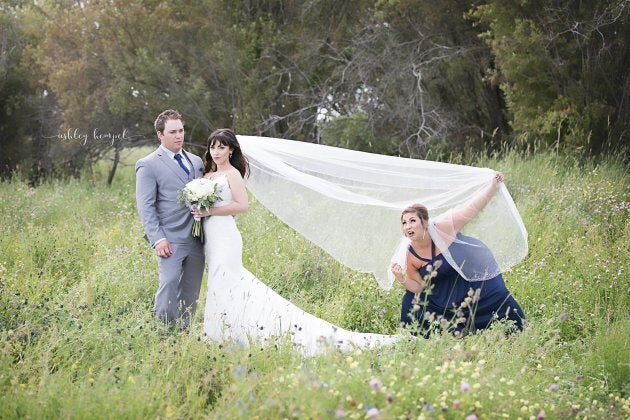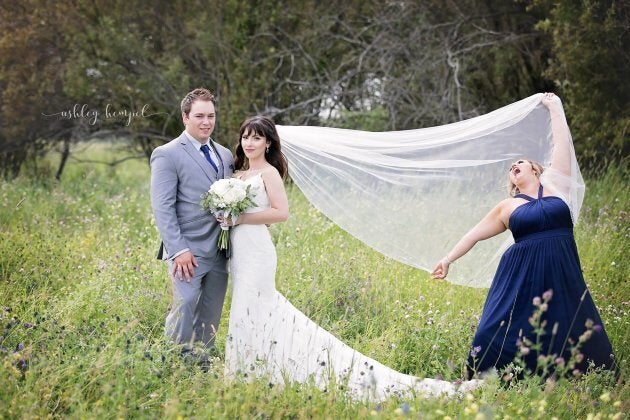 If you're wondering why the bride looks fairly oblivious to her friend's charades compared to her new husband, it's because Foster was in on the prank.
"The groom had no idea what we decided to do, but once we started acting goofy, he played along and was laughing," Wester, who lives in St. Paul, Alta., told HuffPost Canada via email.
"We had been outside in the 36 C weather in the sun all day in formal attire for hours, and we figured we could try and perk everyone up and make them laugh."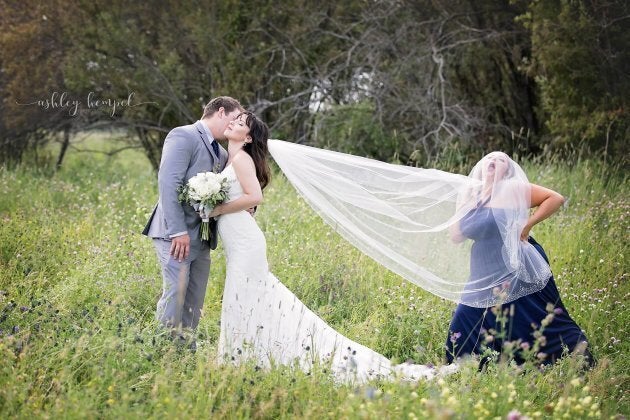 Although Wester says her poses were done in the spur of the moment, the 23-year-old noted that the idea for the photobomb was actually conceived years earlier.
"It was based off a photo Rebecca saw that we both decided we had to recreate," she explained. "This was two years before the actual wedding!"
It was so funny. The whole bridal party was cracking up.
"Sharilyn was like 'Oh we want to do this one photo of me tossing her veil,' and I was like 'Sure, okay,' thinking to myself we had already done a few with my assistant tossing it," Hempel said. "So I posed Becca and James, and then Sharilyn started HER posing and I died. It was so funny. The whole bridal party was cracking up."
Hempel added that the hilarity of the photo was definitely thanks to the two best friends and their silly sense of humour.
"They are hilarious," she said of Foster and Wester. "They have each other's backs — constantly striking poses and goofing off even during the getting ready photos."
"I think they're the type of friends who will be 75 at an old folks' home pantsing the orderlies," she added with a laugh.
Clearly Foster and Wester are serious BFF goals.
Popular in the Community