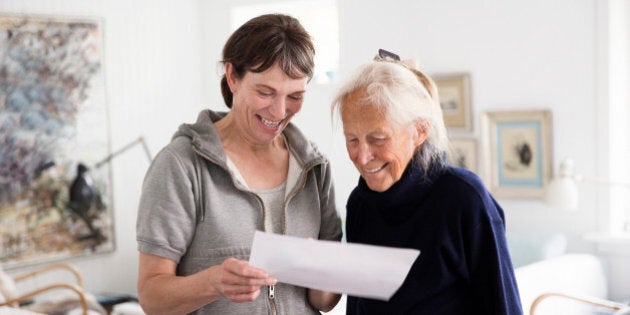 Do you find it difficult to maintain a conversation with older adults who are living with dementia? Many people find that once they get past talking about the weather, how they slept that night or what they had to eat today, they struggle to find ways to stimulate conversation in a way that is meaningful, interesting and mutually rewarding.
The following points provide a few basics for you to consider when starting, and maintaining, a conversation with those who are challenged by memory and other forms of cognitive loss. Last week's blog focused on addressing feelings first. This blog will look more closely at other communication strategies for creating and maintaining meaningful conversation across the generations.
Collect details about the person (past and present):
One way to stimulate conversation is to talk about a person's life, including narrative details such as who their best friends were/are, how many siblings they had/have, what they did for a living and/or where they have lived and visited. The best way to begin is to put the facts down on paper, with photos to help stimulate the memories. The goal is to find the details and then discuss these details in subsequent conversations.
If you need a tool to help you capture some of these details, visit our website for the "All About Me" form or the Let's Talk . . . About Me book, which provides headings on each page, guiding you through topics that would apply to someone's life. It is best when the details are filled in by both the person with dementia and someone who knows about this person's past. Once the details have been collected, make this available to all who interact with that person. Research conducted by Dr. Michelle Bourgeois has provided clear evidence that this strategy enhances the communication exchange.
When reminiscing about a person's life, state the facts, rather than asking the person to pull these details from his/her memory bank. For example, don't ask if this person had children, look at the recorded details and discuss the facts that you have available. Rather than asking if they had children, you look at the details provided, and if they had children, ask what it was like raising small children or how much laundry they did or what it was like cooking and cleaning for their family. Use what you know to stimulate conversation. When I have used these strategies I have been pleasantly surprised to learn so many new details about a person's past that I might never otherwise have discovered.
Trivia questions that have been set up for success:
Do you remember the days when restaurants included trivia questions in the middle of their tables? I remember thinking how they really enhanced conversation, as long as one didn't worry about feeling a tad stupid when they got the answers wrong. The questions often launched interesting conversations. This concept of table trivia has contributed to the development of some of the tools we have created over the past couple of years.
The "Best Guess" app, which is available through iTunes, is a game that has been created for older adults who struggle with memory loss. While you could refer to this as trivia, we call it "Best Guess", because I believe one feels better when they are in a position of guessing an answer, rather than feeling they are being tested with trivia questions. Each question in the "Best Guess" game has two answers, one that is correct, and another that is often obviously wrong. Since we want to set people with dementia up for success, this type of question is well suited to those who struggle with memory loss.
I had one family member tell me that after she played the "Best Guess" game with her dad, he said, "I used to be smart like this!" When the game is played with others, particularly younger people, the answers provide an opportunity to explore the memories associated with the question. This helps to open up the lines of communication -- both across and between generations. If you don't have the app, create your own questions -- but make sure you provide two answer options, with the goal of setting the person with dementia up for success.
Conversation cards are the perfect catalyst for chatter that matters:
Questions that are designed to trigger memories, and seek opinions, are a perfect solution for many who need help with stimulating conversation. Having had success with such conversation prompts, we created a small booklet that we call, 'Let's Chat: Everyday Conversation Prompts'. This resource includes questions such as: "If someone offered you a free trip to the moon, would you go?" "Were you ever sent to the principal's office?" "Do you think women with children should work?" The questions provided in 'Let's Chat' can be used when visiting one-on-one or when families gather for meals or visits. Each person can take a turn at answering questions. You will be surprised at some of the answers people provide.
A book club is fun at any age:
Another way to spend time with persons living with dementia is to read with them or to them. DementiAbility has a number of short books in large print that are interesting and easy to use individually or with a group. We have about thirty short stories, on a wide range of topics, in print, as well as four stories available to read or hear on an iPad or android tablet.
Older persons have wisdom, perspective and knowledge to share. The secret is to use prompts that are connected to the individual's interests and abilities. When you put the supports in place, you may be surprised at how conversation begins to flow.
Follow HuffPost Canada Blogs on Facebook