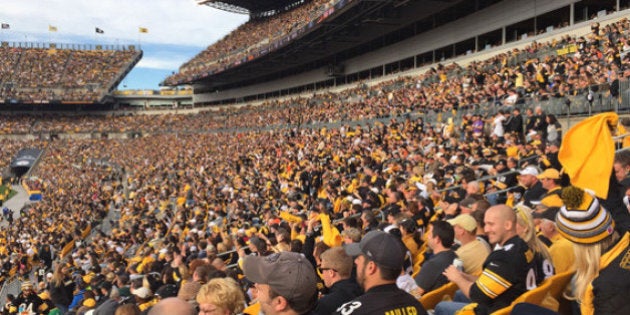 If you're like many travellers visiting a city, beyond taking in the usual tourist attractions, you probably enjoy wandering off the beaten path to get a better sense of the town. Although exploring different districts and hoods can be fun, what's an even bigger blast -- and a sure way of finding out what makes the locals tick -- is to attend a major league sporting event.
Here's the thing: regardless of what sport is being played, when tens of thousands of people gather in a single setting with the common goal of cheering on their home team, the facemasks of decorum come off. Expect a raw show of emotions -- love, hate, joy, sorrow -- manic dancing and huge public displays of affection. And whether you're a fanatic or you wouldn't recognize a player if he tackled you, expect to get caught up in it all.
Check out the video and you'll see what I mean.
Prime up on the team and the town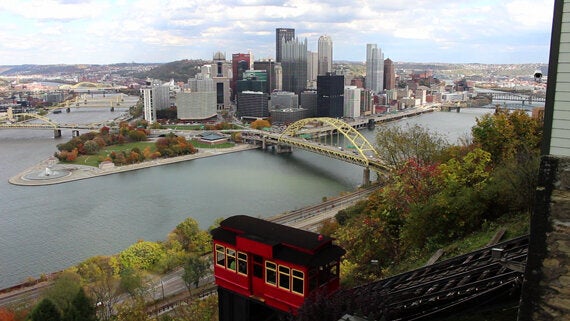 View from Duquesne Incline
Recently, Girls' Flight Out camera-girl Sam Gary and I flew to Pittsburgh, Pennsylvania armed with tickets to both the Penguins hockey and Steelers football games. No, we're not avid sports fans, nor did it matter. Prior to boarding our Porter flight we hung out in the Billy Bishop Airport lounge in Toronto sipping lattes and checking out the teams' websites and social media. Hardcore fans can go deeper via forums, blogs, etc., but Twitter along gave us a quick primer.
If you've never been to Pittsburgh -- or haven't been there recently - you may have noticed that lately it has been showing up on lists of places to go. Since the collapse of the steel industry back in the 80s, the Burgh has slowly but surely re-invented itself into a clean, lean city flush with art and architecture, parks and pathways, an emerging nightlife and culinary scene. Aesthetically it is surprisingly pretty with its valleys and hillsides, three rivers and 450 or so bridges connecting 90 neighbourhoods.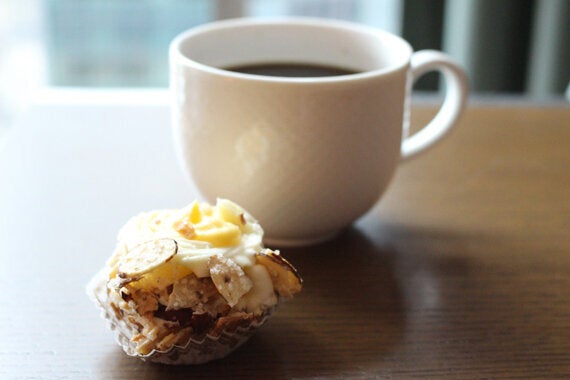 Famous burnt almond torte from Prantl's Bakery
Stay within walking distance of the game
In the heart of downtown stands the Fairmont where we stayed mostly because we love the all-star treatment and on a more practical note, the lux hotel is within walking distance to all the sports venues. Pre-game traffic congestion in-and-around stadiums can be a nightmare, so it's a good idea to hang your hat close by so you don't miss the opening puck-drop or kick-off because you're stuck in the back of a cab. As an added treat, you get to join the parade of locals heading to the game, and when you walk home afterward, you won't be alone.
Booking.com makes it easy to find accommodations within close proximity to a game. Simply key in the venue in the search bar, and a map with a pin drop of its location will appear. All property search results, from traditional hotels to condos to entire houses, will filter with the distance from the stadium.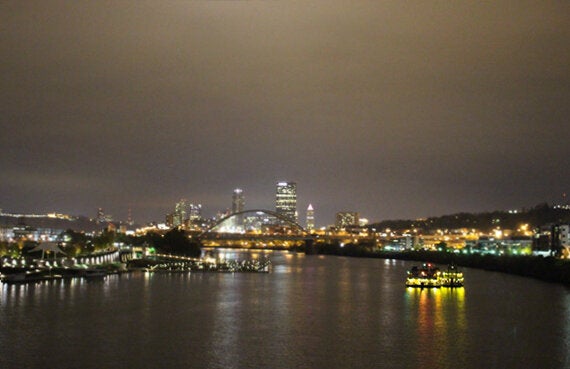 Pittsburgh also known as City of Bridges
Consult the Concierge if you don't have tickets
Shay Badolato, a concierge at Fairmont Pittsburgh, says she's never had trouble getting last-minute tickets for guests assuming they're prepared to pay above face value for bigger games. Although, like most people, Shay goes through the box office or uses online ticket sites, the benefit of consulting a concierge is he or she will undoubtedly be familiar with local sports venues and therefore will be able to recommend best seats and share other tips you won't find online.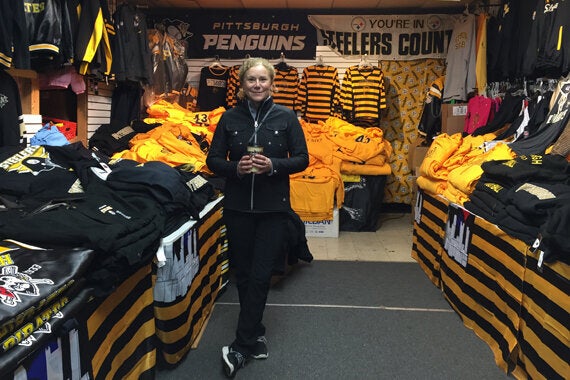 Rebecca gears up for the games at shops on The Strip
Back in the day males wildly dominated fandom but times have changed. Major league sports has upped its game to lure new lady fans and/or keep existing ones loyal, from working with designers to turn out stylish women's merchandise to employing more and more females in executive and key positions. This season, in fact, Sarah Thomas makes history as the NFL's first full-time female game official.
Tom McMillian, a spokesperson for the Penguins, believes that one of the reasons the Pens have the highest percentage of female fans in the NHL is because of the programs they develop to ensure girls have access to playing the game. For example, every year, Sidney Crosby's Little Penguins sees 1,000 boys and girls, aged four to eight, in the Pittsburgh area receive free hockey equipment head to toe.
The Steelers too have the highest percentage of female fans in the NFL at 55 per cent (the average is 43.5 per cent). They run a series of women's-only events meant to engage, one of which saw Sam and I join a group of enthusiastic ladies and spend time with a few players learning how to punt and other skills. I have to tell you that when the top of my foot finally connected with the ball, you'd think I'd won the Super Bowl.
Speaking of which, last season's Super Bowl broadcast averaged 50 million female viewers making it the most-watched show among women of all time.
But go see a live game, ladies. You know how we like to keep it real.
Rebecca Field Jager is a travel and lifestyle writer contributing to various publications including her blog, girlsflightout.ca. Follow her on Twitter @BecJager.
Disclaimer: Aspects of this trip were provided by Porter Airlines, VisitPittsburgh.com and Fairmont Pittsburgh. Luggage was provided by Bentley. The author is a partner of Booking.com.
Popular in the Community