Weeks after a statue of John A. Macdonald was removed from the front steps of city hall in Victoria, a new poll has found that the majority of Canadians oppose scrubbing the image or name of Canada's first prime minister from public view.
The survey from the Angus Reid Institute (ARI), released Thursday, also found that more than half of respondents believe Canada spends "too much time" apologizing for the country's infamous residential schools.
Under the system, more than 150,000 Indigenous children were forcibly removed from their families and communities to be placed into government-funded, church-run establishments that aimed to "kill the Indian in the child," according to the Truth and Reconciliation Commission.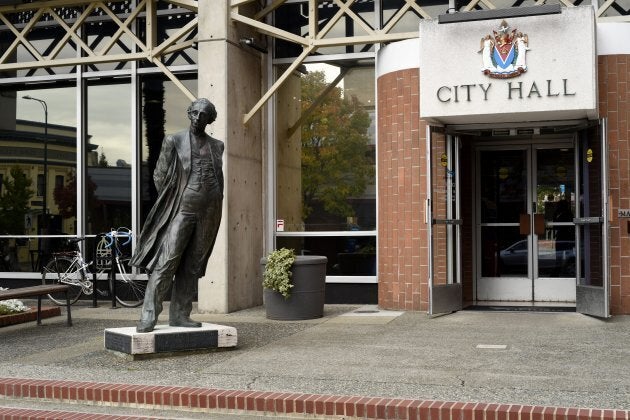 Thousands died at the schools, the TRC said in its 2015 report, and legions more suffered physical, emotional and sexual abuse.
Macdonald's government, which ushered in the Indian Act, approved the creation of these schools.
Seventy per cent of respondents in ARI's poll said Macdonald's name and image should not be scrubbed from public view, while 11 per cent disagreed.
"We will remove the statue of Sir John A. MacDonald from the front doors of city hall so that the family "members and other Indigenous people do not need to walk past this painful reminder of colonial violence each time they enter the doors of their municipal government," Helps wrote on her website.
Majority disagree with Victoria's move
The move provoked both praise and scorn, and it reignited a debate over how Macdonald's legacy should be commemorated.
The debate hasn't been limited to Canada. The government in Scotland, where Macdonald was born, recently quietly wiped articles about Macdonald from its websites out of respect for Indigenous Peoples In Canada.
"While we want to celebrate the very positive contributions Scottish people have made across the world, we also want to present a balanced assessment of their role and are reviewing the wording of these articles in that light," the Scottish government said in a statement to HuffPost Canada.
Ontario's Progressive Conservative government also waded in to the debate, offering to give the statue a "new home." Helps rejected the offer.
After the backlash, Helps penned a column for the Times Colonist apologizing for how the decision-making process made some people "feel excluded from such an important decision." But she maintained that the decision to remove the statue was the right one.
But according to the Angus Reid Institue's survey, the majority of Canadians disagree.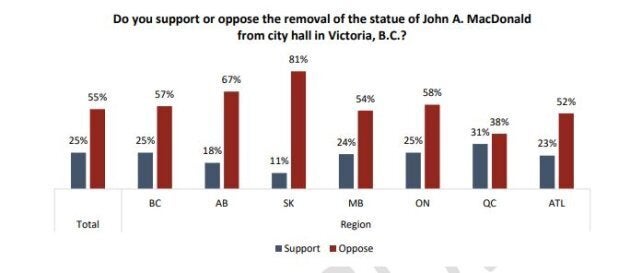 Fifty-five per cent of those polled said the statue shouldn't have been removed. Twenty-five per cent were in favour of the decision, while 20 per cent were unsure.
And while the polling firm noted that the strongest opposition to the move came from past Conservative party supporters, almost 45 per cent of respondents who supported the Liberals in the last election also disagreed with Helps' decision.
At the party's policy convention in Halifax, Conservative Leader Andrew Scheer called out Victoria City Council's move.
"I'm proud to say that we are the party of Canada's first prime minister, the father of our federation, and the visionary who made this land possible," Scheer told the audience.
"I think it's a disgrace that we're allowing extreme voices in this country to erase our proud heritage."
Environment Minister Catherine McKenna, speaking in Ottawa last month, also said that Canada can't "erase history" by removing statues.
"I personally believe that it's important that we recognize our history — the good and bad — and that we tell stories, because it's by telling stories we recognize that we can do better," McKenna said.
She said she had tasked the Historic Sites and Monuments Board of Canada to examine how issues with historical figures can be addressed thoughtfully. The board is also looking at ways to commemorate residential school sites and the history and legacy they left behind, in consultation with Indigenous groups.
Shortly after Victoria's move began making headlines, the federal government announced it was consulting Indigenous groups on an appropriate date for a new statutory holiday marking the history of residential schools — one of 94 calls to action the Truth Reconciliation Commission made in a landmark report in 2015.

The Angus Reid Institute found that more Canadians were supportive of a non-statutory "day of remembrance" for truth and reconciliation than a full-fledged national holiday, though only by a slight margin.
'Too much time' spent apologizing
And when it came to the act of apologizing over the legacy of residential schools, the poll found that the majority of respondents agree that it's "time to move on."
Fifty-seven per cent said Canada spends "too much time" apologizing for residential schools, while 31 per cent said the harm that came from the schools "cannot be ignored."

The Angus Reid Institute's poll was conducted online from Aug. 21-24, 2018, among a representative randomized sample of 1,500 Canadian adults who are part of the Angus Reid Forum. The polling firm says a probability sample of this size would carry a margin of error of plus or minus 2.5 percentage points, 19 times out of 20.
With files from Emma Paling and The Canadian Press