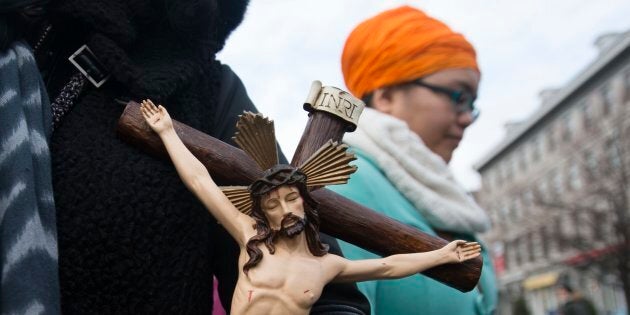 Three in five Quebecers believe it is "unacceptable" for teachers to wear a visible religious symbol — such as a hijab, a kippah or a cross — at work, according to a Leger poll for HuffPost Québec.
Next spring, the Quebec government is expected to introduce a bill banning visible religious symbols for teachers and state employees in positions of authority, such as judges, police officers and prison guards. The Leger poll, like another recent CROP survey commissioned by Radio-Canada, seems to indicate that the Premier François Legault's plan is supported by a majority of the province.
Although opposition to religious symbols is stronger among respondents aged 55 and up (73 per cent), younger Quebecers are also divided. Almost half of millennials (48 per cent) think it is unacceptable for a teacher to wear a hijab, for example.
Quebecers least flexible when it comes to secularism
The Leger poll illustrates an obvious gulf between Quebec and other Canadian provinces. While 61 per cent of Quebecers said that visible religious symbols are "unacceptable" for teachers, the number of those sharing that opinion in other provinces hovers between 18 per cent and 29 per cent.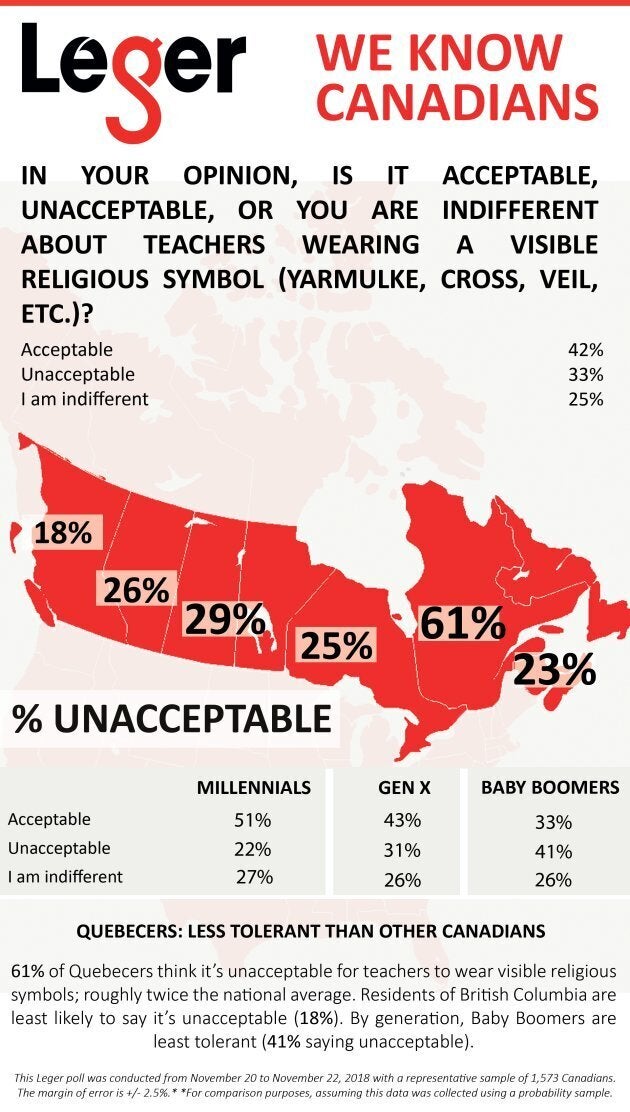 While it has yet to adopt an official position on Legault's proposal, the National Federation of Quebec Teachers (FNEEQ) — which represents teachers from private and post-secondary institutions — has repeatedly opposed bans on religious symbols for educators since 2013.
Benoît Lacoursière, FNEEQ's secretary-treasurer, believes the proposed ban is a "very obvious" case of discrimination.
Just because somebody wears a hijab or a kippah, doesn't mean they are trying to convert anyone.Benoît Lacoursière, National Federation Of Quebec Teachers
"We would discriminate against teachers — especially female teachers — not because of a lack of competence, but based on a characteristic of their identity," he said in an interview with HuffPost Québec.
While he believes teachers have a duty to refrain from "indoctrinating students," he argues that wearing a religious symbol shouldn't be perceived as an "act of evangelism."
"Just because somebody wears a hijab or a kippah, doesn't mean they are trying to convert anyone."
In a context where the province is experiencing a shortage of teachers, Quebec shouldn't deprive itself of these professionals "who are otherwise very qualified," said Lacoursière.