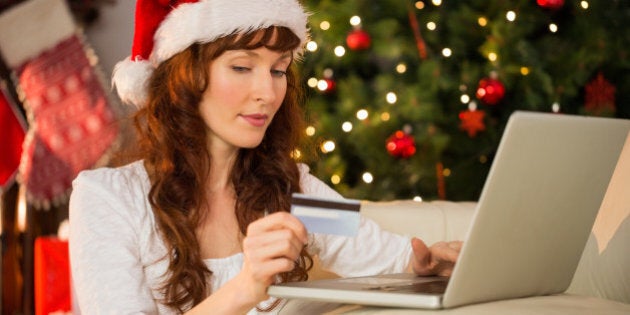 No one wants to be a Scrooge during the holiday season, but with gifts and parties, the holiday credit card bill hangover can be a doozey! Recent data from RetailMeNot.ca predicts that Canadians will spend an average of $1,425 per household during the holidays. To help keep your budget in check, check out my top six tips for holiday spending this festive season:
1. Use Apps to Keep Organized
The recent survey revealed that the average Canadian plans to spend $595 on gifts this holiday season. If you think you need a Christmas miracle to keep all of your gifting organized, think again! Santa's Bag is a free app that helps you keep track of what each person on your wish list wants, what you've purchased, your budget per person, and even if you've wrapped the gift.
2. Make Your List, Check (The Price) Twice
Since 2002, stores that have signed on to a program called the Scanner Price Accuracy Voluntary Code will give you an incorrectly priced item free, if that item costs less than $10. If it costs more, you get $10 off the correct price. There are more than 8,000 participating locations across Canada.
Missed Black Friday? No problem, you can find deals on your gifts any day of the week, especially if you check RetailMeNot.ca before you checkout. For example, you could take advantage of a great in store holiday promotion offering 40 per cent off your purchase. Then on top of those savings, do a simple promo code search and find additional savings on your already discounted sale items.
4. Purchase Gift Cards from Retailers with Promotional Offers
Many retailers and restaurants offer gift cards at a reduced rate as part of their holiday promotional offers. For example, if you do a little bit of last-minute shopping for gift cards at your favourite restaurant, ask if they offer any free gifts with purchase. Many restaurants over the holidays will have offers like a free $25 gift card with the purchase of $100 or more in gift cards. Why not use the extra savings for your own holiday treat?
5. Watch Out For Hidden Gift Card Fees
Whether you're giving or receiving gift cards this year, there are some tricks to getting the most for your money. Businesses cannot charge sales tax when you buy a gift card, so check your receipt to be sure. Some prepaid credit cards also charge an activation fee. You should also be aware of extra fees that can be deducted from the balance if a card sits unused. If you know what specific retailer the gift recipient loves to shop at, buying a store-specific card will help you save on these extra fees.
6. Know What Not to Buy Over the Holidays
If you're itching to spruce up your living or dining room before guests arrive for the holidays, it might pay to wait until after the holidays. Furniture stores rarely offer discounts during the holidays because they'll soon have clearance sales in January. The same is true for jewelry. You may want to wait until Valentine's Day to buy that pearl necklace or those diamond earrings when you can expect to save 25 per cent off or more.