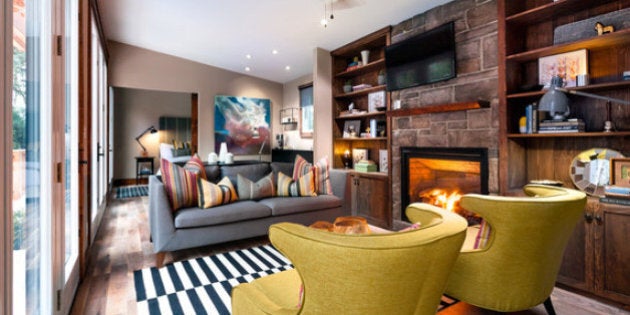 Colin and Justin reveal, pre-broadcast, their lakeside guest annex, where the only thing 'roughing' it is the textured stone around the fireplace. Yup rustic just got refined...
Bunkie purists, beware: Our guest space, you see, is perhaps dissimilar to those you've previously witnessed. And it may take you rather by surprise.
Spool back to March, last year when we birthed the idea of a bunkie as an adjunct to our main cottage. Initially planned as a modest structure, we soon realized it would need to max up -- significantly -- to satisfy the hoards of guests who plan visiting us as summer 2014 unravels.
So here's the deal: Oftentimes, it's nice to afford (and be afforded) a little privacy when friends arrive. Sure, we're all for mix and mingle, but personal chill time is welcome too. So come one, come all (overseas pals and family are you reading?) safe in the knowledge we've fashioned, as your holiday haven, an annex to which you can escape when our laughter becomes too raucous or our music too loud.
During last week's Cabin Pressure (Cottage Life, 10 p.m.) we showcased the birth of 'The Colin and Justin' bunkie. Designed in association with Canada Builds one of North America's premier construction companies, we toiled long and hard (at the planning stage) before a single foundation was poured. It had to be just 'so'. We knew what we wanted, and the team at Canada Builds remained patiently on side even when we changed our minds (sometimes twice or three times per day) about the structures eventual aesthetics.
And so it came to pass that the company mantra, "You dream it we build it" was amply tested. They didn't disappoint. Roy Graham and Dion Gemmiti (President and Vice President respectively) along with Roy's son Rob, remained steadfastly unfazed by our ambition to create a distinctly rectilinear bunkie and talked us carefully through every stage of drawing, planning and installation. In conjunction with Dan, our contractor, and the local township, every point of our ambitious dream was consigned to paper. And then honed. And then honed a little more.
Particularly interesting for us, as consumers, is the fact Canada Builds construct 'off site' at their plant in Lindsay, Ontario. This business construction concept worked tremendously well in our scenario as, simultaneously, we were also undertaking a huge cottage reno' to include landscaping, internal overhaul and the installation of a new deck and dock. Had we engaged a regular builder to construct our bunkie, they'd almost certainly have been in the way as every other element of our grand master plan progressed. The whole 'hey presto -- here it is' notion had major appeal.
During last week's Cabin Pressure, we showcased the structure being assembled, hundreds of clicks away, and its subsequent flat bed truck journey to Muskoka where it was craned onto foundations and then wired -- and plumbed -- in. After a whole load of hair pulling it was finally safely on site.
Upon reflection, we think we've developed the perfect guest annex. Centered on a chimney breasted living area are two bedrooms, each of which is dressed with stout linen and padded headboards. Both sleeping zones are accessed through barn board doors, which slide perfectly across engineered flooring that stretches across all areas, living and bathroom included.
In our quest to create atmosphere, we clad the chimneybreast in cultured Boral stone (visit by their website for more info) the same product, in fact, which we used to wrap the bunkie's side elevations and rear chimneystack. And the resultant textural finish? As appealing indoors as it is out. To allude to native architectural vernacular, we clad all other external areas with James Hardie Siding and the results, we hope, speak for themselves.
Being that our grounds are densely forested, light is at times problematic so, to counteract this, we optimized glass on the front elevation. In association with Strassburger Windows and Doors custom portals were produced and these swing open, as required, to take advantage of the lakeside vistas. Yup, we like to spoil our guests.
But of course where there are doors, it's imperative (especially in cottage country) to include protection against bug invasion. We quote searched various providers, eventually deciding upon Phantom Screens whose site visit, measure and installation service made life easy. Colour-coded to match their surroundings (you'd hardly know they're there) they're invaluable; having endured summer 2013 without screens we can attest we're now impervious to invasion. Holy moly, this time last year we were little more than vertical buffets for those pesky air born critters.
The new guest wing also boasts a full bathroom (connected to our cottage septic) which means pals don't have to dash to the forest when nature calls. As the building is categorized a bunkie, it doesn't, however, have a kitchen but there's a kettle to make tea and coffee and, should anyone feel inspired to play Gordon Ramsay, they can dash to the cottage where a fully transformed kitchen awaits their gastronomic prowess. Curious? We'll show you that space next week...
Ramping towards the finish line, we dressed around the fireplace with a grey sofa, chartreuse toned Sunpan chairs and a trio of craggy wooden stools atop a black and white striped rug. The cloudy artwork? Fashioned on a 30 dollar canvas using scraps of latex paint and an old bath sponge. We're never too fancy to DIY and save cash into the bargain. Finally, ebony dining chairs and a matching table (from Ikea) cluster to provide a handy gathering spot for guests. Job done? Yes, over and out.
All things considered, we're stoked with our bunkie and its comfy appointment. At 48 feet long, and 12 feet deep, it adds around 575 square feet of lakeside living. Little wonder, then, that our phone is currently ringing off the hook with city guests just dying to recharge their batteries. So if you'll excuse us, we have beds to strip and a bathroom to clean. Aye, last weekend's revelers may have checked out, but there's another batch due on Friday...
Colin & Justin's Cabin Pressure, 10pm, Tuesday, Cottage Life, www.cottagelife.com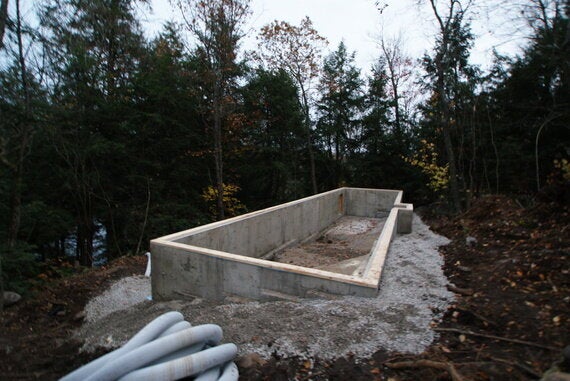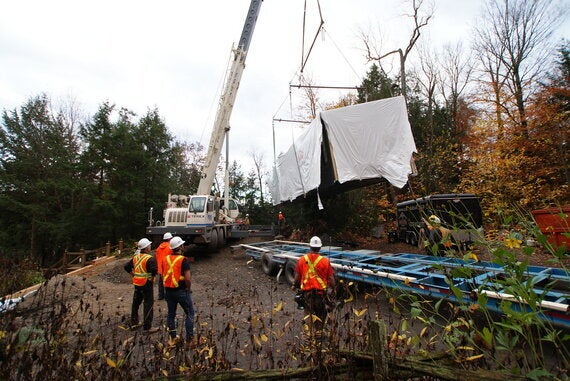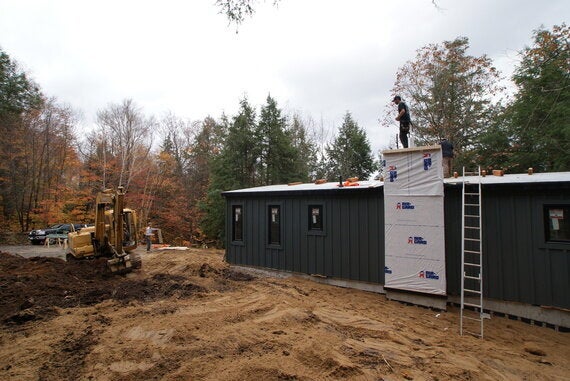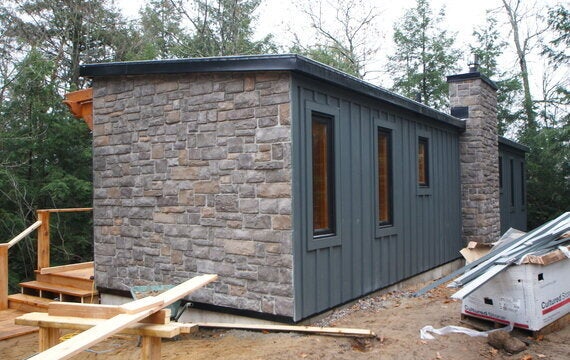 Installed and ready for action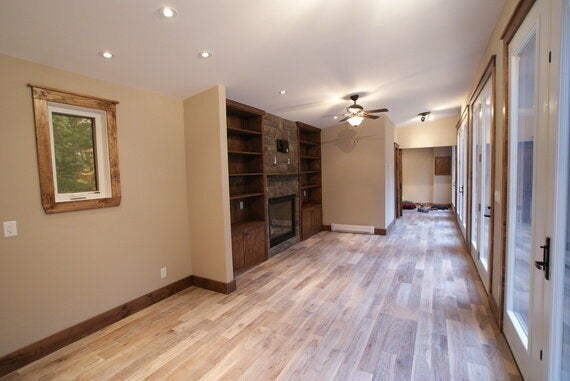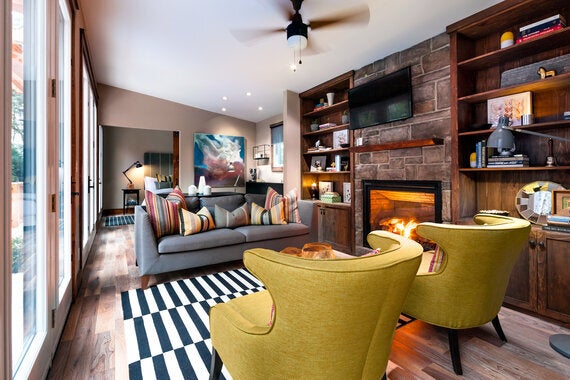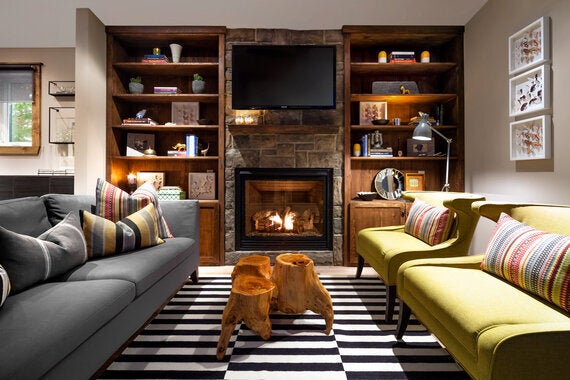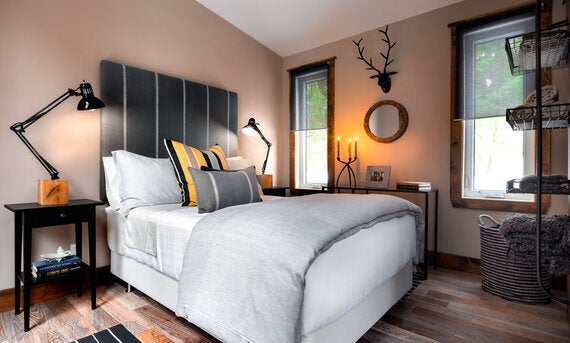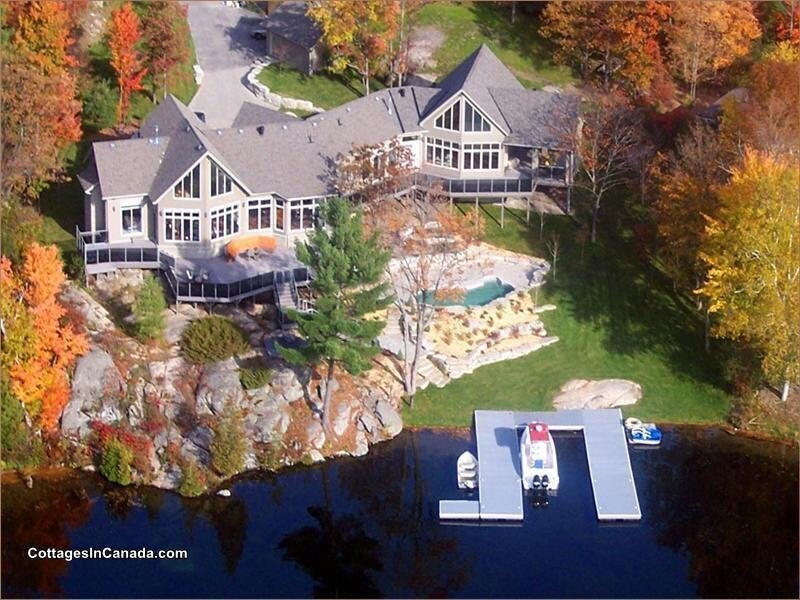 Coolest Ontario Cottages For Rent This Summer