I'm a big fan of eggs, pretty much in any form. They're the perfect source of natural protein (6 grams per egg) are low in calories (70 in each), plus they have have iron, vitamins A, D, E, and B12, folate, selenium, choline, and lutein and zeaxanthin for maintaining good vision. Not only that, but you can even get a dose of omega-3 fats by buying eggs from chickens that have been fed flaxseed.
I find that cooking eggs can be a bit tricky. I usually end up puncturing the yolk of a fried egg, or completely destroying an omelette before it reaches my plate. But you don't need to worry about those problems when it comes to one egg dish: the frittata. They don't require a gentle hand--just mix all the prepared ingredients in a bowl and pour into your baking pan. Too easy, right?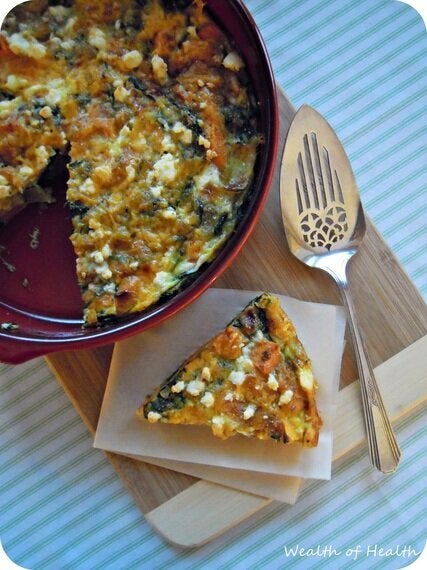 Frittatas are one of these great dishes where you can add pretty much any meat or vegetables. I love using thinly sliced tomato, broccoli, potato, asparagus, and chorizo sausage.
2 large leeks, chopped (use light green/white parts on bottom half)
1 large bunch or 1 pkg (170 g) spinach
1/3 cup milk (I used skim)
1 medium yam (2 cups), cut into 1 inch chunks and roasted
1/4 cup sharp cheddar cheese, grated
1/4 cup Parmesan cheese, grated
1/4 cup feta cheese, crumbled
-Preheat oven to 350 F and roast cubed yam for 20 minutes or until soft when pierced with a fork.
-Heat oil in a large frying pan and saute leek for five minutes. Add the garlic after four minutes.
-Add spinach in batches and continue to stir with a large spoon until it wilts.
-Place mixture into a colander and press down with the back of a spoon to remove some moisture.
-Combine milk, salt, pepper, eggs, and egg whites, and stir well with a whisk.
-Add yams and leek mixture. Pour into a 10-inch round ceramic or glass baking dish that is lightly coated with butter or cooking spray.
-Sprinkle with breadcrumbs and then the three cheeses. Bake at 350 F for 25 minutes or until center is set.
-Preheat broiler. Broil frittata for four minutes or until golden brown.