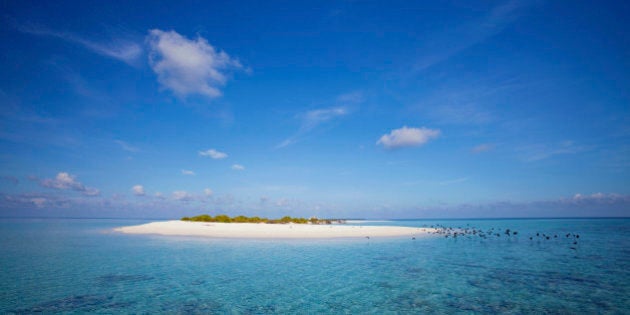 Mohamed Nasheed, the charismatic former president of the Maldives, was sentenced to 13 years in prison in mid-March for ordering the arrest of a senior judge in 2012. The capital, Male, exploded in violence in response. Thousands of Nasheed supporters have been clashing with police ever since Nasheed's arrest in February. Tensions were high in Male in the run-up to the verdict and hundreds of Nasheed's supporters waved "Free Nasheed" posters outside the courtroom.
The trial was pretty much the textbook definition of a travesty of justice; Nasheed was repeatedly denied access to lawyers, denied the right to appeal, and his defence witnesses were prevented from taking the stand. His arrest of Judge Abdulla Mohamed in 2012 led to weeks of unrest and forced Nasheed to step down as the Maldives' first democratically elected president. Nasheed's win ended the 30-year rule of dictator Maumoon Abdul Gayoom. Nasheed, who was known as "the Mandela of the Maldives," was arrested and tortured many times under Gayoom's regime. After a coup by forces loyal to Gayoom, Nasheed resigned on February 7, 2012.
Current president Abdulla Yameen Gayoom is the half-brother of former dictator Maumoon Abdul Gayoom. Apparently, relatives of Maldivian dictators can just take over the reins of power when convenient. The latest unrest comes amid concern about increasing Islamist militancy in the country and growing opposition to Yameen's rule. His conviction effectively prohibits Nasheed from running in elections in 2018.
Nasheed issued a call to arms to his supporters: "To change this government and work towards forming a government that would pave the way for the people's development and prosperity; to not be afraid of being arrested or facing a long sentence; to take all of your lives in your hands and to go out onto the streets in protest."
The Maldives is a collection of atolls that adorn the Indian Ocean north of the equator like teardrops. With most of the Maldives' 1,200 islands nosing only one metre out of the Pacific south of India, about 360,000 Maldivians live with the constant danger of being forced to evacuate their homeland. Its highest point of land soars two and a half metres above the beach. The nation is in danger of being reduced to a network of interesting new reefs by 2112.
Nasheed starred in the documentary The Island Presidentabout his efforts to lobby world leaders to proactively fight against climate change. He held the world's first underwater cabinet meeting in October 2009 to draw attention to the plight of the Maldives. Wetsuits replaced pinstripes and hand signals and waterproof white boards were used to draw up a document calling on all countries to cut their emissions. The soggy communiqué read, "we must unite in a world war effort to halt further temperature rises. Climate change is happening and it threatens the rights and security of everyone on Earth."
The Maldivians set a good example. The entire country is committed to carbon neutrality by 2020, every child is educated in environmental science and they have furiously built retaining walls around every island. In November 2008, Nasheed announced plans to buy land in India, Sri Lanka, and Australia for his people if the danger of inundation becomes too great. He famously told British parliamentarians that being carbon-neutral " ... is not going to stop us from annihilation. But at least we can die knowing that we've done the right thing."
It's surreal and oddly disconcerting to think of political corruption, vote-rigging and torture afflicting an island paradise like the Maldives when the place is so indelibly associated with a noble, desperate battle against global warming. We almost wish the vagaries of political intrigue were limited to cold, hard Northern Hemisphere countries so we can get on with our cheerleading for the plucky Maldivians as they desperately fight to stay afloat.
This is an excerpt from Capt. Trevor Greene's new, self-published book, co-written with Mike Velemirovich, There Is No Planet B: Promise And Peril On Our Warming World.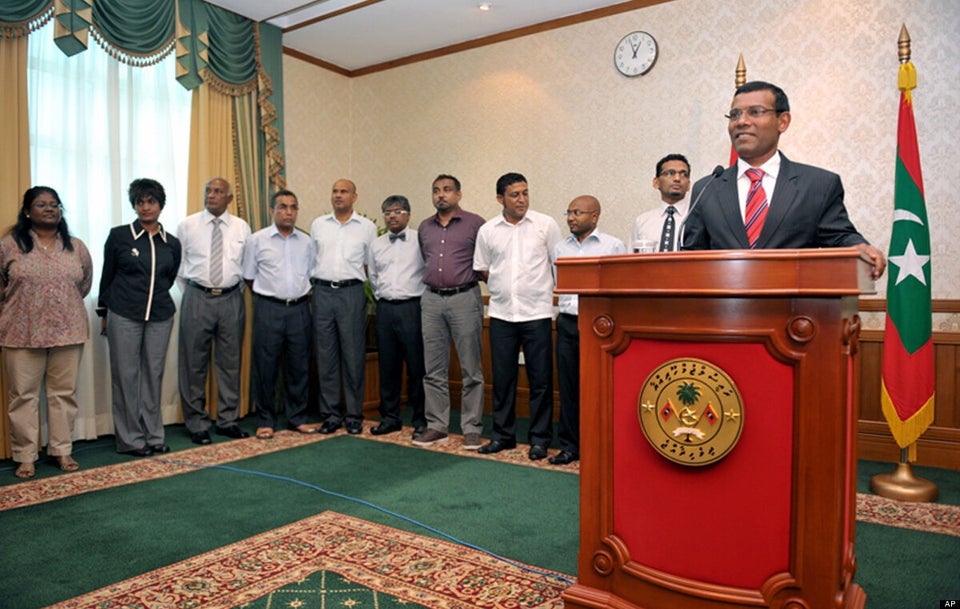 Maldives Protest
Popular in the Community