In their mission to #BanTheNipple, apparently Facebook also wants to #BanTheMammogram.
The admin members of Canadian website BluntMoms were banned from Facebook on Wednesday after they posted a picture of exactly what a mammogram looks like.
This was the image in question: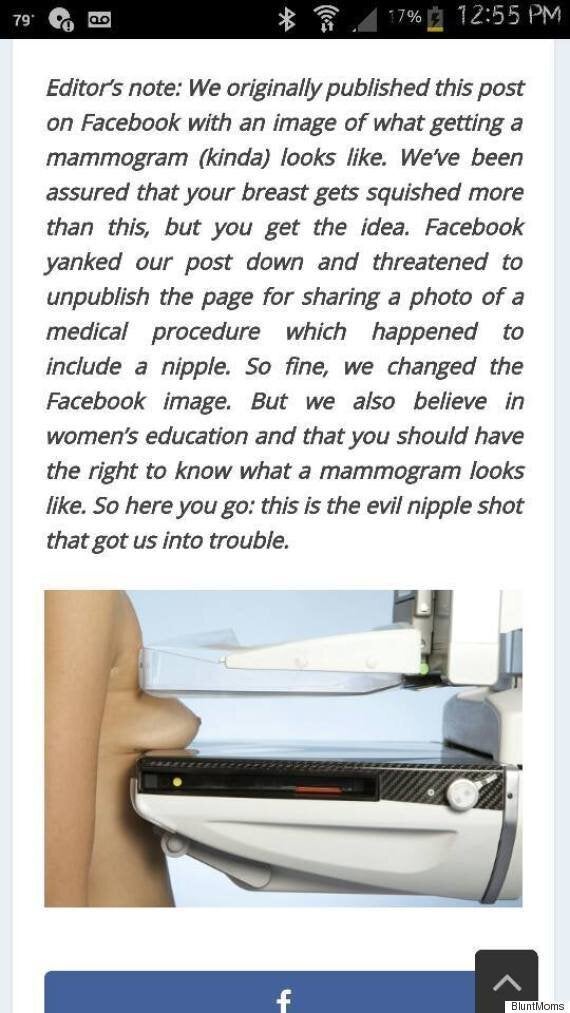 After approximately 15 hours on Facebook, someone reported the image and the social network took it down, telling staffers "it doesn't follow the Facebook Community Standards regarding nudity." The admins who run the BluntMoms page were also banned until they had assured the site each of their personal profiles contained no nudity at all. Others who had shared the picture were also banned.
Currently, Facebook "[allows] photos of women actively engaged in breastfeeding or showing breasts with post-mastectomy scarring," but reserves the right to take down nude images used in "awareness campaigns" because of potential cultural sensitivity.
BluntMoms publisher Julie Nowell says the picture actually sparked great engagement from their audience about the value and reality of mammograms, and among the 3,000 people reached, only one person "hid" the post (thereby making it disappear from their timeline).
And if you're interested in BluntMoms' great piece about the 10 do's and don'ts of getting a mammogram that sparked so much controversy, you can find it here.