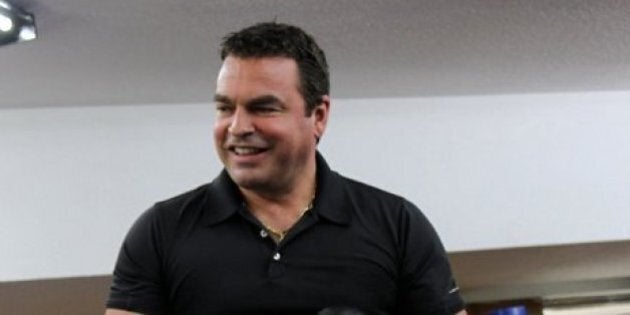 Toronto city councillor Giorgio Mammoliti caused a stir Monday by issuing a press release about the ongoing debate over allowing electronic dance music events on the city-owned Exhibition grounds, insinuating fellow Councillor Gord Perks was basically taking the side of sex offenders in his district while labeling Perks' Parkdale ward a "pedophile district."
This morning Mammoliti appeared to be anything but backing down from his controversial comments, not only stating it was a "disaster waiting to happen" but adding some new absurd accusations to the mix.
"I don't want raves at Exhibition Place," Mammoliti told Oakley. "I think that it causes a lot of problems. And I don't like the fact that people like Gord Perks and Mr. Layton, Councillor Layton, are advocating that children at the ages of 10, 11 and 12 years old party at these raves with adults. And I've been arguing that right from the beginning and will continue to do that. I don't think that there's room for that. And I think it's only asking for problems and until a child dies."
Mammoliti said he was "okay with anyone dancing at raves" but "the issues are all ages and the definition of all ages and they want children to be partying with adults."
When Oakley asked Mammoliti what the definition of "all ages" was, Mammoliti said "all ages is all ages." Oakley followed by suggesting you could have a 5-year-old at the event. "You can have a five year old there and you have six and seven year olds. And you know what, John? The parents are sending 9 and 10 and 11 year olds to these venues."
He also doubled down on his controversial "pedophile district" comments which upset so many and inspired a #ParkdaleLove hashtag on Twitter.
Mammoliti cited a provincial Minister of Corrections report released last week discussing the location of where registered sex offenders reside.
"In Mr. Perks' area there's about 70 who have settled in Parkdale and in and around Exhibition Place there's a total of 120 sex offenders who have settled in that area. So you couple that with what I'm trying to stop anyway at Exhibition Place and that's the all-age venue, it's trouble waiting to happen.
"Of course, they're taking it way out of context and they're saying that I should not be stigmatizing their community. What they should be asking is, 'How did you get 70 of these sex offenders living in your community and nobody said anything to anybody?'"
Mammoliti said he wasn't exaggerating regarding his comments. "I think we honestly need to take a look at what's going on here and be real about this. I'm not going to accept an all-age venue that has these kinds of sex offenders lurking around in and around there. Councillor Perks is defending it. He's saying -- and you heard him -- these things are not going to happen. These are the sorts of things that scare the hell out of me. I just asked a question, 'Who are you representing here?' Are you representing those 120 sex offenders? Because if he is, I've got issues with that. I don't represent sex offenders."
After one caller supported Mammoliti's stance, another put Mammoliti on the hot seat, asking why Mammoliti was criticizing Perks when Mammoliti's district is "home to the most massage parlors per capita." "You're being ridiculous," Mammoliti said. "I've been trying to shut down these massage parlors for years and I've even suggested that we look at the concept of brothels in order to shut these places down in my own ward."
A board meeting regarding the issue is slated for the end of June with Mammoliti stating he'll be attempting to increase the age limit of these events to 17 or 18. A public meeting was held last night regarding the issue however according to a tweet from Perks it appears there was very little interest: