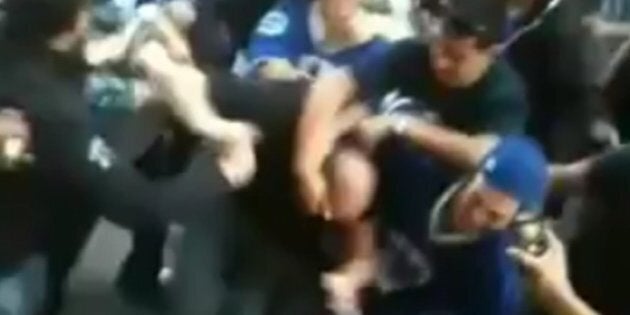 As rioters smashed windows, set cars on fire, and destroyed local Vancouver businesses Wednesday, one man stood out among others for his heroic efforts to keep the peace.
The search is on for the mystery man, who was viciously beaten by the crowd after he tried to stop rioters from breaking department store windows.
A bystander's video shows a man in a black t-shirt and blue cap standing between the store and the mob. After pulling a few men away from the window, he shoves one man into the crowd with what appears to be a long stick. See the video below.
The crowd then surrounds him as at least eight men punch him in the head and face. He's pulled to the ground where they kick him until a man in a vintage Vancouver Canucks jersey pushes them away. The man is motionless for a few seconds until he is helped up by a Good Samaritan in the jersey and a man in a plaid shirt. There appears to be blood on his head as he is led away and the mob disperses.
Throughout the attack, the rioters cheer on the mob, many filming the attack.
"Canada needs more people with his character and courage," Tweeted federal Heritage Minister James Moore.
The identity of the mob victim is still unknown, but Facebook groups continue to pop up in the search for peace makers, with many asking for photos and tips of about any perpetrators.
One version of the video on YouTube has been removed for hate speech.
Editor's note: an earlier version of this article identified the man helping the victim as wearing a Boston Bruins jersey. It has been updated to state that he was wearing a vintage Canucks jersey.
Warning: the following video contains graphic images.
Popular in the Community