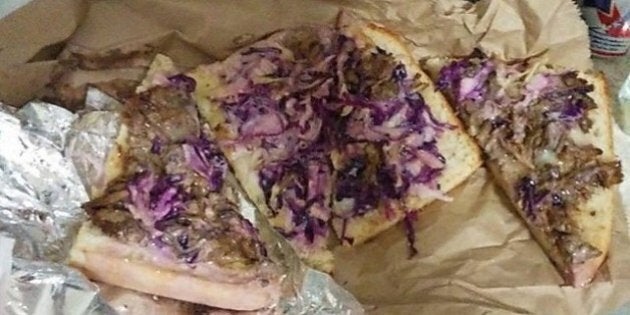 A customer is furious after a North Vancouver pizzeria allegedly short-changed him, essentially charging him $37 for a $7 sandwich.
Jeff, who asked that his last name not be used, ordered a pulled beef sandwich from Giardino Pizzeria on Friday night, according to a review that was originally posted on Facebook and has since been republished by other people on Yelp and Urbanspoon.
Jeff claims that the sandwich came to $7.42 with tax, and that when he handed the cashier a $50 bill he was given $12.60 in change, meaning the sandwich cost him $37.
"I tell him, he refuses to give me my change saying it is my fault," states the review. "I said no you need to make sure you are giving proper change to the public that is part of your job."
Jeff called the police's non-emergency line but was told it was a civil dispute, not a criminal matter.
He claims Giardino's employees were laughing the whole time — and that they ended up calling the police on him. Three police cars showed up and when the customer says he explained to officers what happened, "they suggest to me to spread this story over social media, just not to be slanderous [sic]."
Jeff took a photo of his bill, which appears to show a GST charge of six per cent: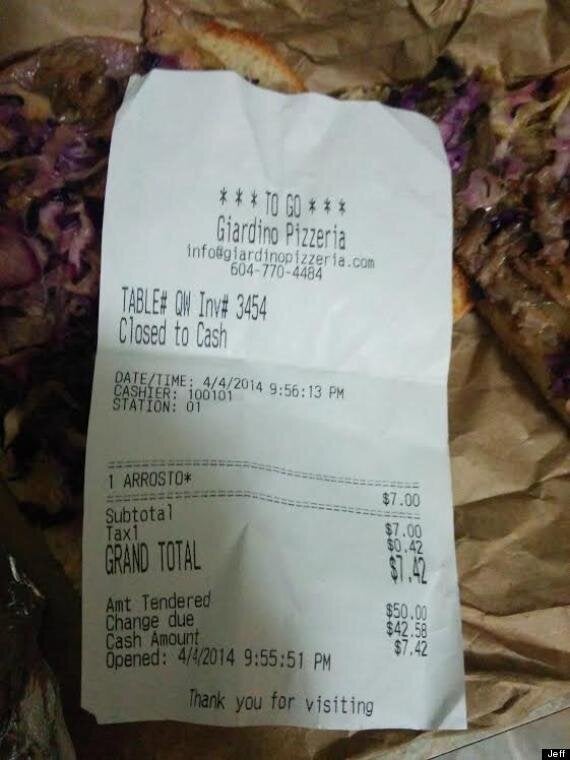 To add insult to injury, he said in his original post that the sandwich looked like "it was prepared by a toddler."
Giardino responded to the allegations in a Facebook status on Monday. Staff checked the restaurant's computer record after the customer's complaint and found a "perfect match" between the day's total cash sales and the amount of cash in the till, states the post.
"There is an old saying that 'The customer is always right,'" reads the status. "In this case, the customer was wrong."
Since the incident, Giardino staff have received threatening phone calls, and "defamatory lies" have been posted about their business on the Internet, the restaurant claims.
"We think most Canadians will agree that nobody should be subjected to this kind of cyber-bullying."
Jeff is upset that his story has resulted in such harassment.
"I do not want people being vigilante or malicious towards these people, that really bothers me, and I am extremely let down that it is happening," he told The Huffington Post B.C. in an email on Monday. "I do not want their business to go under, I just wanted the situation rectified with a proper apology and recognition of fault."
Negative online reviews can get out of hand, such as a 2012 case in Ottawa. Customer Elayna Katz posted about her negative experience dining at Mambo restaurant. In response, enraged restaurant owner, Marisol Simoes, started an online smear campaign against Katz that lasted two years.
Simoes was eventually convicted of defamatory libel and sentenced to 90 days in jail.
Read the Jeff's full Giardino review, as it was reprinted on Yelp:
Introducing the $37 dollar sandwich from Giardino Pizzeria on 115 15th st. W. Lonsdale North Vancouver.

So I walk into this place hungry at 10pm. Order the pulled beef sandwich ($7.42 with tax) hand him a $50 he hands me back $12.60.... I tell him, he refuses to give me my change saying it is my fault. I said no you need to make sure you are giving proper change to the public that is part of your job, he tells me to call the cops...

I call the non-emergency line, cause let's face it its $30 bucks the woman on dispatch tells me its a civil dispute and they do not get involved ... Ok is there anything I can do ? No it is a civil dispute between you and the manager... Manager is his girlfriend standing right beside him laughing. No joke they were laughing the whole time . OK hang up. Talk to the guy again calmly he tells me angrily to get off the property "I am calling the police!!!" I say "Great please do", I leave the restaurant and wait on the sidewalk because that is his right to ask me to leave his property.

3 police cars show up, I tell one of the officers the situation and I say I know the dispatch just told me there is nothing to do about the $30 between me and the manager, I am sorry if you're wasting your time but I wasn't going to leave the sidewalk while this guy phones the police after stealing $30 from me( in the meantime I'm glancing inside and they are both still laughing away) I said to the officers, I'm glad they can have a sense of humour about this. The officers agree with me they apologize for this guy but still nothing they can do.

They ask if I want to press charges for a non $30 related issue, I say no sorry you guys had to come down here, the officers say "no no its fine we understand and now we know as well now to never come here" they suggest to me to spread this story over social media, just not to be slanderous. Of course. They apologize and say take care. Pick up the $37 dollar special sac off the sidewalk, get back to my buddies house and open the bag to a sandwich that looks like it was prepared by a toddler. Anyways, sorry for the long story I could not let this slide. The worst part was that, they kept laughing the whole time, this sandwich hustler knew what he was doing. Hope it was worth it you charlatans.

Please friends and common folk do me justice and never ever go to this place. I have never dealt with this kind of back alley sandwich hustle.

Touche Giardino Pizzeria, touche ...
Read Giardino's full response:
We value our reputation for honesty and integrity and strive at all times to deliver high quality service to our customers.

On Friday evening, one of our customers claimed we had shortchanged him $30.00, within five minutes of the sale transaction.

We took the customer's claim seriously, as any decent business would. We immediately checked our computer sales record. This allowed us to compare our total cash sales for the day to the cash in our till. There was a perfect match.

There is an old saying that "The customer is always right." In this case, the customer was wrong. He was not short-changed.

With the benefit of hindsight, however, we probably should simply have paid the customer off and absorbed the $30 dollar loss. Perhaps letting the customer be "right" when he is "wrong" is simply one of the costs of accepting cash payments.

Following the incident, somebody posted defamatory lies about us on the Internet. These lies provoked many misinformed, critical comments. Some comments were hate-filled and ugly. Our staff have received threatening phone calls. We think most Canadians will agree that nobody should be subjected to this kind of cyber-bullying.

We would like to thank our loyal customers for their heartwarming emails. We invite others who do not know us yet to remember there are two sides to every story. Visit us, try our excellent food, our superb service, and judge for yourselves.

Manager, Giardino Pizzeria
Like this article? Follow our Facebook page

Or follow us on Twitter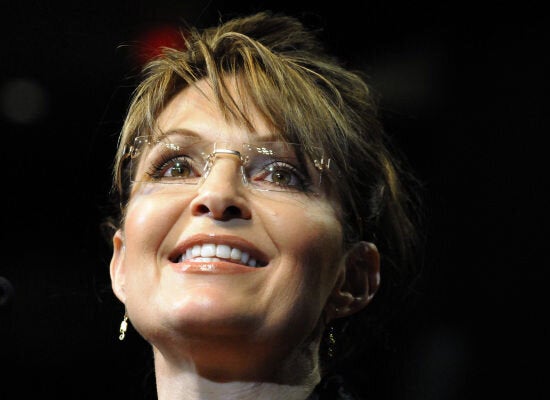 Strangest Things Reviewed On Yelp