The Man Repeller in three words: Sassy. Pants. #armparty. Three terms that don't make sense when describing absolutely anything -- except Leandra Medine's blog,The Man Repeller.
Medine is not your average twenty-something. She has an over-the-top personality that she flaunts through her eclectic taste in fashion on the web. Over the past year and a half of blogging, Medine has trademarked the concept of Man Repelling. But what exactly is man repelling you ask?
It's basically the idea of wearing anything you see on the runway out on the street -- which has the tendency to boggle a man's mind and keep him at bay. Let's break that idea down. Start with something basic, add as many textures and layers as possible, throw on some amazing shoes and stack your wrists with bracelets to create an "arm party." Man repelling is not about looking bad or being poorly dressed. It's actually the opposite. Medine says, you know you're man repelling when you get stopped for a street style blog. So man repelling is a fashionable look that is cool to other women, but is confusing to the male species.
Medine, the creator and perfecter of man repelling, sat down with us on a recent trip to Toronto to help launch the new style blog of Holt Renfrew, Holts Muse. Dressed in green satin polka dot pants and sky-high wedge boots, she delved into the world of man repelling in a thoroughly entertaining way. Here are some of the sartorial life lessons she gave us.
Why did you start the blog?
"The number one story is that I had been a journalism student and I'd pitch to newspapers or magazines and every time they would run my work -- by the time it was finally published -- it had been so editorialized I felt it lost all the quirk and charm I had intentionally put in.
The other story is I had been dating these three guys and none of them would commit. I was complaining [about the situation] to a friend of mine while shopping at TOPSHOP (she's an editor at Women's Wear Daily). Her response? "Don't take this the wrong way, but maybe they're just not proud to take you around because you dress so flamboyantly... Maybe not flamboyantly, but look at you: you're wearing high-waist denim shorts, black tights and black booties with a denim shirt. You look cool to me, and if I was Scott Schuman I would photograph you, but to a guy it's really weird... and you're wearing two watches." So we tested [her theory] on the subway." The rest, as they say, is history.
Before we dig deeper into the world of man repelling, check out some of Medine's best looks. The rest of the story continues below.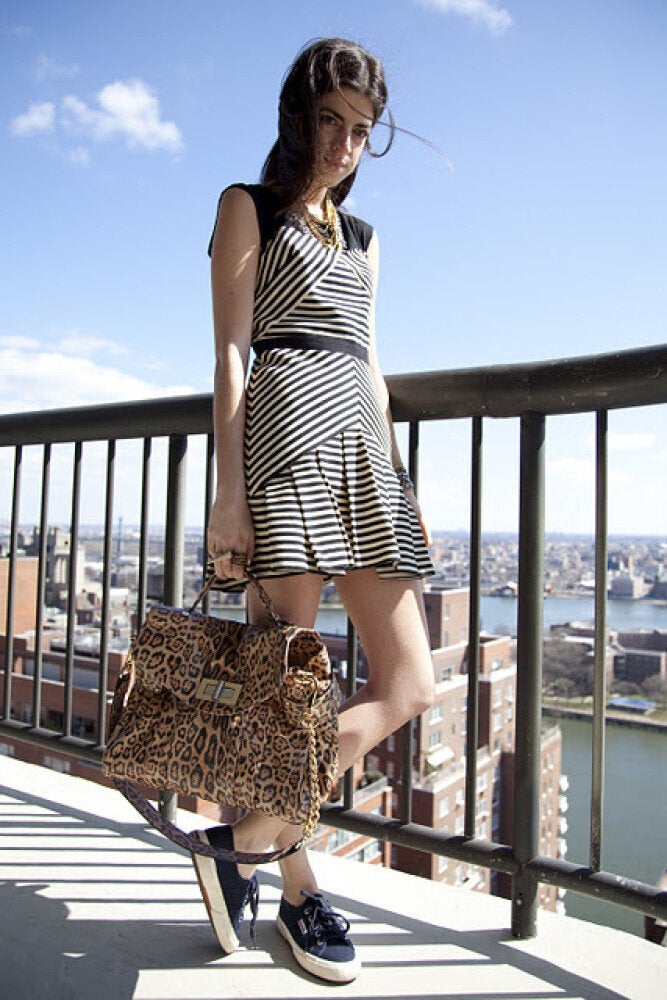 The Best Of The Man Repeller
Do you think women dress for women or do women dress for men?
"Women totally dress for women. If we were dressed for men, we'd be prancing around in tight, tight, tight bodycon skirts and tops all day or really simple jeans and T-shirts. Because men like things simple and girls like things complex. Our sartorial choices aren't that different from our psyches."
How do you then start to cultivate your own concept of style?
"I'm not dressing with men in mind at all. I'm just going to wear what I want to wear. It makes things easier, too. If you're getting dressed and you think, 'This guy that I really like is going to be there, what should I wear?' you'll never end up looking as good as you could have because you had him in mind. When I wake up, I put on what I'm in the mood to wear."
What's the weirdest comment you've ever gotten about your style?
"One time I was wearing a blouse buttoned up to the top and a man yelled at me, "Let them breathe.""
What's the one thing you can't live without in your closet?
"Probably my Phillip Lim leather jacket. I'm a total believer that you can and should throw leather over virtually everything."
What's your favourite thing for man repelling?
"Shoes. I think shoes are great. They can do all the talking for your outfit and they make getting dressed easier, because you can do the jeans and T-shirt thing and still be man repelling with outrageous shoes -- like ones with fur on them."
What do you think is a woman repeller?
"Woman repelling is not synonymous with man repelling because it's not chic. A well-dressed man is attractive to a woman. Woman repelling is like short-sleeved button-downs, capri pants, cargo shorts and sneakers as formal wear. Oh, and Crocs."
What's a trend you would like to see disappear?
"I think every trend has a place in time, but comfort should go away. Fashion is not about comfort."
Do you think you'll ever tone down your sartorial decisions to get a man to commit?
"To get a man -- no, but I think in general I might. Michael Kors always says he would wear [crazy outfits years ago], but now -- to make life simple -- he wears a black T-shirt, a black blazer and blue jeans. I could see myself going toward a jeans and T-shirt lifestyle in years. But I will never change the way I dress for a man. If a man can't appreciate what I'm wearing then he's probably not for me. He'd be too driven by the female exterior and not enough by intellect."
Do you actually feel more confident because of your fashion choices?
"Totally. Confidence totally parlays into other areas of life. Every now and then a girl will Tweet at me and be like "I'm wearing all the leopard print I own, why did a man just hit on me?" and I'm like, "Because you love how you look so he loves how you look.""