Mangoes may be available all year round, but the sweetest fruits are in stores now.
The tropical fruit comes in a wide variety of shapes, colours and sizes depending on where it's grown, but for the most part North American grocery stores carry two types: vibrant orange Ataulfo mangoes, which are very sweet, or Tommy Atkins mangoes, which are a bit more mild. Both types are imported from Mexico.
Specialty grocery stores may offer other types of mangoes, including Alphonso and Kesar green mangoes from India. Green mangoes, while unripened, are still edible and popular in South Asian cuisine.
But don't buy your mangoes by colour. According to the National Mango Board the best way to choose mangoes is to give them a gentle squeeze. Mangoes soften as they ripen and release a sweet aroma, so don't be afraid to give them a squeeze and a sniff.
In the slideshow below, we look at 28 mango recipes that can be prepared with fruit from your local supermarket. Just be sure to stick to the sweeter mangoes for the desserts.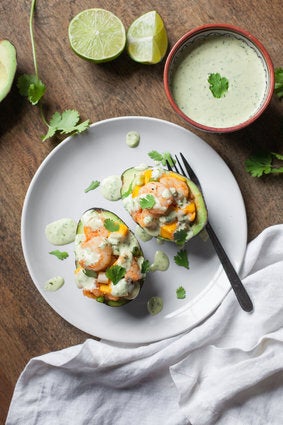 28 Ways With Mangoes